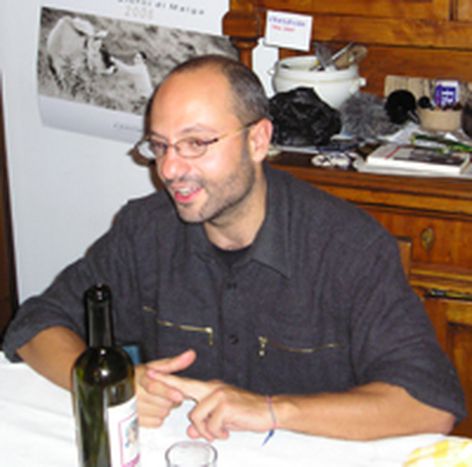 Piergiorgio Rosetti: Peace as a political instrument
Published on
Translation by:
louise bongiovanni
The case for a European peace-corps is the strongest it's ever been, Piergiorgio Rosetti tells Café Babel.
Piergiorgio Rosetti is 31-years-old. He has spent the last two years in Palestine, living in close contact with the people of the occupied territories. Returning to his family home for Christmas, he has invited Café Babel to be his guest for dinner. Piergiorgio, his girlfriend Kristine and his brother Riccardo welcome us with an excellent sit-down meal.
Piergiorgio Rosetti first set foot in Palestine in 2003. 'I thought that they would cut my throat, but it wasn't like that,' he says. 'Even the members of the most extreme parties aren't what you expect and the hospitality of the people is the first thing you notice.' Rosetti was a volunteer for Operazione Colomba, a non-violent peace-corps active in various war zones from Kosovo to Chiapas. As 'white berets', they provide continuous support work, documentation and information on daily life in the occupied territories. Rosetti says: 'In all conflicts the presence of international civilians helps to avoid very severe violent conflicts because the military are forced to behave more humanely.' In his numerous tales of everyday life he does not however leave out episodes of violence experienced by the Palestinians: poisoning of their fields, threats, beatings and every-day small abuses. 'The Israeli soldiers should guarantee the security of all inhabitants of the West Bank – the Israelis, Palestinians, international civilians – but often they do not,' he adds severely.
Living separately, trying to adapt
Rosetti seems very relaxed, but he becomes animated when he talks. Since the reprisal of the second Infitada, living conditions have worsened. Israelis and Palestinians live apart. The Israeli zones are walled. Palestinians are forbidden entry and the Israelis are barred from Palestinian areas. 'There is a black market for work which allows for minimum contact, but,' he adds, 'each group tends to live their own separate lives'. Also, there are those who try to share their sufferings caused by the war. A group which is very close to his heart is the Parent's Circle, an association which brings together more than five hundred Israeli and Palestinian families with a sad fact in common, they have all had relative killed in the conflict. But they also have a worthy objective in common – to put aside the hate to take up a path founded on dialogue and reciprocal understanding.
I ask how the two communities see the presence of the European Union. Rosetti warns of a feeling of something lacking: 'The settlers, excluding the extremists who make up the minority, recognise in the EU an important market for Israeli agricultural produces, while the Palestinians know that it is their prinicipal source of economic help.' Besides the economic factor, he warns however that there is 'a lack of geopolitical strategy or a concrete project' from the European Union.
'A cultural revolution'
The presence of peace-corps in war zones is often criticised. At times their motivation is questioned and individuals are portrayed as merely fuelled by the desire for adventure and an attempt to escape from a society in which they do not feel at ease. 'What made you leave?' I ask Rosetti. 'The moral factor was the biggest spur, but this could have been a simple donation to charity. I became aware of the necessity for a cultural revolution to conquer an eighteenth century style view of the situation. Between war and diplomacy it is necessary to assure a non-armed intervention in conflict zones.'
For Rosetti, the European peace-corps needs to become an external political instrument, one that can insist on its capacity to adapt to different situations and to develop co-operations on the ground. What's more, in war zones, 'certain behaviour on the part of the military towards inhabitants is seen as incomprehensible and unjustifiable. And vice-versa, the observers of military groups can develop psychological feelings of charity and justification which are not understood by the weakest people who experience the consequences of the conflict.'
The ideas are in line with those of Alexander Langer, who Rosetti estimes. Langer was president of the delegation of the European Parliament for relations with Albania, Bulgaria and Romania and has always sustained the idea that professional civilian peace-corps can calm violent situations in conflicts with an ethnic-religious problem better than traditional peace-keeping operations. 'The idea that professional civilian corps can be used as external political instruments and replace the military can anger people'. But it is fundemental to put into practice the advice of civilians in war zones, underlines Rosetti.
He maintains that the European Parliament has lately shown itself to be more farseeing than before, having discussed on more than one occasion the theme of civilian peace-corps. He hopes that they will follow it through to the end. Discussions surrounding civilian peace corps carry on and the frozen European Constitution proposes the institution of a European volunteer corps for humanitarian aid. Whether this will then be followed through we cannot know.
Translated from Piergiorgio Rosetti: la pace come strumento di politica