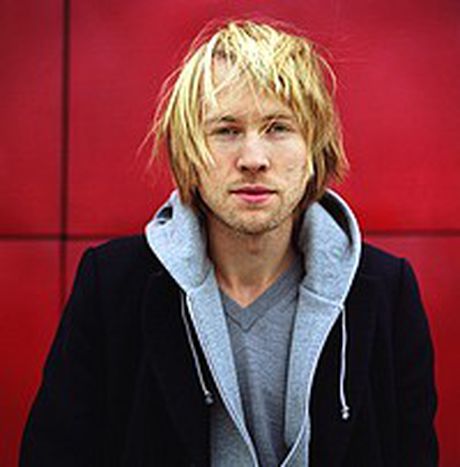 Peter von Poehl: 'I'm not part of the iPod generation'
Published on
Translation by:
eloise horsfield
The 33-year-old Swedish rock singer is behind the highly-acclaimed album 'Going to where the tea-trees are'
Blond, handsome, and with something of the vulnerable about him. Peter von Poehl looks like a lonely Viking wandering across Old Europe. With a Russian grandfather and Polish ancestry, the Swede grew up in Austria and sings in English. Nowadays, he flits between Berlin and Sweden's third largest city, Malmö. His music is peppered with vibrated notes and plaintive texts, and is part of a new genre: cotton-wool pop. In 1998, von Poehl arrived in Paris, armed with a European Commission grant and a Musicology degree.
He started doing work experience for Tricatel, an independent production company with hip undertones. There, he discovered France's alternative music scene, experimental and off-beat. He has since worked with Bertrand Burgalat (Tricatel's founder), the fiery novelist Michel Houellebecq and the French rock group AS Dragon. Now, von Poehl is going it alone. He has just created his own label in Berlin along with Austrian artist Florian Horwath, and produced the last album of French singer Vincent Delerm, Spider Bites (Les piqûres d'araignées).
You have a very international background. Do you feel more Swedish or European?
First and foremost, I am Swedish. But I have quite a strange relationship with my native country - I don't feel completely comfortable there. I don't live there, but I know it like the back of my hand because I visit it every month. Actually, I'm not that keen on travelling, even though I mention it in my album a lot. But I've tried to give my album a Scandinavian feel – it's got choruses from the Salvation Army, harmoniums, traditional Swedish carols, and so on. I do miss my country, but I feel at home elsewhere. Generally speaking, I like to see variety in the people and things that surround me.
Your music has a muffled and floaty feel to it. What has been your inspiration?
I started studying music in London, and I studied musicology at university. But I was never one for listening to lots of music. My friends knew loads of different groups and I always felt inferior to them. Studying music doesn't mean you are good at writing songs. I often find myself listening to a wonderful 'new' CD that has actually been out for ages. I work with other artists a lot, so I have developed quite a laid-back attitude towards music. I don't know everything there is to know, and I'm always really pleased when I discover new things. I mix things up and use loads of different sources. I prefer to be open-minded about it.
Why did you decide to pursue a solo career?
I found myself with a bit of money about four years ago and decided to record some songs in a studio. But I didn't feel there was enough continuity between the tracks for me to make an album out of them. There are so many good albums out there; if your songs don't fit together logically, the album has no sense to it. So, I decided to start working for other singers, even though this wasn't exactly what I wanted to do.
In Berlin, I decided to up the pace a bit and told myself that I wasn't leaving my flat until I'd recorded the album. Now, I realise that being a solo artist is a real privilege, and I feel really lucky to be able to do my own concerts. I still enjoy making music in the studio, but I what I really love is being on stage. I'm not into listening to music with an iPod; I think music is for sharing.
What are your views on the European Union?
I can talk about my songs, but I don't feel I'm in a position to talk about politics. Europe is definitely something that concerns me, if only for the fact that I was awarded an EC grant to go to study in France in 1998. Also, my German father was a refugee in the war, which wasn't all that long ago. That's why I can't forget why the European Community was formed, even though the way they did it wasn't ideal. 2001's Treaty of Nice is a load of rubbish, for example. Although they are changing certain things about Europe, I don't think the current situation responds to what people really want. There needs to be a common interest, despite the fact that people don't give a damn about their neighbours.
Peter Von Poehl's 'Going to where the tea-trees are', (Tôt ou Tard label), will be released in Germany and Austria on March 30 (Herzong Records)
'The Story of the Impossible'
Translated from Peter von Poehl : « Je n'ai pas l'esprit iPod »