People ≠ convictions
Published on
Do we really imagine each other like this? The organization Baltic Sea Unit based in Sweden surveyd the national attitudes on the neighbouring countries. Denmark and Finland were associatied with democracy 63%, development 39% and growth 30%.
< >
Baltic States and Poland were evaluated negatively: Four out of ten Swedish people named poverty and crime as the main qualities and 35 % – stressed the pollution.
Here is their impression, which I have brought from the meeting of journalists from 5 countries in Stockholm.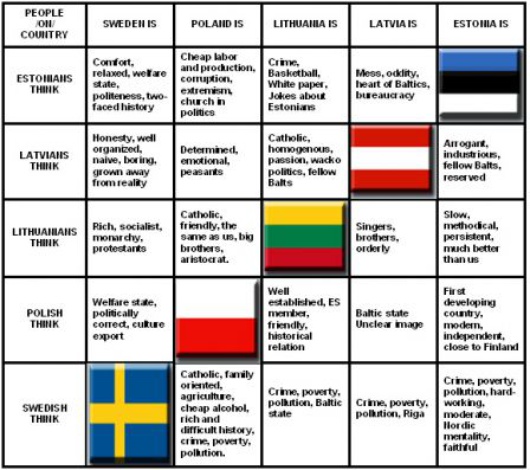 Indrė Kumpikevičiūtė
Translation Dionizas Bajarūnas
<a href="http://app.nextstat.com"> <img SRC="http://dce.nextstat.com/logging.php?ac=896&ns=1" border="0" alt="Realtime website analytics" /></a>