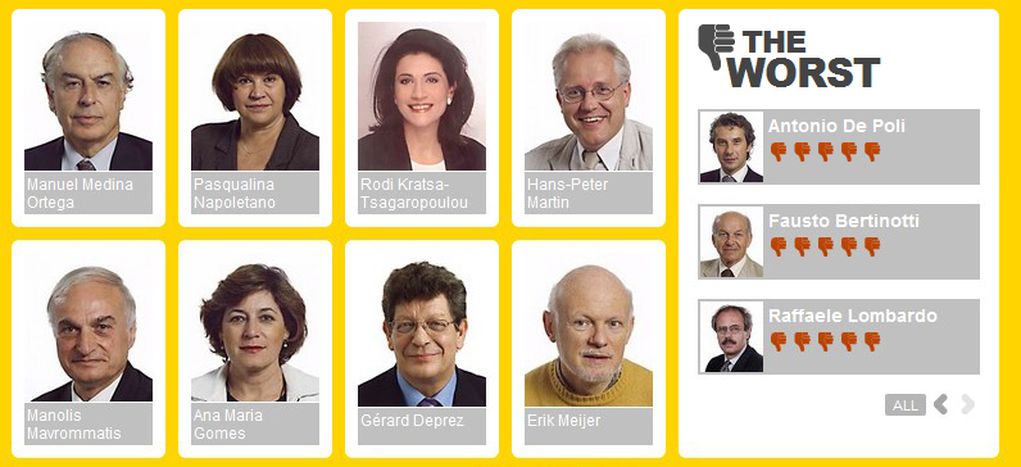 Parlorama.eu portal reopens despite EU politician threats
Published on
On 24 April, political pressure temporarily gagged the website which classifies Euro MPs according to their plenary sessions and parliamentary commission attendances. It is due to make a triumphant comeback with three new linguistic versions to boot on 4 or 5 May
The e-initiative, which acts as a pre-electoral exam before the European elections in June 2009, used to be exclusively available in French. But parlorama.eu will be adding English, Italian and Spanish versions to its bows. If you check the website today, it will tell you: Due to the overwhelming volume of complaints, the site is closed... ,after a one-week blackout under legal pressure. As it prepares to makes its e-comeback on 4 or 5 May, we catch the site's Belgian founder Flavien Deltort, an ex-parliamentary assistant who worked alongside Italian MEP Marco Cappato. 'With the new tools included in this website, I am free of all legal risks,' he says. Deltort's lawyers back the legality of the site's revolutionary initiative in European politics, one month before the European elections in June 2009.
Ostracised for strengthening democracy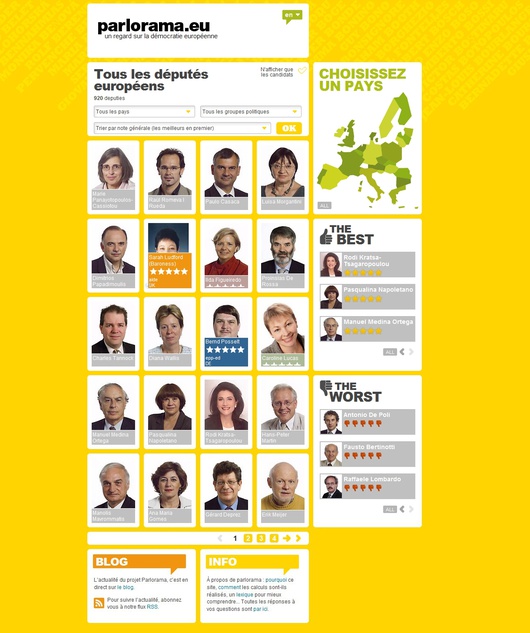 Parlorama.eu reopens with a new homepage, on which Deltort publishes the excel files that list the original statistics from which he bases his MEP classifications. Moreover it includes a grading system of the politicians and the official reports which inspire his study. He adds a nuance that the scoring system could be considered as subjective. The point classification system, which run from 1 - 10 (lowest to highest), is relegated to the background which is accessible via a link from the homepage, and won't include MEPs who passed away during their mandates, like the late Polish MEP Bronislaw Geremek; one of the justifiable complaints coming from official levels.
'It is clear that the doors are now closed to me in Brussels,' Flavien Deltort resignedly affirms, who despite the fact that he 'had received words of support from politicians off the record', denounces the code of silence imposed by the European party to MEPs. eudebate2009.eu unsuccessfully tried to interview numerous MEPs about this scandal. 'Some British MEPs with a more critical spirit congratulated me because they are more used to citizens being aware of their activities. And of course those who got a good score on parlorama.eu also showed their satisfaction with the initiative,' explains Deltort. These include French politician Pervenche Berès, Spaniard Raül Romeva and the Portuguese Ilda Figueiredo.
Fighting euroscepticism
The criticism surrounding parlorama.eu has spiced up the eurospectic appetite on the continent. Flavien Deltort disagrees. 'The more transparent politics is, the more interest it generates amongst citizens. Nevertheless, politicians do not want voters to judge them. A lot of information about their work is not available for the public.' Effectively, today it is impossible to know what parliamentary group co-ordinators, parliamentary rapporteurs and political group meetings are actually up to. Two separate registers do exist which list the actual presence of MEPs during sessions. 'I sent e-mails demanding information from MEPs every single day and no-one ever answered,' Deltort says – his investigations went on for at least a year and a half.
There are many evident black holes in European politics – not only for the press who devote themselves to uncovering truths in this crucial space in democracy, but also for the citizens, 45% of whom voted at the last European elections in 2004. The last Eurobarometer poll reveals that this number is set to diminish to 40% this year. What might the European press' next investigation be? 'The money marked aside for interns,' replies Deltort. 'It's a scandal that interns are paid badly - if at all - in the European parliament.'
Translated from Parlorama.eu reabre a pesar de las amenazas de políticos