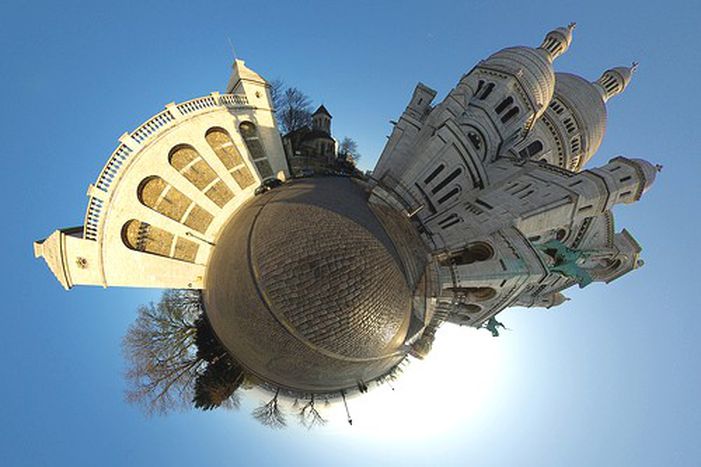 Parisian for a day
Published on
A group of native Parisians is helping visitors to discover another side to the capital; and it's free. A world away from tourist buses and sightseeing river boats, we catch a glimpse of the bars and gardens of a hidden Montmartre
Anvers metro station, 10 am, and dozens of tourists are already pouring into the streets of Montmartre. Montmartre, a small village within the French capital, truly is a preserved paradise. The guy we're waiting for arrives a few minutes late, finds us quickly and discreetly rounds us up. Jean-Michel, about fifty years old, dressed in a casual t-shirt, is our guide for the morning. One guide between just four of us! And if that wasn't enough, the tour is free. Jean-Michel is a member of 'Parisiens d'un jour' (Parisians for a day). It's an association which started up two and a half years ago, inspired by the American 'Greeters' phenomenon, and which today has nearly 110 guides in Paris. Volunteers of all ages, these native Parisians offer visitors the chance to see another side of the city, far from the tourist trails and usual souvenir photo-ops.
Sneaking through gardens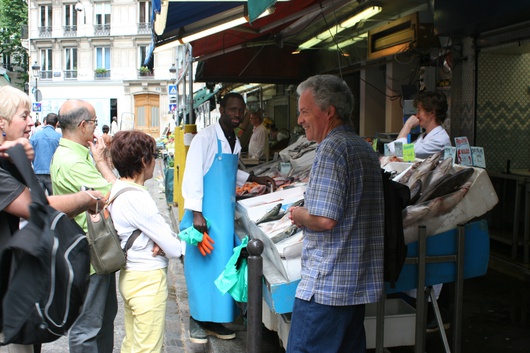 Our guide does not disappoint. The visit begins with a walk along the Boulevard de Rochechouart, where tourists are few and far between. We come across a few bohemian types on bicycles, some retired people playing pétanque (French bowling), and a young couple with their children. In short, real Parisians! The ascent of Montmartre begins with a climb of a dozen steps across a private courtyard. 'I know that the door's open all day so I take the opportunity to pass through here,' whispers Jean Michel. Which gives us the chance to catch a glimpse of some magnificent apartments and gardens. We come out on the rue des Trois Frères then pass through the rue d'Orsel and the rue des Martyrs before arriving in the place des Abbesses. Here, we come across some other tourists. We instantly feel sorry for them. At twenty to a guide, it's not so easy to follow the explanations.
The streets we walk along are empty of tourists
We continue our walk at a snail's pace towards the summit of Montmartre. There's the obligatory stop in front of the famous bar from the film Amélie (2001). We don't hang around there for long, but take a quick detour by the Moulin de la Galette before continuing the climb. This area of Paris is well-known for being a tourist trap. It's odd; the streets we walk along are mostly empty of tourists. That's what 'Parisiens d'un jour' is all about. It's relaxed and enjoyable visit with a difference, taken at a pace which suits you and accompanied by the anecdotes of a guide who lives in the area.
Cocktail hour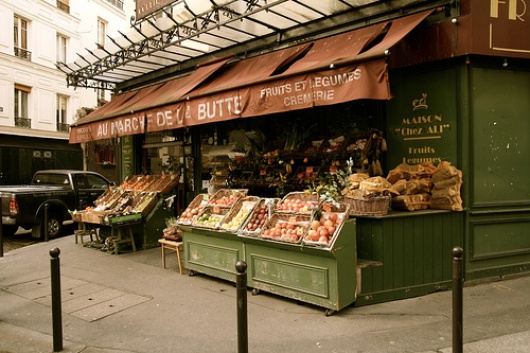 It's 12.30 when we arrive at the foot of the Basilica of the Sacré Cœur. After more than two hours of walking, our guide takes his leave. 'Don't forget to go on our website and sign the guestbook. And don't hesitate to contact us for other visits. Sometimes you even find volunteers who'll invite you round for a drink!' A Swiss couple who came upon the scheme by chance are delighted: 'I feel like I've discovered something different, it's so much more interesting to visit a city like this.' The website recommends that 'for every request, make sure you specify your interests, the theme of your visit, the language spoken and the age of your guide.' Whether you're looking for a bar crawl or a tour of famous monuments, there's bound to be a Parisian to suit your taste.
Translated from J'ai testé pour vous : la visite d'un autre Paname