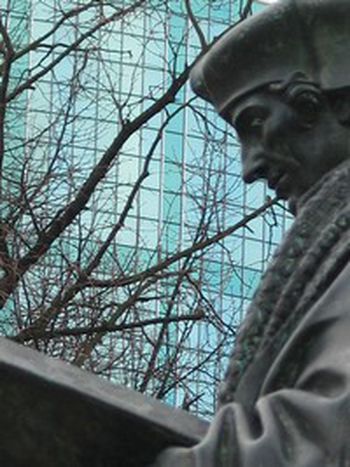 Paris-Japan-Dublin with Erasmus
Published on
One voice amidst the 100, 000+ other Socrates students who traverse Europe and its borders
Breathing a sigh of relief, I looked around the sunlit classroom, filled with clapping French, Germans, Spaniards, Italians and Brits. My final presentation of my Erasmus exchange year was over. The coming weeks would bring final exams and many goodbyes, before, diploma in hand, I would return to the bustling Dublin campus that was home. But the skills that I had developed that year, the experiences I had encountered and the friendships I had made would remain with me and shape my future plans.
In less than a year I had accepted a place on the Japan Exchange and Teaching (JET) Programme for young graduates. The interview panel drew on my Erasmus experience. I found myself in the same situation at an interview two years later for an international journalism programme, where the interviewees were keen to learn of the communicative and team-work skills my year abroad prepared me for. Even today, as one of the growing 'Erasmus Generation', I have a strong feeling of being 'European', coupled with my Irish identity. This feeling was fostered in that Parisian campus where friendships crossed all European borders.
Socrates dynamite
But I am only one Erasmus student. Since the inception of the programme in 1987, over one million and a half students have gathered up their textbooks and diverted to hundreds of European campuses across the continent. 'At parties there are friends from all over,' says Iwona Biernat, a Pole who studies at Trinity College in Dublin, where she enjoys the international atmosphere of the campus. 'It's dynamic and always interesting.'
'For the students who travel, it is an enormously rewarding educational adventure, benefiting them academically and socially, and giving them a new perspective on their lives as Europeans,' says Professor John Kelly of University College Dublin.
Exposure, employment
Increasingly, employees are looking for graduates who have undertaken an Erasmus programme during their university years. 'It sets them apart,' says Patricia Hughes, of Brightwater Consulting. 'Erasmus students are more versatile and they are used to working with a dynamic international team.' This is of particular importance in the business world, where international transactions take place daily.
'It is the exposure to international ideas and cultures that is fundamental,' says Professor Eamonn Walsh, dean of the Smurfit School of Business. At Gateway Computers, Paul Carroll states that language students with experience in that country are often the most sought after employees. 'A language degree is fine, but we find that people who have lived and worked in another country or have gone abroad on Erasmus programmes are by far the best.'
Erasmus – big bonus for your career?
According to a study done by the European commision in 2006, 54% of former Erasmus students believe that their stay abroad has helped them to get their first job.
At the Grande Écoles (literally 'Grand' or 'Elite Schools') in France, the academic year abroad has become compulsory.
The qualities gained include a better adaptability to the business world and employee profiles that are orientated towards overseas trading. 'Four out of five managers insist that studying abroad increases the chances of getting a good job,' the study explains. 'More than half also claim that Erasmus students have better chances of getting a position suited to their level of study than students who don't study abroad.'
But the significance of the positive effect can vary depending on which branch of the industry is concerned. 'The influence of an Erasmus year on a young person's career is more significant in the fields of sociology and business.'
And finally you should note that students from eastern Europe benefit more from their experiences abroad than others. 'They're said to get the more advantageous positions in businesses compared to their counterparts in western Europe.'
By Jane Mery, translated by Martyn Hawkins from French to English