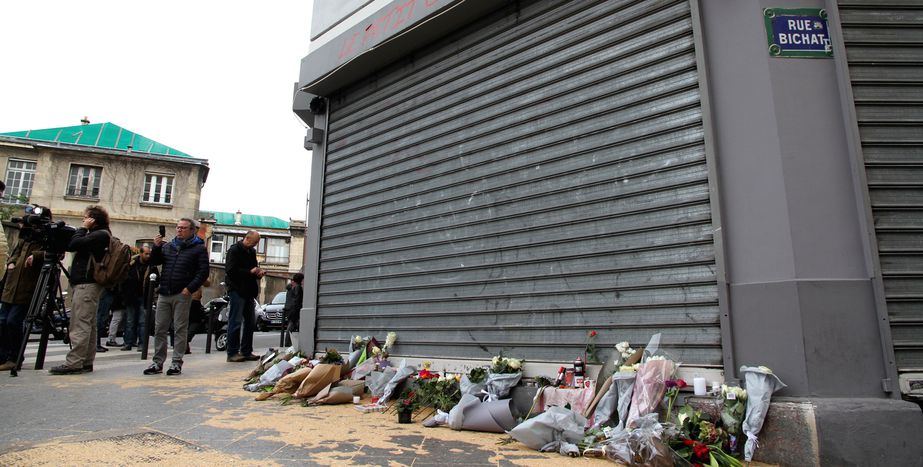 Paris 10, Paris 11: The Paris of my 'firsts'
Published on
A young woman who has grown up in the quartiers where the attacks took place remembers her 'firsts' at Le Petit Cambodge, Bataclan, Le Carillon... A piece about love, laughter and life.
[Editor's note: The punctuation in this piece is deliberately broken to express the author's actual feelings while writing it]
Paris 10, Paris 11.
The Paris of my 'firsts'. My first kiss, first night of love, first break-up. We kiss in Rue Oberkampf, we make love in Place de la République we move to Bonsergent, we go our separate ways back at République we go on a date at Maria Luisa we fight and we hate each other on the Boulevard Voltaire but we meet and love each other on the Boulevard Voltaire and you, I love you at Couronnes.
First freedoms, we're 12, we criss-cross through the neighbourhood from school all the way to Rue Saint Sébastien. On the way to Cour des Lions our friends from Beaumarchais gossip on a bench. They're cracking up laughing making fun of their friends. Oberkampf Cercle Dangereux. You know they're 13, but they go too far with their jibes and you avoid them.
First teenage infatuation, we spy on Jérémy in Boulevard Voltaire. He lives on the 1st floor and he's the son of the owner of Bataclan he's older than us and he's gorgeous we love him we're ugly but we couldn't care less. We're having so much fun. He laughs when we follow him on the sly back from school, all the way to his place. We're ridiculous but we couldn't care less. We're 12 we live in the 11th arrondissement we're not afraid Paris is big.
The first cool people we came across. It's nice outside we finish class and go up Boulevard Voltaire, they've just redone the terrace at Bataclan, "A'right Jamel, how's it hanging?". I'm 14 my boyfriend thinks he's so smart and I feel proud when Jamel smiles at him and says: "I'm cool and you?" Jamel is sitting on the terrace at Bataclan enjoying the sun.
First concert of my twenties, Dizee Rascal at Bataclan. More firsts when I'm reaching the end of my twenties. Fauve, Kery, Medine, Disiz all at Bataclan.
First sports meet-ups with my girlfriends: in my thirties no worries let's run from Place de la Bastille to Place de la République then Jaurès let's go by the river bank. Le petit Cambodge. 
We debate whether we should go to Le Petit Cambodge or not. It's good not so good don't know not sure oh come on let's go back let's see. It's full so we stop and wait at Le Carillon. We have all of our leaving dos at Le Carillon. We meet up with our mates at Le Carillon. We bump into friends outside Le Carillon. We get rotten drunk at Le Carillon we laugh at Le Carillon we may even cry out our eyes at Le Carillon.
And on the way home we go up Rue de la Fontaine au Roi. We pass by the terrace at Casa Nostra.
Paris 10, Paris 11. 
The Paris of my 'firsts'.
The first time I feel that they've really gone after my home my city my land my history my friends my people. 
The first time I truly know where my land is I can feel it in my guts my belly.
And I know that you're like me that you too have your history your stories about Le Carillon Bataclan Le Petit Cambodge Boulevard Voltaire and Rue de Charonne. I know you're like me because there's many of us who love Paris 10, Paris 11 who stubbornly stay here and don't want to leave it.
Paris 10, Paris 11 
The Paris of the first time I'm afraid for the ones who are still in your arms
Paris 10, Paris 11 
I'm afraid for you my neighbourhood my city my country. Afraid of tomorrow of the rising anger and stupidity afraid for all those who will be targeted who will pay because someone has to pay. Afraid that it will start all over again afraid of being afraid again.
Paris 10, Paris 11. 
The Paris of my firsts.
The Paris of the first bloodbath.
Of the first resurrection. Quickly, I hope.
Look after yourself, look after them.
PS. Saint-Denis, I know you less well but I feel for you. For us all.
Translated from Paris 11, Paris 10 : le Paris de mes premières fois