Papandreou criticizes Turkey
Published on

In a surpsie move, the Greek prime minister on Friday sharply criticised Turkey during what was meant to be a peace mission between the historical rivals, though his Turkish counterpart, seated in the audience, responded mildly when his turn came to speak. "What is Turkey trying to prove?

" George Papandreou said, complaining about what he said were violations by Turkish jets of Greek air space earlier this week.

Greece and Turkey are NATO allies that have improved ties over the past decade. But they remain at odds over war-divided Cyprus and sea and air boundaries in the Aegean sea. Warplanes from both nations routinely intercept each other. Turkey maintains it is not violating Greek air space and accuses Greece of hindering access to international waters and air space in the Aegean. " Papandreou said through an interpreter.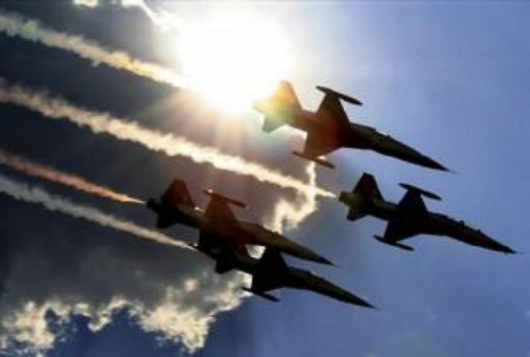 "On Wednesday, eight Turkish planes flew over a Greek island,"This might be routine for Turkey, but such actions lead Greek people to wonder whether Turkey is seeking a different course."

Turkey's Dogan news agency showed television footage of the event. Turkey's Prime Minister Recep Tayyip Erdogan, Foreign Minister Ahmet Davutoglu and Turkish ambassadors who were invited to the eastern city of Erzurum for a routine coordination meeting, were in the audience. " responded Erdogan, who is himself known to speak bluntly in diplomatic settings. He has levelled especially harsh criticism at Israel over its treatment of Palestinians and deadly raid on a Turkish aid ship bound for Gaza.

"We have to find a solution to problems in the Aegean based on mutual benefits and we will,

Erdogan said, referring to Papandreou as a "friend."

"We have to get into the spirit of consensus, there is no reason why we cannot solve this,"

The website of the Turkish military says Turkish F-16s were intercepted twice by Greece's French-built Mirage 2000 jets on Wednesday southwest of the Greek island of Lesvos and north of the Greek island of Chios. The military said Greek jets intercepted Turkish planes seven times since January 1. Greece, whose easternmost islands border Turkey's coastline, says there is no issue up for discussion except setting the limits for the continental shelf, allowing each country to mark out where it can exploit seabed oil and mineral deposits. Turkey also does not submit flight plans to Greek civil aviation authorities when flying over the Aegean. Turkish officials also maintain that sovereignty has yet to be determined over many small, uninhabited islands near its shores - a claim that Greece opposes. In recent years, relations thawed. In 2002, Greek and Turkish diplomats launched exploratory talks on their disputes. Business deals have steadily increased and include a pipeline link that is used to carry natural gas from the Caspian Sea to western Europe. The two countries came close to war three times between 1974 and 1996 over the Aegean and Cyprus. Cyprus was split into a breakaway Turkish Cypriot north and a Greek Cypriot south after Turkey invaded in the wake of a coup seeking to unify it with Greece. The division of Cyprus has hindered Turkey's bid to join the European Union. Turkey began entry talks with the EU in 2005, but negotiations on several policy areas have stalled or been suspended because Turkey refuses to open ports to trade with Cyprus, as it does not recognise the Greek Cypriot government.