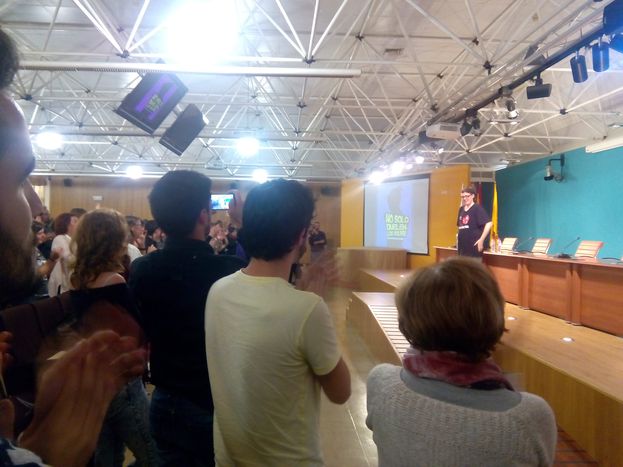 "Pain not only from blows": abuse in the first person
Published on
Pamela Palenciano travels around the "hysterical peninsula", as she defines it, using the theatre to tell her story of 6 years of abuse. Through the monologue "No sólo duelen los golpes" (Pain not only from blows), Pamela portrays on stage Antonio, her abuser, so that the audience can judge for themselves.
"It was really hard for me to laugh because the things you said were very unpleasant," confesses one of the female attendees. Seated on the stage which was her world for the past two hours, the protagonist smiles and nods. "I swear if I didn't do this, I wouldn't have been able to tell the same story every day," she admits. "I know, it's not funny at all."
They are speaking about the monologue "No sólo duelen los golpes" (Pain not only from blows) in which Pamela Palenciano uses the theatre to tell us her experience with Antonio: the man who almost killed her on two occasions, who destroyed everything that made her who she was, and who left forever inside of her "an Antoñita" who repeats the violence she suffered during six years. With a great deal of dark humour, Palenciano relates her story in the first person and puts herself in the shoes of her attacker, disarming the entire audience which is unable to hold back tears as well as roars of laughter.
"Pain not only from blows" was the phrase that allowed Pamela Palenciano to piece together the puzzle of her experience with the abuser, of which she managed to get out alive. "Why do you think I'm here today after 15 years? Apart from the fact that he didn't manage to kill me," she reflects and forces us to think. "Because I don't have children with him, because if I had a child with that guy, he would continue screwing up my life through my children," she replies to herself.
Upon saying these words, she takes a breath because she feels a pressure in her chest, then she voices her unease: "You all will forgive me, but I need to say this and I need to say it like this because I need to get it off my chest." She inhales. She reconstructs in her head the stories of thousands of women who confess to her the hell they've been through after her monologue caused them to break down. Pamela remembers the threats received from men on social media, like the man from her first therapy sessions, whose wife justified his behaviour because "he would only disrespect her and insult her in front of their daughter" and she says with all the energy she can get out, "There's no way in hell a guy who does that to the mother of his children is going to be a good father. I don't know what in the world SOS Papá, Amor paterno, Custodia Compartida are doing... These are platforms in which all the abusers who don't go to jail are involved. Should I say it louder?"
However, Pamela's story isn't one about good people and bad people. "The campaigns don't work because we are focusing only on women. There's a way out for you and a red card for the abusers. What do I do with that? I create bad and good people. That is the problem. Being a victim of abuse does not make me a good person. I have a very bad temper and many flaws. Antonio wasn't completely bad all the time. That is the problem. Nothing is done for the men. There isn't any real interest in changing this. What society is doing is putting paper over the cracks." Faced with this, we need to invest time and resources and do a comprehensive job, ensuring to always respect the abused women.
And while the administrations get their act together, "as of now, we need to build together, creative men and women, new intervention networks ", providing women with spaces in which they can feel strong and empowered, and to which they can hold on in order to gather momentum and get out of their situation. "We need to inspire men and women, so they don't wait on the State or laws to solve the problem." In Pamela's case, her space was a radio programme, which saved her life, and the theatre, which allows her to tell her story. But she believes that each woman should find her own method. However, she maintains that women should "be better friends" among themselves, stop competing with other women, and create solidarity networks that are "stronger than the violence they suffered."
"I'm not a psychologist and I'm torn. I'm exhausted," she says tearfully after the entire audience at the Magna lecture room at the Humanities Faculty stood up to give her a big and warm round of applause. Among those present, the dismay is blatantly obvious. They didn't stop laughing in the past two hours, however, they all have a sorrowful and pensive expression as if the pieces of their puzzle were also being fitted together at that same moment. "My political project is to tell you that true love doesn't hurt, that the personal aspect is also political and that "Pain not only from blows" seeks to make people uncomfortable. I came to cause discomfort, because in order to change things people need to get uncomfortable and fidget in their seats." Objective clearly achieved.
Translated from 'No sólo duelen los golpes': Maltrato en primera persona