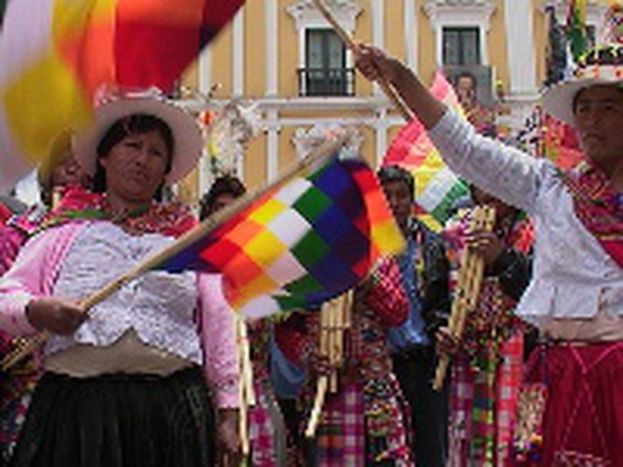 Pablo Gutierrez Vega: Bolivia's energy policy does not target Europe
Published on
Translation by:
clea caulcutt
Does the recent nationalisations launched by Bolivian president Evo Morales target Europeans ?
'European corporations who do not renegotiate their contracts with Bolivia before November 1 will have to quit the country', warned the Bolivian vice-president Alvaro Llanera. Bluff or real threat? With a GNP of 3,000 euros per year and per citizen, Bolivia is not only the second poorest country in Latin America but also the most unstable. The Spaniard Pablo Gutierrez Vega, 35 years old, member of the EU's mission of electoral observation in Bolivia and professor of law history, analyses the consequences of the rise of Evo Morales. Elected in December 2005, Morales is the first Bolivian president of Indian American descent, in a country where 60% of the country is indigenous.
Restructuration plans in full swing
Elected head of the Bolivian state, Evo Morales, the leader of the Socialist movement, immediately demands that constitutional assembly be held in order to radically reform government. Since August 2006, Congress and the Constitutional Assembly have been working on a new constitution that should be adopted before the year ends. In May, President Evo Morales announced the nationalisation of all oil fields. International Observers judged these measures most alarming. 'Generally speaking, foreigners aren't being excluded: Many Spaniards, Cubans or Venezuelans feel at home in Bolivia,' says Gutierrez Vega before adding that 'many Serbs have bought land in the East of the country and have broken property laws which forbid foreign acquisitions within 50 km from the border.' An attitude which, according to Gutierrez, 'caused a wave of protests among Bolivians'.
A losing country
'Neverthess, strong nationalism is to be expected in a country which lost all the wars it waged,' says Gutierrez Vega. Since its independence in 1825, Bolivia lost two thirds of its original territory. At the end of the XIXth century, Bolivia lost a war against Chile and is no completely landlocked. 'That's anti-Chilean populism still thrives there.
'Bolivia's nationalisation of the energy resources managed by European, Brazilian and Argentinean companies will push Chilean petrol prices up. Indeed these companies provide Chile with petrol and the Bolivian government must have taken this into account.' But not all Bolivians support Morales decision. 'There is no consensus today in Bolivia,' adds Gutierrez. 'Most Morales supporters are concentrated in the capital city, La Paz, and in El Alto, the hub of social protests these last few years. The Eastern states disagree with the nationalisations.
European companies must negotiate
Today, Bolivia is divided between its populated Western states and the Eastern states where the national elite has found refuge. The prosperous province of Santa Cruz has become a headquarters for bourgeois dissenters and autonomists who want to have their share of power. Nevertheless a refenrendum organised in July 2006 showed that Bolivians did not support greater regional autonomy. Can the opposition offer any viable alternatives to Morales' programme? 'Absolutely not,' declares Gutierrez, 'the Bolivian opposition faces a deep crisis. The right-wing and the Revolutionary National Movement (MNR), led by the Che in the fifties and sixties, no longer have any credibility. Currently the Morales government is working to give the indigenous population more right to exploit energy resources. A decision which will soon be adopted.'
Translated from Pablo Gutiérrez Vega: En Bolivia no hay rechazo a lo europeo pero sí nacionalismo