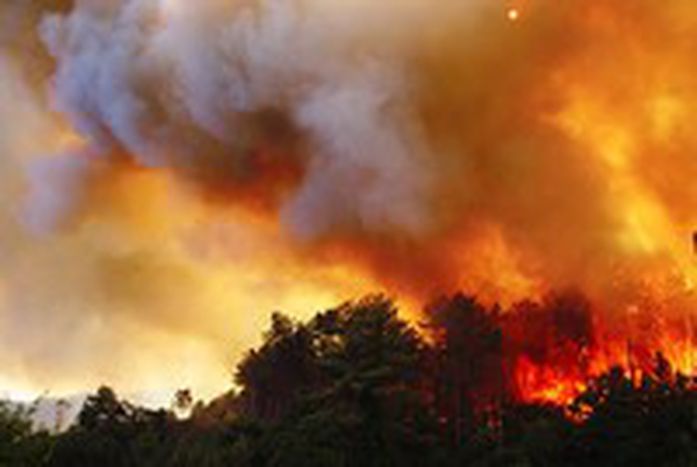 Over 50, 000 forest fires in Europe per year
Published on
Translation by:
joanna sands
Wildfire 2007, the 4th International Wildland Fire Conference, takes place in Seville, Spain from 13-17 May
An ailing Europe suffering from the effects of climate change and global warming prepares itself for another sweltering summer - with further blazes set to burn.
According to meteorological research, the last few years have been the hottest on record. As a result, every year around 50, 565 forest fires burn in European territory causing not only the loss of human lives, but immeasurable devastation to the environment. Europe, however, has yet to present a united front on how to tackle this burning issue.
Mediterranean member states
Countries such as Spain, Portugal, Italy, France and Greece are worst affected due to their geographical position and climate conditions. They are the EU member states with the highest forest fire risk index, and where the largest amount of burnt forestland is recorded. A total of 589, 559 hectares (an area almost the size of Cyprus), between the five countries burned to ashes in 2005. That year the number of fires overtook the average of previous years, with an overwhelming 73, 325 cases during the summer months.
Portugal and Spain are the most severely affected. According to data from the 2005 European Report on Forest Fires, compiled by the European Commission Joint Research Centre, 88% of forest blazes that year took place on Iberian soil. Again Portugal and Spain bore the brunt of devastation with 85% of the 589, 559 hectares surface area affected.
Fanning the flames - the effects of desertification
Rising temperatures are not the only cause of Europe's plague of forest fires. A combination of factors have conspired to keep Europe bone dry and vulnerable to the flames. An unrelenting drought caused by plummeting levels of rainfall, inefficient forest management due to inadequate land policy regulation, the limited varieties of trees planted and above all the desertification of rural areas once farmland has been abandoned have all played their part. In 2003, according to figures from the United Nations Convention to combat desertification, 31% of Spanish and 18% of Italian territories were found to be in an extreme danger of desertification.
Criminal damage is another of the cause of the large number of fires. However, the European Commission lacks the ways and means to determine exactly how many fires can be attributed to arson/ man. 'Many fires start for reasons which we are unable to establish,' says Paulo Barbosa, a Portuguese researcher at the Joint Research Centre Institute for Environment and Sustainability in Brussels.
Prevention, not cure
In response to the situation, the Commission has opted for preventive strategies. Through the Joint Research Centre, a research group was created in 1997. This develops and puts into practice measures such as 'forest fire risk forecasts'/ It also creates maps of the areas of European territory affected.
Efficient co-ordination between all sectors involved in forestry policy is provided for in the Sixth Environment Action Programme of the European Community (2002) EC regulation no. 2152/ 2003 encompassed 'Forest Focus', concerned with the monitoring of forests in the European Community. In turn, Forest Focus established the European Forest Fire Information Service (EFFIS), its objective being to create forecast maps for the areas most prone to forest fires. This is based on meteorological information and satellite images, to be sent daily to the twenty-seven member states.
Forest Focus ran until the end of 2006, with some of its projects in force until 2008. This has been replaced in 2007 by LIFE+, the EU's single financial instrument targeting only the environment and environmental policy.
Yet without a watertight strategy for the fight against forest fires, the European Union faces the very desperate need to create a common policy on the subject. According to Barbosa, 'further measures and European Community legislation shall be taken and adopted in the Seventh Framework Programme (2007-2013), in order to deal with the forest fire situation.'
Read the original version inPortugese
Translated from 50.000 incendios al año en Europa