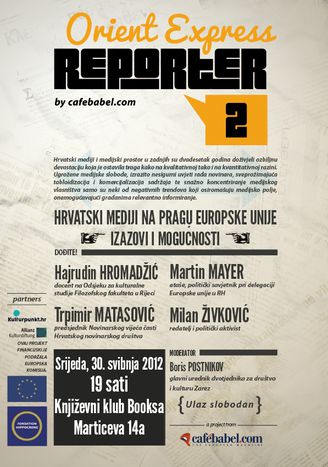 'Orient Express Reporters II' debate in Zagreb, 30 May, 7pm
Published on
Come and join cafebabel.com and our friendly partners at kulturpunkt.hr to debate:
'Croatian Media entering the European Union - challenges and possibilities' WHAT?
The Croatian media and media space have in the last twenty years undergone a serious devastation that left a mark both on a qualitativ and quantitive level.
Endangered media freedoms, precarious working conditions of journalists, overwhelming tabloidisation, commercialisation of content and strong concentration of media ownership are only some of the negative trends that weaken the media field and disable access to relevant information for citizens.
In this context, how is it possible to ensure the development of the diverse media landscape which consists of three stable sectors – private, public and the third sector (non-profit media sector)? How can we ensure the sustainable development of the non-profit media who are key actors in that process and how can we apply positive European practices and experiences in Croatia? What is the situation in the region, what are the similarities and what are the differences from ours?
WHERE?
Booksa Martićeva 14d, 10 000 Zagreb, Croatia
WHEN?
7pm, 30 May 2012
WHO?
About this and many other questions that are important for a development of the broad, reach and diverse media landscape in Croatia we proudly present interventions from:
Hajrudin Hromadžić, docent on Department for the Cultural Studies at the Philosophical Faculty in Rijeka
Trpimir Matasović, journalist and president of the Journalists Council of Honour
Martin Mayer, political adviser and the member of the delegation of the European Union in Croatia
Milan Živković, director and political acitivist.
The talk will be moderated by Boris Postnikov, editor in chief of the magazine for society and culture Zarez.
WHY?
This debate is taking place in the framework of the flagship project Orient Express Reporter II by cafebabel.com, where teams of European citizen journalists and photographers report from Balkan cities and vice versa over the course of a year.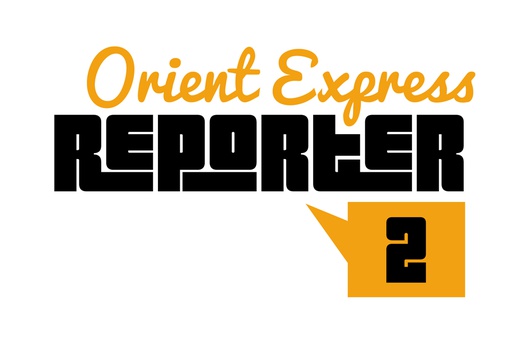 *The internet portal Kulturpunkt.hr is the only media in Croatia which systematically covers the independent cultural scene and new critical practices sinc e 2005. It is opening its space to civil initiatives that are active in the advocacy processes and is encouraging responsible social and political decisions in Croatia as well as the stronger participation in the decision making processes. Important issues that the portal is dealing with are youth culture, urban culture, social activism, new technologies, contemporary art, free culture, queer culture, new media art, new artistic practices, experimental and progressive approaches to art, amongst others.
by Janja Sesar