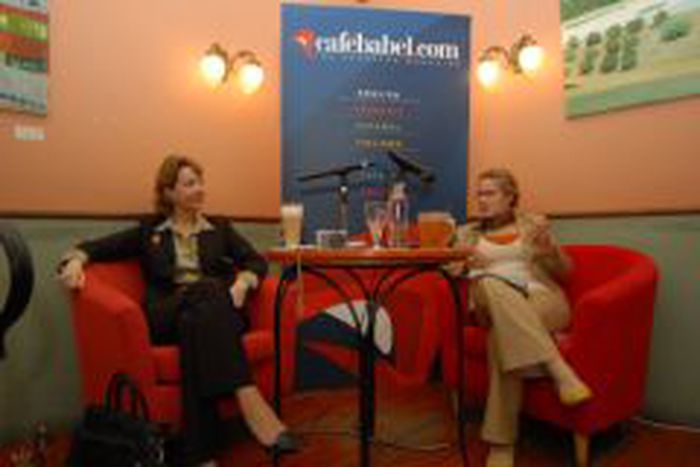 Online media becomes much more important even for diplomacy
Published on
Budapest, 11 March 2008, 5.30 p.m.
Despite being Tuesday afternoon and the fact that for many our last debate has started long before the end of their working time, around 30 young people, journalists, researchers and students interested in foreign affairs gathered in Cafe Petit Vian, a cosy downtown café.
Participants and especially members of the Budapest team were on pins and needles till the arrive of their special guest, U.S. Deputy Assistant Secretary (DAS) of State for Public Diplomacy Colleen Graffy, since it was her personal wish to meet Babelians living in Budapest during her visit in the Hungarian capital.
Shortened version of the discussion is available on video:
Besides questions being on the agenda in the US and current issues of the EU-U.S. relations, the debate focused on the role of web-based journalism and online communities in today's public diplomacy. It was the first time for our moderator Katalin Szalóki to try herself out in such a role but she found the common words from the very first moment both with Ms. Graffy and the audience.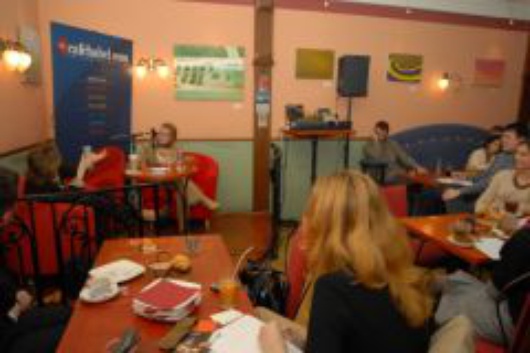 For the first question why Ms. Graffy kept it important to meet Babelians during her short stay in Budapest, she replied honestly that simply because she praised the idea of cafébabel and young people involved in this project. According to her, such initiatives are very important because they ride the crest of a new wave of web-based journalism and transborder communities. She added that the State Department also uses such online tools. Nowadays they are essential for facilitating people to people communications and to reach target groups anywhere. She mentioned as a good example the blog called 'dipnotes' available on the site state.gov launched by diplomats on their everyday work, that is quite popular.
Answering a question from the audience on the influence of international media on diplomacy and politics, DAS Graffy noted that the increasing role of web-based media in international affairs could be a constructive influence bringing, greater awareness and transparency to important issues of the day. Talking about today's diplomacy, she added that owing to the much more complex and changing international environment, public diplomacy has undergone significant changes during the past decades. For instance, there is not simply a press agency working behind a ministry for foreign affairs but there is a team of experts and psychologists assisting diplomats and politicians to communicate their acts and decisions. Furthermore, there are film-stars, sportsmen and well-known artists operating as cultural ambassadors who have the mission to communicate the U.S. culture all around the world.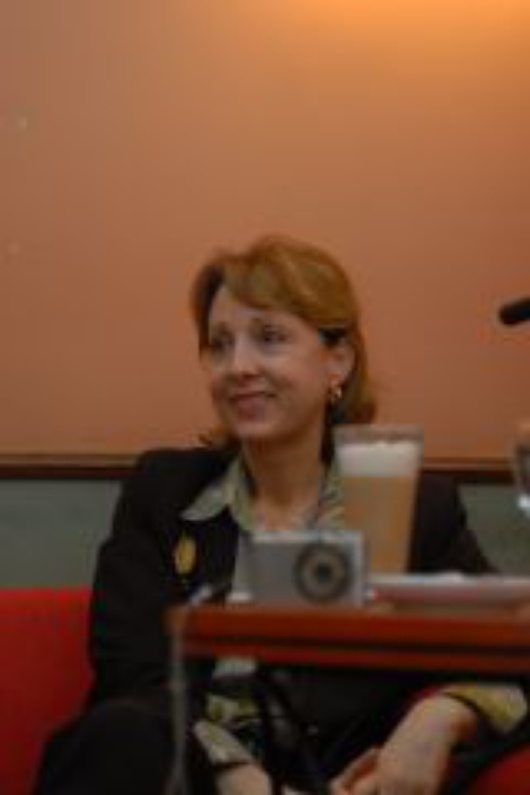 She disproved our feeling that young Americans are not interested in international affairs. Moreover, she explained that students spending couple of semesters overseas are always much more opened to politics, they follow current issues being on the agenda even in Europe, and they are often more critical than their fellows stayed at home. She highlighted that the wide-spread use of Internet has certainly contributed to the change of young people's attitude perceptible nowadays.
Reflecting to the Hungarian example that the Ministry for Foreign Affairs has launched a public debate and collaborated with various think tanks, intellectuals and NGOs in the work out of the new strategy of foreign relations of Hungary, she noted that there are no such a concrete example in the U.S., but there is a tendency that think tanks and the public have growing influence in shaping foreign policy. Concerning the current presidential elections, she explained that although the campaign starts to look like a reality TV show, she is happy that it is broadcasted 24 hours a day world-wide because it reaches more and more people and provides the possibility to communicate not only about the candidates but the U.S. itself.
At the end of the discussion - what I would rather call a chat then a debate- , attendants felt free to pose questions on hot topics like the Visa Waiver Policy, the current situation in Iraq, the U.S. policy on climate change, energy security, and the relations with China and Russia. Despite the foul and drizzling weather participants went home with the experience of a conversation of pleasant atmosphere.
Cafébabel Budapest thanks the U.S. Embassy for much assistance and making possible organizing the debate.
Report on Ms Graffy's visit in Budapest is available in dipnotes.