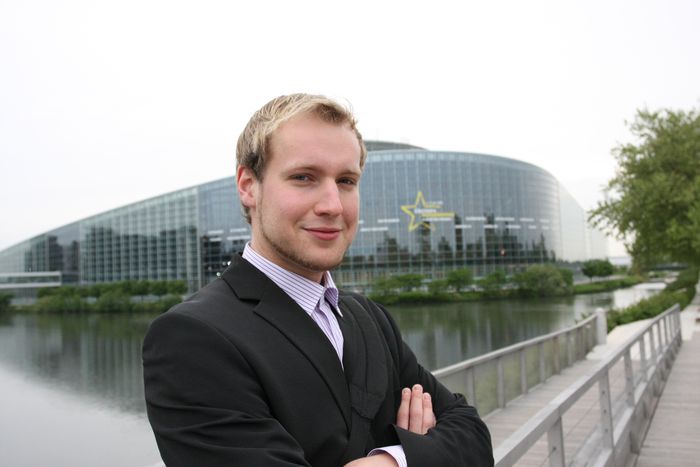 One day at the European parliament in Strasbourg
Published on
For one week in each month the European parliament travels to Strasbourg to make decisions. The EP microcosmos runs in full speed in its Louise Weiss building. But how does it all really work?
9.34. But only 30 out of 785 seats are occupied in Lowhem plenary hall, at the European parliament's headquarters in Strasbourg. A heated debate about telecoms package is going on in the desert hall between a handful of parliamentarians. Vital questions like the freedom of internet use and citizens' rights are being raised, but the hall is still empty.
W for Wilderness
'It's the last session week before the elections so everything they haven't passed before has to be passed now,' explains Constantin Schäfer, a 24-year-old erasmus exchange student from Germany and an intern for Anja Weisgerber, an MEP from the right-wing EPP-ED group. Parliament's work is divided in weeks: first the work in the committees to prepare proposals, then in groups to discuss them and on the third week the EP brigade with MEPs, cooks and assistants travel to Strasbourg to gather all together, debate and vote. My astonishment is even greater; then where is everyone?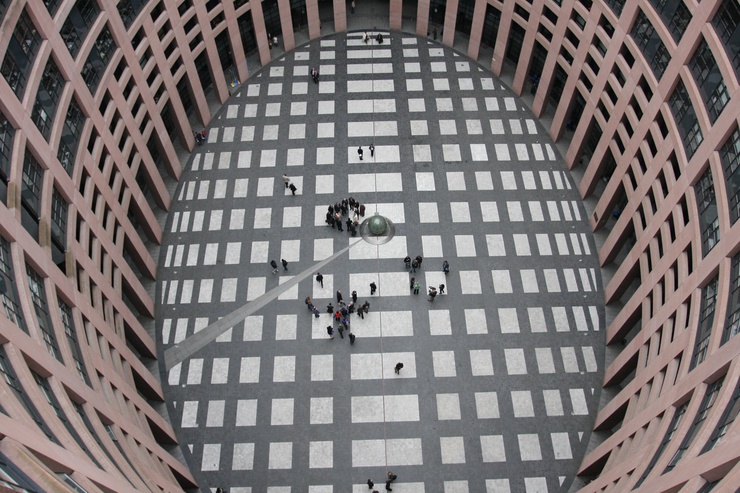 'Everyone is in their offices working. There is just so much coming from all directions,' says Schäfer. He is an intern, but it's the parliamentary assistants who represent one of the basic elements of this EP puzzle. Every MEP has two to four assistants who do everything for the MEP, except for the actual decision-making. The work on background research, speeches, answer emails and, depending on the independency level of an MEP, book hairdresser's appointments and fill in their calendars for them.
'MEPs don't have time to go into details with everything that's going on in the parliament'
They also monitor what is going on in the plenary hall: In each office there's a TV where the ongoing session is transmitted live. For the debates MEPs go only if they have something to say, otherwise, it's just a waste of work time. That seems to be the reality: the carriage is running so fast that you have to focus to stay on board. 'MEPs don't have time to go into details with everything that's going on in the parliament. So they call their parties to find out its opinion on a matter or talk to different lobbyists. The question is which lobbyist to believe,' Schäfer elaborates.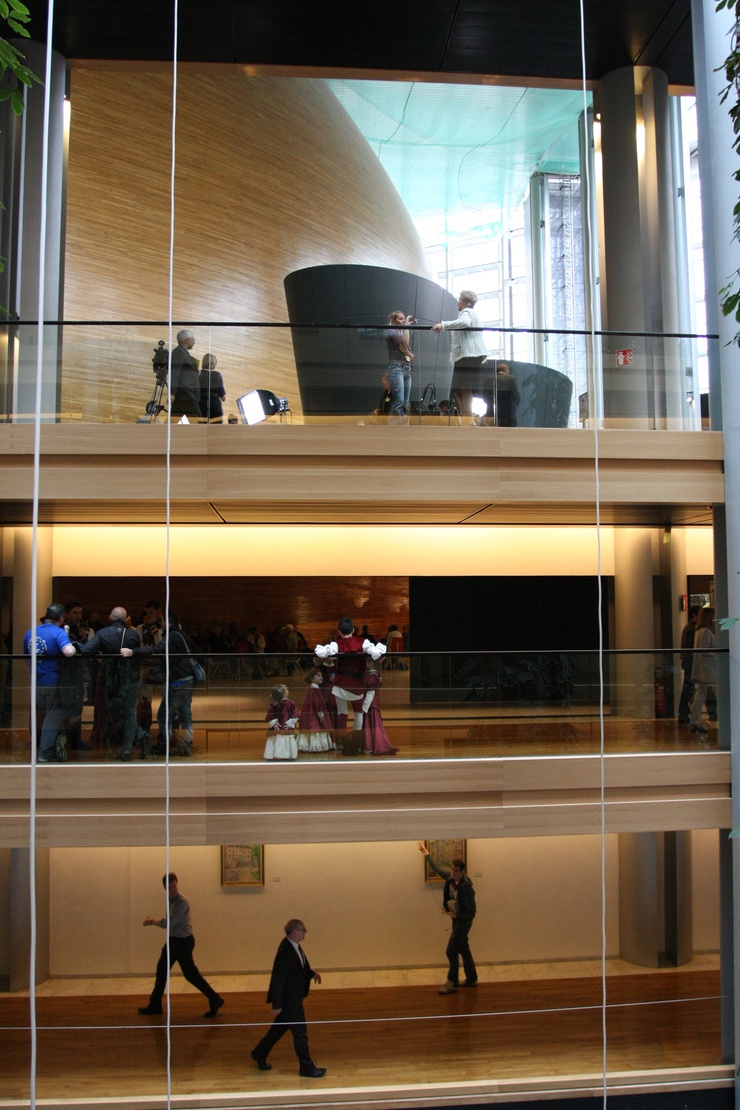 15 seconds' decision making
When you talk EP, you have to talk languages. Yes, there are many in the European parliament, but thanks to modern technology I can put on the earphones, tune on to my preferred language channel and enjoy the monotonous talk of Finnish interpreters... It's a language not often heard in the EU world, so it's the perfect excuse to start a conversation with a stranger when you have nothing else in common. In Café des Fleurs, one of three cafes in the EP's Louise Weiss building, I hear a man speaking Finnish on the phone. Pasi Moisio, SKAL, Finnish Transport and Logistics, I gather from his visit card that is handed over so swiftly that the owner has to be a lobbyist. He offers me a cup of coffee but orders wine for himself. It's not even noon yet.
'They're voting today,' Moisio grins. He is indeed a lobbyist and the vote he is here for is about the 'organisation of the working time of persons performing mobile road transport activities. It's been on the agenda for eleven years now,' Moisio explains while his gaze is nervously running around as if searching for someone. Not having finished his glass he runs away for the voting session starting at noon.
In the front row of each political group one person puts his thumb up or down  to the show MEPs how to vote
11.56. Lowhem starts to fill up slowly, the first time I see the hemicycle full and in motion. It might take ages for issues to go through legislative procedures but the actual voting is over in 15 seconds: In favour, against, abstentions, in favour, against, abstentions, it's hard to follow the results. Hands rise and fall, in a very orderly and predetermined fashion. And it is, really: in the front row of each political group there is one person who by putting his thumb up or down shows to the other MEPs how to vote. In 45 minutes the drama is over, proposals have been 'carried' or 'rejected' and the MEPs disappear faster than they arrived.
Five o'clock cocktails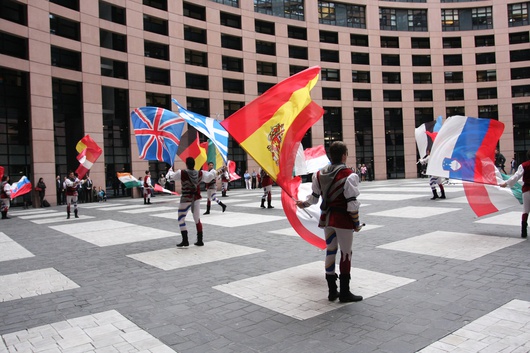 You find friends easily at the parliament. Again, in the great Café des Fleurs I meet a journalist who invites me to a EPP-ED groups cocktail party. At 17.30. we enter with her interviewee, an Austrian MEP Paul Rübig. The cocktail party is to celebrate the fifth anniversary of enlargement of the EU and obviously there is a book involved. Though, it's the champagne on one side and Barroso on the other side of the hall that draw all attention. 'It's an important social event where you can talk informally,' Rübig explains, about the concept of cocktail party. 'Here you can approach the right person if you want to get on a speaker's list in your group or ask for a statement.' With a grin he escapes. So do we - five o'clock is a bit too early for a cocktail and besides, there is still too much to miss. Wandering around the corridors of Louise Weiss, I see an abandoned book on a table dirty with wine stains: it says Europe rediscovered, PSE, socialist group in European parliament. The right wing are not the only ones to have fancy chitchats for networking.
The day draws to a close. The never-ending German tourist groups on their pilgrimage from one sanctuary to another - the EP building miniature, the row of EU country flags and the EU souvenir shop - have finally left.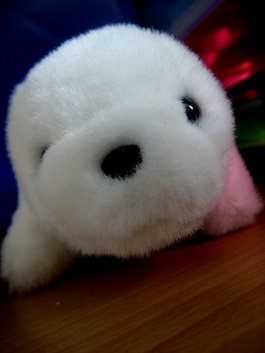 The debates go on till midnight but they are unimportant ones, I am told, on topics like rosé wine and oenological practices, the democratic process in Turkey and the general revision of the rules of procedure.
Though, a lot is still left to be told. Seal-friendly lobbyists pollute every office in the EP with cute looking babyseals and spam MEPs' mailboxes with hundreds of messages urging to vote for banning seal products. This maddens assistants who get to open the mailboxes with 600 new messages. Also left raw was the feeling of nostalgia in the EP as this was the last session for many parlamentarians. However, the EP hubbub is about to restart with no less speed and energy. As French journalist Jean Quatremer tells me earlier on in the day, iIf you stay on holidays for three weeks, the reality has already changed.