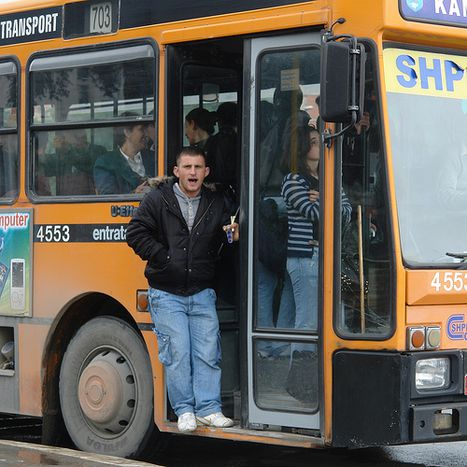 On the road in a misunderstood country: tips for Albania
Published on
Translation by:
Darren Thompson
The most difficult aspect for travellers to this Eastern European country, which is about one quarter the size of England, is getting hold of a guide that speaks English. Despite this, with 400km of coastline, lakes and picturesque villages, Albania has something to offer for those in search of authenticity
'Why Albania?' This is the question we have asked ourselves constantly since we arrived in the country nine days ago. Albanians themselves were surprised with our choice of summer destination. Nonetheless, flattered, they welcome us in a state of wonder. It's in broken English, with a few Italian words thrown in, that we communicate with our hosts. Albania's single most evident factor is its desire to escape external control; to flee from the fervour and unrest of the grand capitals where people live at a constant high-speed.
Here, patience is a virtue when waiting for public transport
Over here, patience is a virtue when waiting for public transport. Twenty minutes can be consumed with just a few bits of advice given, whilst you get your bearings or you just have a chat. Patience is perhaps the most appropriate word to bear in mind on Albanian roads, as a timetable is a rarity and official bus stops don't exist. Even still, every morning, you find yourself wondering how, and how long, it will take you to arrive safe and sound, by bus, minibus, taxi or hitchhiking, to your destination.
Hitchhiking in the boot
Packed together on a minibus or wedged at the back of a bus, we survey the steep roads of the south of the country. We navigate through its villages, each of which, no matter how small, boast a petrol station; and if the country experiences a water shortage in summer, don't count on a 'Lavazho' (five to six young men who wash you car - ed). In a country where the rail network is to all intents and purposes non-existent, the role of cars is quite predominant (especially if it is a Mercedes 240D). Also, buses do not run everywhere; consequently, hitchhiking is becoming a useful alternative (not to mention a cheap one), especially over short distances; drivers will spontaneously stop and won't think twice about rearranging the contents of their boot especially for you!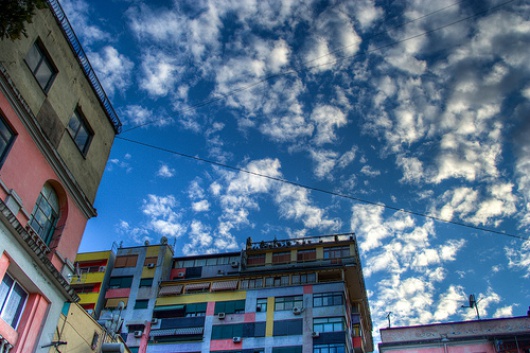 On our travels, it's been impossible to miss the innumerable disused bunkers which scar the country, whether that be at the countryside or at the beach. Built during the dictatorship of Enver Hoxha in an attempt to dissuade invaders, they testify to a persistent threat of war. Even though the bunkers were never used, they serve as reminders of forty years of isolation from the world. Some may find it strange that these bunkers were not destroyed at the end of the dictatorship; instead, they have been painted. They bring back memories of the country's capital, Tirana, and it's buildings painted bright colours. It is Edi Rama, mayor since 2000, to whom the credit for this incentive is attributed. At the start of his mayoralty he called for artists to beautify the gloomy facades of the capital's buildings, which follow the communist style. If these garish colours serve for anything, it is to brighten up the daily lives of the city's residents and to provide a characteristic element of the capital in photos which travel the world.
Tirana, European capital
Long forgotten, Tirana is looking to raise its status as a European capital. Today, it's a city that is changing rapidly; whether the modernisation of the city's business quarter, or its busy streets lined with chic bars and restaurants, the city is undergoing a huge makeover. But with Tirana's Champs Elysées barely looked after, the lack of urban installations such as lamp posts, benches and street signs and its riverbanks nor maintained nor developed, the city has a long way to go to rival its western neighbours. A certain fascination with western Europe and the US is discernable throughout the entire country. This is most prominent among the youth; you are as likely to hear American songs being blasted from bars and clubs as from a country bus. At night, fashion is everything; young men wearing cologne and women dressed to impress and more than ready to wear their heels, despite the cobblestones and uneven roads of cities like Berat and Gjirokastra in the south.
It is in this way that Albania is releasing itself from its communist shackles, during which the teaching of English at school was banned. The country displays its newfound relations with its former enemies clearly, and has not hesitated in renaming one of its streets after the former US president, Rruga Presidenti George W. Bush, following a diplomatic visit. The recent Albanian candidacy for inclusion into the EU further demonstrates the country's desire to open itself up. This has also been demonstrated throughout our journey, as we have been given first class treatment in this changing country. Cities and towns are continually redeveloping and expanding, this is vouched for by the building sites which line the roads. Although Albania is not at the top of the list of tourist destinations, it definitely has potential and certain developers are already investing in the development of tourism, like the second largest port city Vlora and Saranda in the south, in addition to high rises which are changing the country's landscape.
Getting there: Albanian Airlines operate flights out of London Stansted, with British Airways offering flights from London Gatwick. Expect prices in the region of £200-£300 (228 - 341 euros) in high season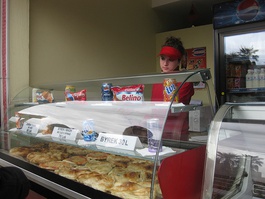 Where to stay: There are two youth hostels in Tirana, costing between £5 and £10 (5.70 - 11 euros) per night. For a hotel, prices start around £20 (23 euros) per night in the capital
What to eat:Byrek (costing around 30p) is a local snack, is a puff pastry topped with cheese, spinach, chopped beef or tomato. Grilled fish on thebeach will cost around £3 (3.40 euros). A main course in a chic Tirana restaurant will cost around £4 (4.50 euros).
Translated from Sur les routes d'un pays méconnu : l'Albanie