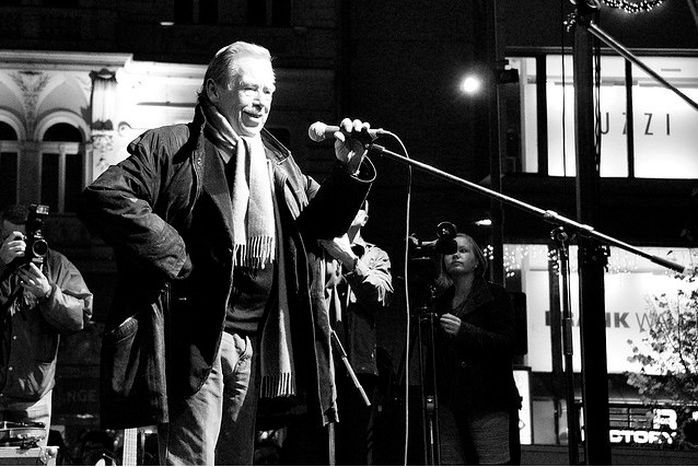 Obituary: Vaclav Havel, master of peace
Published on
The dissident, thespian and president, who was a symbol of change in the 1989 velvet revolution in Czechoslovakia, died on 18 December at the age of 75 after a serious illness. Homage to a European master of peace, as a three-day mourning period officially begins on 21 December
When you have something to say, all you need is a voice and a stage. Born in Prague in 1936, Vaclav Havel was a specialist in both of these areas. In August while everyone else was on holiday, he would travel Europe's stages to promote human rights and peace. For example, the director, philosopher and former president of the Czech Republic signed a petition addressed to the international olympic committee and all olympic athletes in support of Tibet.
European identity made in Czech republic
In 1977 Havel, along with philosopher Jan Patocka and Peter Uhl, formed the citizen movement Charter 77. Years of imprisonment and social exclusion for being an opponent of the regime followed. However, this was also the time when Havel wrote his greatest plays such as Mountain Hotel (1976) or Protest (1979), in which Havel offers an absurd and critical observation of the then Czech reality. Popular in Prague and appreciated abroad, Vaclav Havel also participated in the founding of the so-called charter of European identity. The aim of the 1995 project was to describe Europe as a community with a common destiny with shared values, life, economic cooperation, solidarity and responsibility.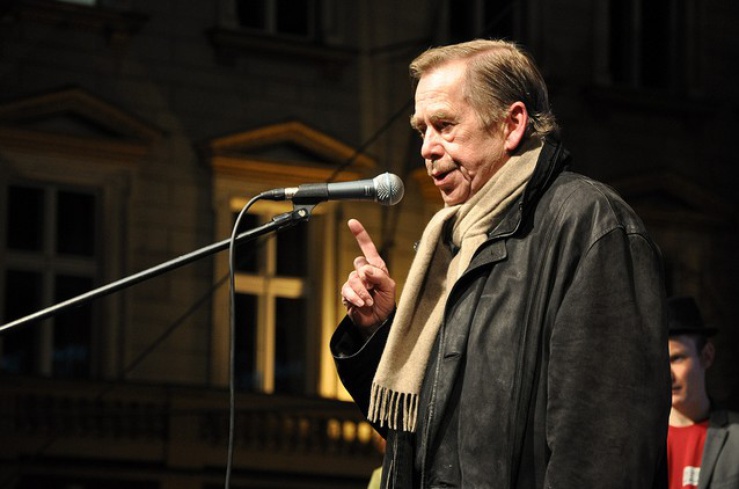 All of this was proof for Havel that the self-respect of every society can be measured by its citizens' understanding of democracy. This causes the absolute necessity of a broad discourse about these values by coming closer to Europe. This is the basis we must build on in order to further create a politics of solidarity, which strengthens the participators' capabilities and so gives a community credibility of which Europeans can be proud. With the intention of putting himself on the frontline in the battle to protect human rights, Havel created the Czech association Olympic Watch together with other intellectual, spiritual and political leaders in 2008. The Prague-based club observes the situation of human rights in China. One chairman was former dissident Jan Ruml. 'The political leadership in China attempts to ensure the world that it wants to work towards the upkeep of peace, quiet and 'harmony'. We all know what sort of peace is meant here (we have seen it in Burma, Cuba,Belarus and other countries). That would be the quiet of a graveyard. The cold war is over: people don't have to decide whether to be friends of Russia or the USA (incidentally, no condolences had come in from Russia or China - ed). They can be friendly with both. Politics and history are the traditions of a people – everything else is just fashion.'
Havel's poetry
As in all other areas of his life, Vaclav Havel's connection with theatre was influenced by two fundamental concepts: those of curiousity and of searching. 'Our world is made of words,' he said. 'So much so that the linguistic interpretation of reality is frequently more important than reality itself. We enjoy rhetoric; we talk everything to death; we wrap ourselves up in discourses where there is no way out and these throw us off course and stop us from understanding.' Language itself becomes simultaneously subject and means, form and content in Havel's works. For Havel the author, drama is one of the fundamental aspects of life, an elementary instrument of human communication.
Havel's 75 years were influenced by a paradoxical situation: again and again he found himself in roles which he hadn't looked for, due to historical circumstances. Czechoslavakia, the same country which had persecuted him in the past, ended up voting him in as president. He took on this role (1993-2003) even though he had not expected it. Havel was a great writer because he was called to writing by nature and by love. 'Happiness can only really be experienced when it can be shared,' the writer once told an audience. Critics and spectators responded with standing ovations.
Images: main (cc) p.a.j.a.; in-text (cc)350.org/ both via flickr
Translated from L'Europa di Václav Havel, omaggio a un maestro di pace