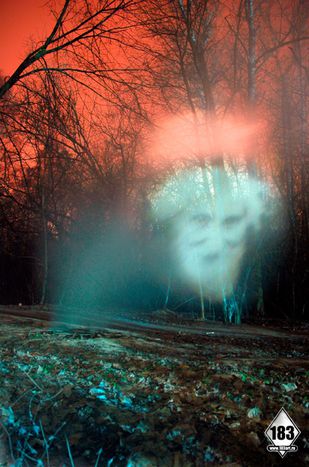 Obituary: P183 aka 'Russian Banksy'
Published on
On 2 April the Russian internet exploded with the news that the street artist had passed away at the age of 29. Pasha183 was not that well-known in Russia, but became famous abroad when several British newspapers published his works and attracted attention to the young talented man, comparing him to Banksy - which he disliked
A pair of glasses on the snow. Riot police portrayed on an underground station glass door. A protester lighting a flare. These are some of the symbolic works of the Russian graffiti artist P183, who was also known as the Russian Banksy. He lived a mysterious life and remains a mystery even after the sudden news of his death on 2 April. In the UK, newspapers such as The Guardiannoticed him about a year ago. But the 'Russian Bankski' rejected his international nickname; he thought that people were underestimating his own style and technique by this comparison.
Enigma with no name 
Pasha183 deliberately escaped publicity, which is why very little is known about his life and identity. The Russian media don't even know his real family name - he is simply Pavel. The only accurate piece of information can be found on his official website and blog, where he describes himself in a few words. He writes that he was born in 1983 in Moscow and holds a degree in communication design. Some say he protected his identity so hard because he was a political activist and didn't want to be pursued for that. In his only TV interview, given to the English-language channel Russia Today, he wears a mask, hiding his face.
P183 loved fragile materials like snow, which is why his art was not long-lasting
Pasha's legacy includes installations, allegories and projections. He used different street environments as a background for his artistic exploits: abandoned buildings, bridges and open spaces. He also loved fragile materials like snow, for instance, which is why his art was not long-lasting. Pasha filmed the work on his projects and posted the videos on youtube to immortalise the works. Recently he was very active and participated in various exhibitions in Europe and the US. One of his last projects was the musical Todd, the rock-opera of the famous Russian punk band Korol I shut, which is currently showing in the Russian capital. P183 was supposed to create the stage direction for it, but the project very sadly became his last work.
Image: © main projector installation called 'Spirits of the Forest' by P183 courtesy of © P183