Nuit Debout: The front lines of the social struggle
Published on
Since the 31st of March, thousands of activists across France have been occupying major public squares under the auspices of a citizens' movement baptised "Nuit Debout" (roughly translated as both "Up all night" and "Night Stood Up"). The group's demands remain extremely hazy, but the structure of these meetings continues to evolve.
The real history of the movement is difficult to pin down; different versions may all contain a kernel of truth. We know that it started on the 23rd of February, as dusk began to fall. At the Bourse du Travail in Paris's 10th arrondissement, nearly 1,000 people – trade unionists, activists, and intellectuals – begin to gather around the figures of François, Loïc and Johanna. The building, accustomed to hosting union meetings, is opening its doors for a public debate titled: "Give them fear". The idea is to bring together all the social struggles troubling France: the new airport proposals at Notre-Dame-des-Landes, the closure of the Goodyear factory at Amiens, university reform... Despite multiple grievances, one question quickly emerges from the melee: "What are we going to do now?"
"After the demo, I'm not going home"
It's a question that proves difficult to answer.  Some join forces with the huge protest on the 31st of March against the "Loi Travail", a proposed employment rights reform that the French government is trying to introduce – very unpopular among the youth. Others prefer to organise their own event. Out of the throng, one voice is heard above all others. That of Loïc, a comedian, declaring: "After the demo, I'm not going home!" In other words, occupying the square and staying there. Nuit Debout was born of this sentence.
These snatches of history come from François Ruffin, speaking in an interview granted to the French weekly Télérama. The 40-year-old filmmaker from Calais is the director of the documentary Merci Patron (Thanks Boss), which tells the story of the daily struggles of Jocelyn and Serge, left unemployed after the LVMH group relocated their Kenzo factory to Poland. At this moment, over 200,000 people have seen the film. Circumstances have now conspired to turn him into one of the intellectual pillars on whose foundations the night owls in Place de la République have based their discussion these past two weeks.
The hallowed marquee
Since the evening of Thursday the 31st of March, when the movement christened Nuit Debout first took root in the paving slabs of République – the idea of using improvised citizen's assemblies as a space for debate has increasingly fascinated France.
Generally taking place in the early evening, thousands of people gather at the Paris AG's (or Assemblée Générale) – and in ever increasing number. Soon enough, Nuit Debout also sprung up in the suburbs of Montreuil or Ivry, as well as across the rest of the country, in Toulouse, Rennes, Lyon or Marseilles. More than 80,000 people are already following the Parisien debates live via the application Periscope.
There's an enormous amount going on. Debates at AG's can quickly jump from issues of social instability to a passionate speech in defence of sign language. Besides discussion circles, you can find a canteen, an improvised book shop, a tent selling sweatshirts emblazoned with subversive messages... Everything seems so spontaneous; yet all this merry chaos is an organisational monster.
In Télérama's column inches, Ruffin explains how "all this needed organising": communication, distributing leaflets, setting up marquees, transporting materials, creating the website... So it was that convergences-des-luttes.org emerged from the activity. The site includes news updates, the minutes of general assemblies, a map of current protests and a list of activists' demands.
On the ground, the same methodological fever has invaded Place de la République. Before each meeting, an committee busies themselves with logistical coordination under a blue tarpaulin. New volunteer committees are formed ever day, dealing with anything from the occupation of strategic locations to the construction of a makeshift allotment. A square-ruled notebook is passed among those gathered in order to discern "who's going to speak tonight". Training sessions in debate moderation are widely attended, which allocate specific roles to people who must then respect allotted time constraints when arguing what should go into reports.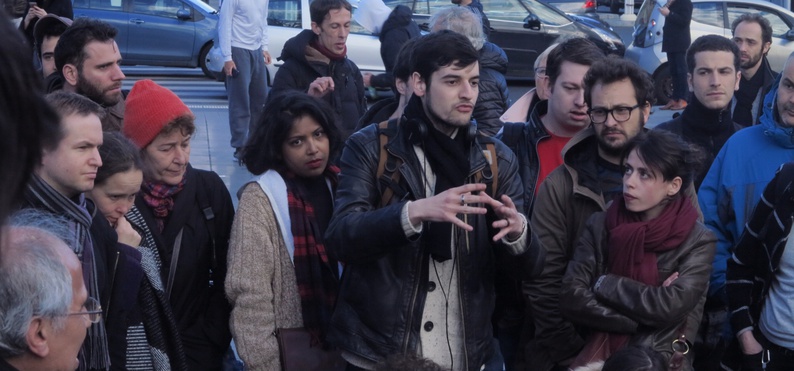 Reinvent the world
Nuit Debout is deftly orchestrated during the day, ready for when night falls. Even if the movement doesn't want a leader, it seems to be administrated by people who know how to take the reigns. It might never have seen the light of day if the DAL (Droit au Logement; Right to Housing) hadn't used its legal know-how to follow the necessary steps to occupy République. Never had the same impact if Ruffin, also the chief of alternative left wing paper Fakir, hadn't had so much experience as an activist. Never fanned it's flames as high if activists of all shapes and sizes hadn't united under one roof, that evening of the 23rd of February.
Even a "Night Stood Up" needs a seat of power. Where do all these struggles converge? That's unclear. François Ruffin argues that everything originated from a rejection of the El Khomri law, named for the Minister of Labour who tried to introduce the proposed labour reforms. But just as this sparked massive opposition from citizens, it also seems to have become a pretext for extending the scope of the struggle. According to Ruffin, what is today uniting thousands of participants is the battle against a lack of political perspective. It's for this reason that Nuit Debout is spreading its insomnia to Belgium, Germany, and Spain. Having claimed their patch, these assemblies aim to reinvent the world under open skies. That's worth staying up all night for.
Translated from Nuit Debout : organisation du domaine de la lutte