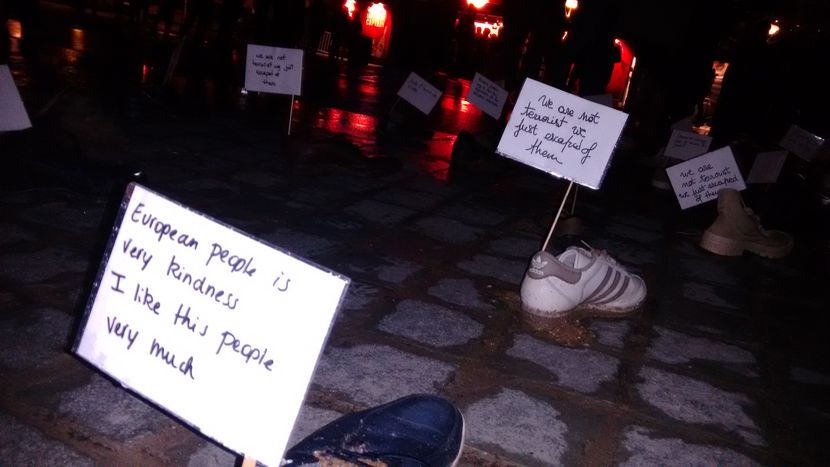 Nuit Blanche: The weird thing  visited the European Quarter
Published on
Were you at Nuit Blanche earlier this month? On this night, the people of Brussels were met with challenging pieces of art, many of which would leave most people wondering "What the heck is that?" 
The European district: that cold place populated  by tons of noisy cars and cyclists wearing Ralph Lauren shirts during the day, but completely empty by night. However, for one night,  gleaming loafers were substituted by shabby sports shoes brought from the jungle of Calais, while some of the classiest venues, such as the Bibliothèque Solvay or Concert Noble, didn't host expensive sushi cocktail receptions but more than 20 artworks, united under this year's theme: Borders.
Satellite dishes on the Léopold Park's lake? "An Orwellian protest  against the power of mass media." Dozens of magnetic tapes running while a strange mantra song plays in the background? This was "a way to experience music like a constantly moving fragile sculpture." A circle of crazy lights blinking in different cadences on the Esplanade of the European Parliament? "A large circle of columns, using ephemeral and intangible materials to formalize an experience based on motion perception!"
"This is too alternative for me," said a friend I bumped into. Maybe he has a point, but Brussels certainly loves it. After 13 years of Nuit Blanche, its popularity is at such a peak that volunteers had to talk attendants out of waiting too long at the queues formed to see some of the art installations (more than an hour to enter the Bibliothèque Solvay).
Probably one of the most interesting features of this year's Nuit Blanche was the different interpretations of the theme Borders. Several artists used the location's proximity to the European institutions to reflect on the living conditions of migrants in the old continent: a video projected on the basketball court behind the European Parliament showed a group of refugees reciting a version of the Address of fear speech given by European Union's father Henri Spaak. The words spoken by the refugees exposed a fresh view on Europe's current issues: "Don't be scared of terrorism because you're more likely to pass away in a car accident" -is still echoing in my mind.
Another story of migration could be found in the work of Céline de Vos, where a collection of maps and mock-ups denounced the existence of Immigration Removal Centres. Using only a 10-metres line of administrative papers from institutions like the Belgian police and several embassies, she told the story of an anonymous migrant, arriving in Belgium from Liberia. He is retained at the Caricole centre in Steenokkerzeel, next to the airport of Zaventem. Here you can see a video of de Vos' project.
Other artists opted for a more poetic interpretation of Borders. Both artists, Bixas and Labspace Studio, used the concept of doors with two very different meanings: the first for questioning the freedom of movement in Europe, while the latter made the audience think about the freedom of choice. Another installation reflected on the concept of home -a  daily discussion in our Expat-city-, by setting a typical house layout with a couch and rug and inviting audience members to share this space with other attendants.
Nuit Blanche has been running since 2003, but in the most recent edition they demonstrated that they are not lacking fresh ideas: I am sure the city can't wait until next year to see the new crazy great ideas that organisers will have.
(Proofread by Amy Duong)