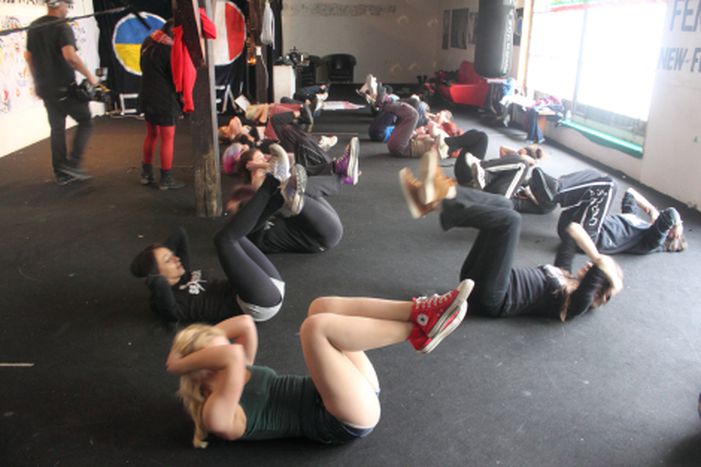 'Nobody knows that I am a member of Femen in Paris'
Published on
Taking back the female body, crushing male domination, fighting prostitution - these are the battles of Femen, the off-the-wall feminists from the Ukraine. Since establishing an 'office' in Paris, the members are staging bare-breasted protests in all four corners of Europe. Their message is that they can can strike where they want, when they want
The streets are strewn with rubbish. The drains are overflowing, creating little torrents of water which end up in the baskets of wandering sellers. The faces of the people are black and bronzed, their French tinged with an array of accents. We are in the Lavoir Moderne, a laundromat  - welcome to Femen's HQ, in the heart of everyday Paris, near the metro station Chateau Rouge.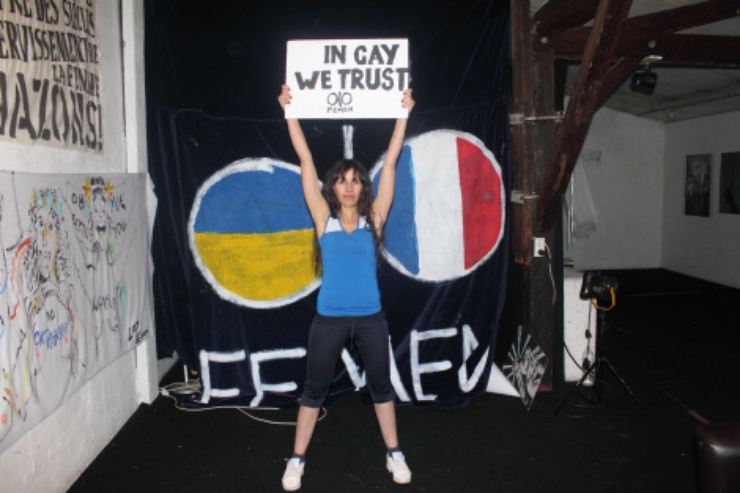 A sign saying 'theatre occupied' hangs on the door of Lavoir Moderne. The dissatisfied are never far away. Inside, we come face to face with French and Belgian journalists. Just like us, they are waiting until Inna Schevchenko, the leader of Femen, is ready to let us into their training room. Cries of 'pope no more' and 'in gay we trust' can be heard from behind the door.
Yelling slogans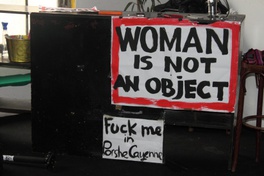 They are all here, with a smile on their faces; well-known and unknown, Ukrainians and Frenchwomen. 'I'm Tunisian and muslim,'  says Meriam, who like many of the other women here has come to participate in her first training session. The camera lenses are just as worrying to them as the microphones, but they get used to them quickly. On the walls there are placards, which remain present during almost all of their protests. One of them says: 'Woman is not an object. Fuck me in your Porsche Cayenne'.
Inna Schevchenko is now directing the troops. 'Repeat after me. Poor because of you! Poor because of you!' The more experienced members shout at the top of their lungs. The newer members are more timid. 'Never smile! Stand with your legs apart to appear more aggressive! You've got to make them scared!' Julia, a French member of Femen who is at most of the protests, shoots daggers at anyone who doesn't respect the orders. She yells slogans a mere few centimetres from their faces - it really feels like Full Metal Jacket out there.
'If you had found yourself face to face with three guys weighing 85 kilos each, it wouldn't have lasted three seconds'
The Femen members do exercises that work up a sweat so they can face up to violent situations. 'Stand up! Do ten push-ups without a slogan and ten with a slogan!' The girls comply. 'Not a sex toy! Not a sex toy!' Not all of them manage to keep their backs straight. Meriam seems to be having trouble breathing. 'Ok girls, we're going to show you how to react when faced with police,' thunders Inna. 'You have to delay arrest for as long as possible, but don't get violent. We're not here for that! When they catch you, throw yourself to the ground! Continue to shout out your slogan. You can play with them. At the Vatican, one of you stole a police officer's hat and threw it away. The idiot dropped what he was doing to retrieve the hat! This is the kind of thing you need to be doing!'
One of the Femen members is selected by Anna. She advances, chanting 'basta Berlusconi' ('enough of Berlusconi!') incessantly. Suddenly, three 'sexactivists' throw themselves on her. The fight is violent, the mock police officers doing everything they can to shut the Femen members up. They grab the activists' legs, they get them in armlocks, they gag them. The protesters continue to demand that the playboy of Italian politics leave office, entrenched in his bunga bunga parties. Despite her determination, the activist is set upon. Her elbow is scraped and she loses a contact lens. 'That was good,' says Inna. 'But if you had found yourself face to face with three guys weighing 85 kilos each, it wouldn't have lasted three seconds.' Her gaze settles on me. I'm scared that I'll have to come up against the CRS (state security police force).
Blood, sweat and women
The reasons that have pushed these young women to join the ranks of Femen are as diverse as their journeys. Inna and Oksana are disgusted by the role assigned to women in the Ukraine: prostitution, women being thought of as only good for marriage, and so on. A Frenchwoman states that she joined the movement after having been fired; she had accused her boss of sexual harassment.
According to Meriam, it's the situation in Tunisia which makes her revolt. 'The men never leave you alone. You ask for help from a police officer and he tries to get your phone number. Gynaecologists are the same. If you want to live alone, everyone thinks you're a whore. It's even worse since the revolution.' Five years ago, Meriam fled Tunisia following a traumatic situation with her boyfriend. Since then she has lived in France where she has been trying to put her life back together. 'I often think about everything I've left behind. But you can't have everything. The person I am today is hard to reconcile with the person I had to be five years ago. Except for my father, no one knows about my membership of the group. It would be a disaster for my family and for me.'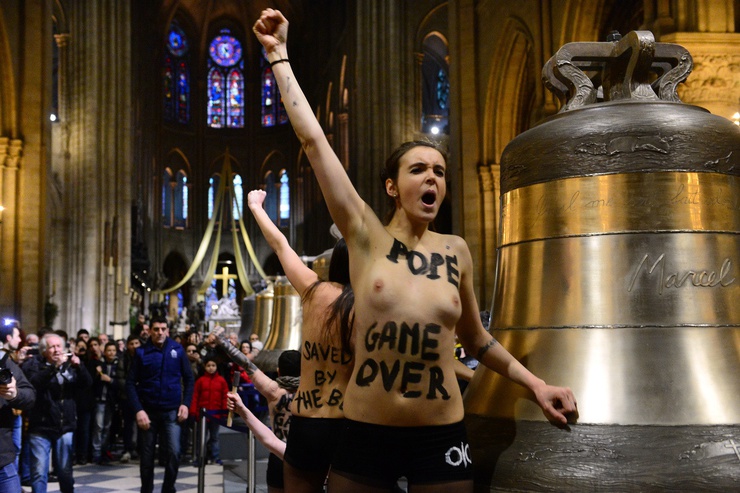 It's easy to see that unjust and violent situations have often been the precursor for membership of Femen. However, one could also ask whether they are also creating a new feminist, atheist extremism. Members of Femen are not supposed to be guilty of violence, and yet they do not hesitate to use warlike vocabulary. 'We commit acts of peaceful terrorism,' says Julia. Another smiles: 'We know that they could kill us. So what? Fear is not part of the equation. We're not scared,' she adds, all the while rolling a cigarette.
You can read this article on the author's blog of the author in its original version (in French)
Images: © Adrien Koutny except last image of 'Pope game over' slogan (cc) Ammar Abd Rabbo/ flickr
Translated from Femen : reportage au saint des seins