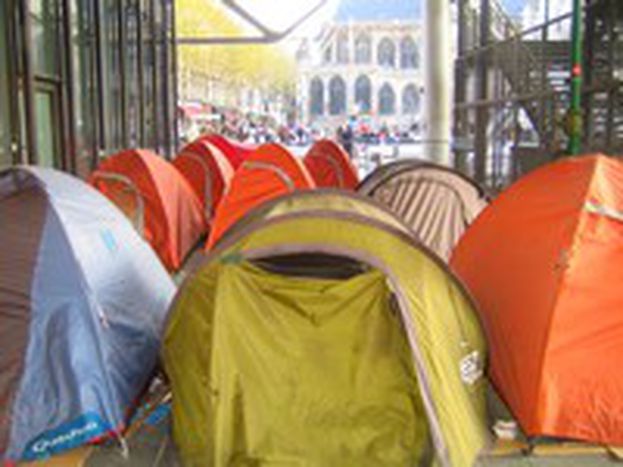 No voting on Paris's Canal St. Martin
Published on
'Liberty, equality, fraternity' – a night spent amongst the red tents on Paris's Canal St. Martin, to find out what the presidentials really mean for the capital's most famous homeless
Dusk is falling on Canal St. Martin. Its winding streets branching off into the city are dotted with colourful election posters. They sprung up on upright, numbered metal boards on April 9, signalling the official start of presidential campaigning. One of the canal's hundreds of infamous residents directs us to a blue tent, its back labelled 'casquette' (cap). The handwritten sign refers to its black cap-wearing owner, who lies reclined in his tent. We edge around the tent's ropes to be hospitably offered a small round velvet stool and a green metal ledge, which separates his Médecins du Monde-donated home from the still water's edge.
Hand on head, he pulls out a yellow file with press clippings in it. The cars buzz past as he reads aloud. On a black piece of cardboard outside his tent, the tally of days is roughly scrawled and sellotaped on. Surrounded by water bottles, he has been on hunger strike for 24 days. He gestures behind him at a good-looking, high-rise set of buildings. 'The big problem here is the bourgeoise.'
The art of war
On December 16, an organisation called the 'Children of Don Quixote' staged a 'camp-in' on the canal. The presidential candidates jumped on the issue. Sarkozy even prepared a visit. In April, the first person was given a roof after Chirac's government became the second European country (after Scotland in 2003) to legalise housing access rights. The pre-electoral hullabaloo had started off loud. But on April 9, and with ten days to go until the results of the first round of elections, the group's co-founder appeared on TV's Channel 3, announcing that the three month canal-side campaign was over.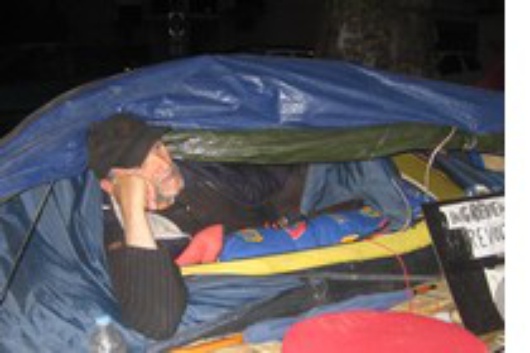 However, Casquette seems to be the media-savvy leader of a new 'federation,' currently in place along the southernmost part of the 4.5km waterway. 'The government's mentality and philosophy needs to change,' says Casquette, a former reporter who has his own online press agency. 'My hunger strike is to remind those who are going to the polls what they are voting for.' In response to Sarkozy's manifesto promising that 'no person will be forced to sleep rough' within two years of his election, Casquette reflects that the right-wing so far have wanted to 'create a society where on one side you have the super rich, and on the other the incredibly poor.'
There is a strong European perspective in the canal's book of solidarity messages. Swedes and Spaniards are amongst the tourists passing who have shown their 'appreciation for the revolution.' Mention Italy and Spain, and Casquette's keywords are Berlusconi and Zapatero. 'They (EU leaders) want a Europe, a monetary Europe, but they will get a revolutionary Europe. That's going to be dangerous.' He momentarily disappears inside his tent, and reemerges with a copy of Sun Tzu's Chinese military handbook, 'The Art of War'. 'But throughout Europe, we need to unite to fight these issues together. You want a united Europe, you want us to show that we have a united Europe, and it's exactly what we are trying to achieve.'
'Little by little, the birds build their nest'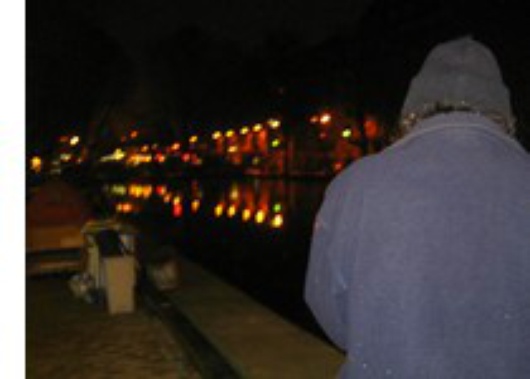 'No-one's voting.' The light has faded by the time we reach Thierry, 42, who lives just before a little bridge on the canal - the password being 'Casquette.' Thierry has lived in Portugal and Spain, and says he did 'plenty of things' before moving to the canal. He agrees about the poor and rich divide of today's French society. 'Why vote? And for what? There's no party, no movement who really cares.' He points out an empty floor of rooms high up on the flats opposite. 'We see the windows shut, no lights. We see.'
'Vote for Segolene Royal!' is the first entry as we flick back through the book of solidarity with him, as posted by an American woman. Thierry grimaces as he fingers the words. The Socialist candidate, for her part, has promised to grant a 'lifelong housing guarantee' were she to become France's first female president. Casquette is just as negative. 'The Socialists say they are aware of our situation but at the end, they have done nothing. The right are exactly the same. Now, a few days before the first round of voting, they are all ready to promise everything.'
Life goes on
There's certainly a lot of solidarity amongst the canal's people. The movement is well-organised, still receives media attention and interest from the everyday man. The SDF's ('sans domicile fixe literally means 'without permanent abode', or homeless people), existence continues to promote a forgotten cause. It's a familiar social climate: three weeks ago, former TV presenter Nicolas Hulot reminded the media and candidates of the ecological pact they had signed, aggrieved by the issue disappearing from the electoral focus. A similar 'presidential pact' also popped up a week later; presented by young European foundations who felt Europe hadn't been discussed enough either.
Meanwhile Casquette says he is campaigning not only for the homeless, but people like his neighbour in the tent opposite him who works twelve hour days beginning at 5am. His voice is for nurses, for interns, for a bit of balance in society.
National identity, France and the French may well continue to dominate the last few days of official campaigning. An Ifop (French Institute of Public Opinion) poll indicates that 67% of French people predict that conservative, right-wing candidate Nicolas Sarkozy will become the next president of the fifth republic. On the canal, there's not much hope as the country goes to the polls. It's difficult to vote right or left, man or woman, in an election where France's 100, 000 continue with neither home nor address.
Thanks to Adrien Lorenceau