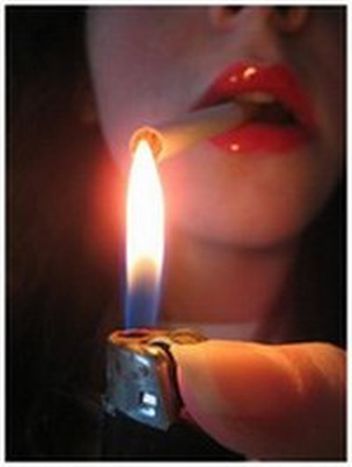 No more smoking in Paris' bistros
Published on
On 1 January 2008, France followed Italy, Ireland, Great Britain and Spain by passing a law against smoking in public places. We went to see how things are coming along on the other side of the Alps. A report from the City of Lights
December 2007. What to choose - mint or almond? I don't often smoke shisha, so choosing a flavour is not an easy task, at least for me, since I am not a real smoker. I choose mint.
Meanwhile, a waitress of Indian origin brings me the green tea I ordered, with spiced biscuits on the house. A couple of tourists come in and I move my coat that is draped over the sofa. I have never understood why tables in Parisian bars and cafes are always so small, so that customers have to squash together like sardines.
It is already dark outside even though it is only five o'clock in the afternoon. In the background, the voice of Edith Piaf mingles with snippets of hurried conversation over a cigarette and a Moroccan coffee, a pleasurable combination that millions of French people have had to give up. In fact, on 1 January 2008, France passed a law against smoking in public places.
They leave after one beer
Rue de la Huchette, in the heart of the Latin Quarter. One of the most kitsch, touristy places in Paris. We go into one of the area's so-called 'cool' bars. A piano bar with live music. An ideal place to have a beer with friends, listen to good music and, up until a month ago, smoke a cigarette. But things have changed a bit, as Bénédicte tells us. 'I have worked here since July. I sing twice a week with Laurent who accompanies me on the piano and, since the law was passed, everything has changed for us. Before the ban, we used to sing with smoke blowing right into our eyes and throats because the piano is in the middle of all the tables. Sometimes we had to ask customers to put their cigarettes down. Now our vocal cords don't get tired as quickly and we can sing for hours without any trouble.'
However, Muhmut, the bar manager, is not of the same opinion – he is already complaining about having lost customers over the last month. 'I don't smoke, but I don't agree with the law. Of course it's better for your health, but it doesn't respect everyone's rights and I don't think that's normal. Two months ago I was in Philadelphia. There, they have some restaurants and bars where you can smoke and drink alcohol and others where you can't. People can choose. Here, that's not the case. Customers used to spend the whole evening in my bar, now they have a drink and then go out to smoke a cigarette and they don't always decide to come back in. I'm losing customers and business this way.'
A law that discriminates against singletons or lone diners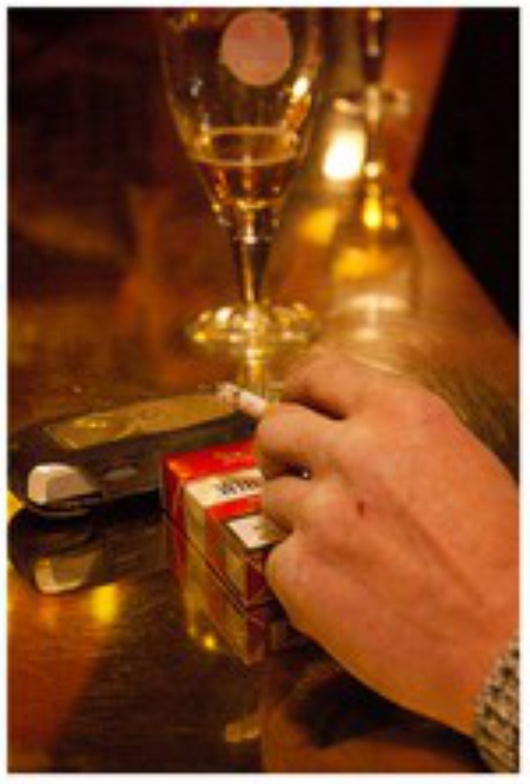 The area is full of tourists and it isn't hard to start chatting to people. This is how I meet twenty-five year old Audrey, who is sitting at a table by herself. She lives in Brussels, 'a city where you can still smoke,' she tells us proudly, sipping a shandy. 'I have only been in Paris for the weekend, but I have noticed that the law has posed a few social problems. You see, my boyfriend has just gone out to smoke a cigarette. If you go out as a couple, and only one of you smokes, that's what happens.'
The law seems like a good idea for the waiters who no longer have to inhale other people's smoke all evening; even if, according to her, the law has other consequences which will soon be felt. 'Nobody has thought about the mound of cigarette butts people leave on the floor, or about the people who live above the bars and have to put up with the cigarette smoke.' According to Audrey, single people are also discriminated against if they want to have a smoke and half a beer, they have to leave their things inside the bar where someone might steal something.
Saveria, a twenty two year old student, also thinks that there could be other solutions to the problem. 'I am a smoker, but I don't think it's fair to make non-smokers breathe other people's smoke, even if banning smoking is wrong. They could install a ventilation system, like they have already done in Asia and the USA. But they love to ban everything in France.'
It is almost midnight, but the cold doesn't seem to have deterred the tourists who crowd the streets of St. Michel. Paris surprises me once again. Even right in the middle of winter, people continue to eat at the tables set up outside the restaurants. Every establishment has them. Is this a trendy fashion or a way to get around the ban and smoke in peace?
E-cigarette
And what if cigarettes produced water vapour instead of smoke? This is the idea behind the e-cigarette; an electronic cigarette from China.
The invention consists of a battery, a microprocessor, a vaporiser and a nicotine capsule. It therefore allows you to smoke, but it gives off water vapour instead. It is a technological trinket available in various colours and flavours that, according to the manufacturers, will help heavy smokers to quit.
For now, the only certainty is that this replica hi-tech cigarette costs 100 euros, can only be bought on the internet, and has not yet been banned in public places
(In-text photo: Fr@ncois/ Flickr)
Translated from Parigi, fumare nel bistrot? Solo se la sigaretta è hi-tech