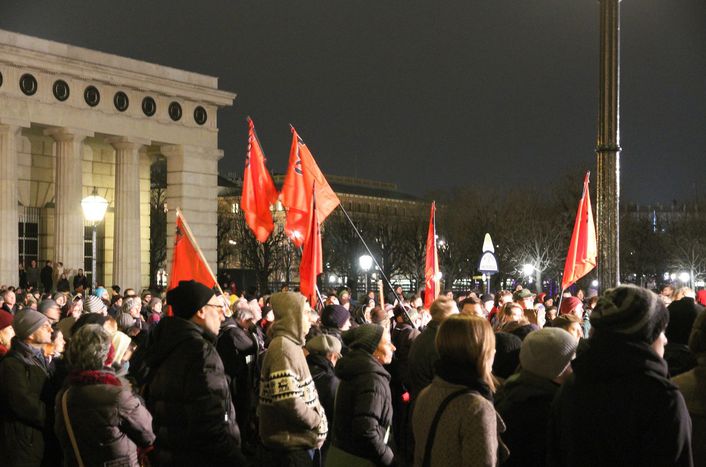 No gashes in the Hofburg!
Published on
A bitterly cold night on the 27th of January saw thousands of people to gather to protest against the annual WKR Ball. Why demonstrate against a ball you ask? What's wrong with a bunch of people not being able to waltz and wearing uncomfortable clothes?
Well, one is that the Wiener Korporationsring ball is the annual ball for the duelling societies in Vienna, societies which have always been a breeding ground for nationalist ideologies, and who have some very dubious connections to neo-Nazi and right-wing organisations. As such the annual ball is an opportunity for leading figures from the right-wing scene across Europe to 'meet and great'. The second reason to protest is that the ball was held on the 27th of January this year, the day on which Auschwitz was liberated. 'Nuff said. 6-8000 demonstrators from across the gathered in the centre of Vienna to make their way down to the Hofburg palace. The protestors mostly came from the left-wing scene, and members from Antifa, the communist groups, as well as the Green party were present. The procession then moved down to the Hofburg, where a concert was held and various speakers expressed their disgust with the WKR ball. The concert itself was somewhat 'folk' (lines like "we want love, not Nazis" kind of sum it up) and didn't really satisfy the mood of many demonstrators, with the result that the demonstration split itself into two, with one group remaining and another making its way down the Ring towards the Opera. Chants of "Alerta, alerta, anti-Fascita", bull horns, banners and posters were all on hand to make sure the protestors got their message over. Later into the evening, the protest split into even smaller grouping, some of whom did try to 'mix it up' with the police, but it mostly stayed peaceful. Some groups did succeed in getting through the forbidden zone which had been thrown up around the Hofburg, and one group managed to block a group of Burschenschafter from entering the Hofburg, at least until they were moved by the police. But, some people may ask, is any of this productive? Does the demonstration every year result in people moaning about 'left-wing trouble-makers?' Apparently not. After protests from various prominent campaigners, UNESCO dropped the Viennese ball from its list of objects of cultural heritage. The fallout from this was that the organisation responsible for organising the ball seasons, Wiener Hofburg Kongresszentrum BetriebsgmbH, decided that 2012 would be the last time the WKR could hold their ball in the Hofburg. So the attention that the protestors have brought to bear on the ball, combined with the negative international publicity which this has focussed on Austria, have finally paid off.