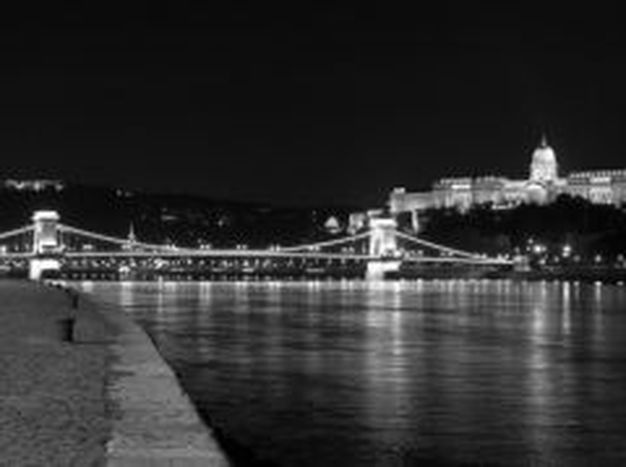 Nine Fantastical and Fascinating Things about Budapest
Published on
Written by Emma Baker When my mother visited Budapest, without any idea what to expect, she resorted to Lewis Caroll for a suitable analogy, "I feel like Alice, and I've fallen through the rabbit hole.' The next evening we went to a Ligeti concert in the Palace of the Arts. The bandana coiffed bassoonist stood up at the end of the first piece. I heard Tojás-something.
I turned in confusion to my Hungarian friend who explained, 'That's all said the egg. A quote from Alice in Wonderland." Budapest often seems like a sort of wonderland where the riddles and eccentricities of Lewis Carroll would not be out of place. I've listed below ten things that make Budapest fantastic and fantastical.
1) Architecture
Probably the most vaunted aspect of Budapest, the changing colours and shapes and architectural styles of the town, in the chameleon-like landscape.
2) Bridges
One of the most stunning views is over Buda. From the Szabadsag bridge, at dusk Buda seems like a fairy-tale city; rose-tinted castle on the hill, the fairy-like twirls of the Erzsebet Bridge and the strong, commanding pillars of the chain bridge, the hills in the background resonating soft blues. Then there's the Lanchid. The first time I stumbled upon the chain bridge it was night and the lions seemed tangibly ferocious, snarling and ready to spring at me, breaking away from the stone bridge. The comparison emphasized by the roar of traffic. Its' beautiful arches create solid reflections in the water, coloured by the myriad lights from Pest.
3) Statues
Griffin from the New York Palace leer at passersby, stone faces glare from the walls, a girl plays with a dog on the Corso. From standard apartment buildings, grey faces look down. The liberty statue on the top of the Gellert Hill often referred to as "the giant beer opener" looks out over the city.
4) Music
There's always a concert on somewhere. Gödör, the club that was originally destined to be a car park, has anything from insane power-chord folk to reggae or Hungarian rap. It also hosts a popular folk dance , roughly fortnightly, where folkies mingle with tourists. Some of the men's costumes are extreme, white billowing trousers, embrodiered waistcoat, plaited hair. Folk music is strong, and a wide range of events, in all sorts of venues from smoky bars to cultural houses, can be found online at folkradio.hu, under "folknaptar" folk diary.
Classical or komoly zene - 'serious' - music in Budapest is phenomenal; this is where I discovered the genres of classical, modern, baroque, romantic (all formerly lumped into the category of "boring" for me).Great quality concerts are incredibly cheap, usually no more than 600ft -approx 2 euros. Although I did once pay 2600ft to see Perenyi, a world famous cellists. Gyorgy Ligeti and Bela Bartok's music is best described as unexpected. One Ligeti piece was played by a hundred metronomes, set off at different times. It was strange seeing a stage dominated by mechanical objects as the starring musicians.
5) The Opera and Opera House
Where else can you buy a ticket twenty minutes before the performance for 1.5 Euros? The grandiose Opera House with its fantastic ceilings hosts diverse diverse Operas. I've seen at least 20 , but my favourite was Bartok's "Bluebeard", the composer's only Opera. It is based on the folk tale of Bluebeard, who hides his murdered wives in one cupboard that cannot be opened.In this version, the new bride pries open every door, behind which is something beautiful but terrible ; golden treasures dripping with blood, a vast kingdom with blood stained clouds. To many peoples confusion, the piece is performed twice to opera-goers can absorb it's dissident beauty.
6) Hungarians
Fascinating, poetical, witty. Melancholy, sour-faced, grumpy. Many Hungarians greet travelers with the story of Hungary's past glory, its Empire, its inventors, its poetry. Or woeful stories of its money swindling government, elusive 4th metro line, collapsed economy. Feeling these comments cast Hungarians as negative, I asked a Hungarian friend for his perspective, 'Hungarians don't help each other, not even in expat communities. Hungarians think about what is behind something, they aren't easygoing like Americans. Hungarian language is complex, so the Hungarian mind works very hard thinking.'
7) Vendéglő (lunch time restaurants)
Restaurants usually open 11-3 for workers lunch. Wholesome and fatty Hungarian dishes, very limited for vegetarians, as even the stew is made with lard. The best are half-concealed in a basement, with inconspicuous signs; the 'Fakanál'(opposite the central library) closes its little round brown hobbit-like doors and you would never know its existence outside of its opening hours.
and on the same theme..
8) Borozó/Söröző
Always fascinated by the dark smoky interiors of these beer/wine houses(basically a low class pub), I ventured in to hide and observe in shadowy corner. One man warned me that my bag was open, and I should be careful, there's lots of nasty people on the trams. By which the whole room discovered that I was foreign, "I don't think we've ever ad a foreigner in here".I ordered a cheap coffee and sat at a raggedy wooden table sketching to the jarring melody of the games machines. Soon a man was curious to see what I was drawing and said he was a tattoo artist, pointing out the various people in the room who had his tattoo. He borrowed my pen and drew me. Another man leaned other to advise me that it wasn't a good place for young ladies; it is where the dregs of society hang out but it has a good atmosphere.
9) Cukrászda
Addictive. I suffered rétes cravings for the whole summer when my favourite cukrászda closed. Which other country offers cottage cheese and cabbage pastries?