Nina Degele: 'For me, same-sex marriage is not progress'
Published on
The professor of gender studies at the university of Freiburg, 49, says her mission statement is to 'overcome the evidence and focus on the really social elements (not the biological ones, or the ones defined by god), which are behind social phenomena. Over a skype phone call, we talk LGBT, women's football and conservate stead
With her cropped hairstyle, leather jacket and brightly-coloured trousers, Nina Degele does not look like your average universitarian who is shut off into her own academic world. 'I became interested in feminism really early on, 'she smiles, remembering her younger days in Bonn, when she co-founded a Simone de Beauvoir appreciation society.
After coming out, Degele moved to Munich for her studies, where she built up her network of feminist and lesbian connections. She cites feminism and the defence of women's rights as vital, especially at the heart of the LGBT community. 'Gay people are better organised when it comes to their image - at least it seems to have been the case for a long time! Castro, a neighbourhood in San Francisco which is famed for its gay and lesbian character, and a veritable bastion since the nineties, is one example of this reality. 'Any outsider will equate 'being queer in San Francisco' automatically with 'being gay in San Francisco'. The status of lesbians is effectively that they are not visible.'
PC discriminations
Nina Degele has taught sociology since 2000 at the Albert-Ludwig university of Freiburg, and she is credited with coming up with the gender studies course. She explains how the difference in how men and women are treated is key ; it will always be easier for men to establish themselves from an economic perspective. 'Gay men are harassed or bothered much less because they are men. They are not paid less for that. Women universally experience this problem, whether they are lesbians or not.'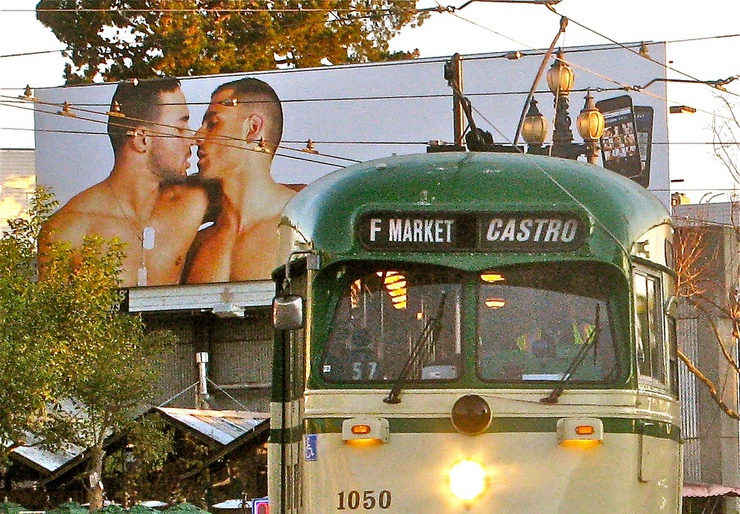 'The disadvantage that women suffer is also visible at university,' says Nina. Sometimes it's harder to hide, seeing as being politically correct is not a code of savoir vivre, but more about the power of starting a career or interrupting it prematurely. It seems like you should keep your mouth firmly zipped if you want to get on with your career. 'No-one will bother me directly at university under the pretext of my being a lesbian, 'says Degele. 'That's also why such discrimination has been less visible over the last two decades. Nevertheless, it doesn't mean that equality has been achieved by any means. The discrimination and aversion towards lesbians and women will continue to exist at university – because it's a man's club! Here it is harder for women to gain key positions, or at least very few under strict control. '
Sex sells
Racism and homophobia in sport, especially in a football-loving country like Germany, is one of Degele's research areas of interest. 'Football is so associated with virility and a heterosexual norm that there is simply no place for homosexual people there. It's another reason why women encounter difficulties with the sport. 'Women who play football are instantly judged for not being 'real women'. They will always face the hard and fast prejudice that they are lesbians. Women's football is trying to move away from this image. Sex sells, but homosexuality goes a little too far. It could eventually dissuade potential sponsors, or buyers of endorsed products. The organisers of the women's football world cup in Germany really tried to give the event a very heterosexual image, precisely so they wouldn't make a loss on the commercial side of affairs, or lose the acceptance of the general public.'
'Imagine Germany having this debate fifteen years ago – about same-sex marriage – you can't! '
'For me personally, same-sex marriage is not progess,' says Nina Degele. 'But of course I am all for equality and everybody having the same rights. I really doubt whether it's worthwhile to adopt one social point of view, or one queer perspective. The current debate in Germany clearly shows how the antipathy towards equality and LGBT rights strike right at the core of society. Imagine Germany having this debate fifteen years ago – about same-sex marriage – you can't imagine it! Even if there are some conservative fronts about the topic, we won't have to wait too long to see a juridicial equality between heterosexual and homosexual marriages.' Degele seems convinced that the conservative camp will lose their influence in a near future.
Needless to say, a huge part of Germany's population of 83 million are fighting for LGBT rights, seeing as the jurisdiction of the federal republic hasn't left them satisfied. An intervention of social democrats and greens in favour of same-sex marriage were already refused by chancellor Angela Merkel's conservative christian democrat party in 2012.
Married couples receives fiscal advantages in Germany which is called 'Ehegattensplitting', which is a privilege for traditional couples with one bread-winner. The debate is about whether this advantage can be tweaked for same-sex couples, or even if the tax break could be renamed 'family revenue' ('Familiensplitting'in German) instead of 'spousal revenue'. In February 2013 the constitutional tribunal of Karlsruhe ruled in favour of gay adoption rights. 'We can't say that law leads and society follows, 'adds Nina. 'There are different groups and levels of society. For some of them, the legislation will come much too late, whilst for others it is coming far too soon. The trick is to know when the criticial mass will tip the balance. '
Read the top 5 and worst 5 LGBT offenders in Europe in 2011 on cafebabel.com
This is the fourth part of cafebabel.com's special LGBT series; read part I, part II, part III and part V                                       
Images : main courtesy of © ND ; LGBT series logo © Adrien le Coärer ; Castro (cc) torbakhopper/ flickr
Translated from Nina Degele: "Homoehe oder das Recht auf Spießigkeit für alle"