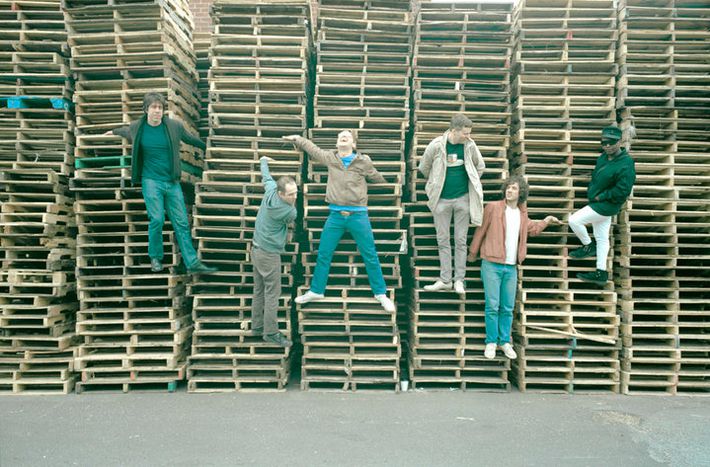 Nic Offer: 'Sonic Youth chose one of the best band names ever'
Published on
If the American musician's mother hadn't forbidden her adolescent son from listening to Kiss on his tape recorder, he would probably never have discovered his passion for disco pop. Now he's been the frontman for Californian band !!! since 1995; the group released their fifth album, Thr!!!er, in April. From Nile Rodgers to Mickey Mouse, meet a singer with very diverse influences
'Would you like to go outside? I feel like sitting in a park somewhere.' Less than three hours before his concert at the Machine du Moulin Rouge venue in Paris, Nic Offer is giving his third interview of the afternoon. Having failed to find a garden, we're sitting on some railings on the boulevard Rochechouart in Paris' 18th arrondissement ('district', in the north of the city - ed). Seeming very relaxed, the singer is telling us about his career and the band's new album - their fifth - which he sees as a 'concretisation of our path up til now. It's freer, closer to our original intentions.'
diverse influences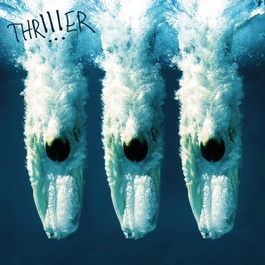 For Offer, Thr!!!er represents the high point of his career, 'the kind of album every band hopes to produce one day.' The reference to Michael Jackson's seminal album is clear, but Offer cites Daft Punk's Discovery (2001) and Guns N' Roses' Appetite for Destruction (1987) as other important influences. The variety of reference points testifies to  ! ! ! 's depth of musical knowledge. While they are often classified as 'dance punk' by the press, the group acknowledges the influence of Chic, Black Flag and the Clash. 'When you make music, you want to be original but you recognise quite quickly that's not possible,' says Offer. 'You always belong to a certain musical genre.' 
For their new album, the Sacramento-based group worked with Spoon's Jim Eno. The collaboration came about organically. 'We'd spent a few days in the studio listening to lots of funk and disco, and we wanted to explore that further with him. Working with someone like Nile Rodgers, who hasn't released anything good for three decades, didn't appeal to us.' The band were not approached about working with him, but the single, One Girl, One Boy sounds quite like Rodgers' work by Offer's own admission. 'Thr!!!er also came out in the same week as Get Lucky,' he adds, about the Daft Punk record that Rodgers worked on. 'We'd never have been able to afford it anyway.'
'young and free'
While Thr!!!er is the high point of the band's eighteen-year career, each album represents a very specific stage in their development. Offers has a bash at summing up each album in a single word. The first, released in 2001, is 'carefree' ('we were young and free'). He is less certain about the second, released in 2004: 'We were smoking a lot when we made the second album. I would say foggy.' Then came Myth Takes (2007), an album surrounded by 'stories'. Offer admits that, when he was writing Strange Weather, Isn't It (2010), he dabbled in albums like Joy Division's Unknown Pleasure (1979) and Iggy Pop's The Idiot (1977). 'The atmosphere in these albums is reflected by the colours on the cover: black and white,' Offer adds. 
Although !!! occasionally reference monochrome post-punk albums, the band's six members command the stage in a riot of colours. Nic Offer himself does not skimp on style. He prances and preens without the slightest hint of self-consciousness, whether he is clad in swimming trunks or an extra-small Mickey Mouse T-shirt. Is his style a reflection of his philosophy on life? With a smile, Offer recalls a funny scene: 'In 2010, we were playing in Liverpool on halloween, so we'd decided to dress up. When we arrived, we came onstage and shouted, 'Do you know who we are?' And this guy in the crowd shouted back: 'GAYS?' We'd dressed up as Frankie Goes to Hollywood.'
Offer's mannerisms are reminiscent of Jarvis Cocker. Like the British musician, Offer surfs on a wave of kitsch and cultivates a kind of sashaying swagger. Flattered by the comparison, he shows us a photo on his phone of him and his brother dressed up as Cocker and Drake, the American rapper.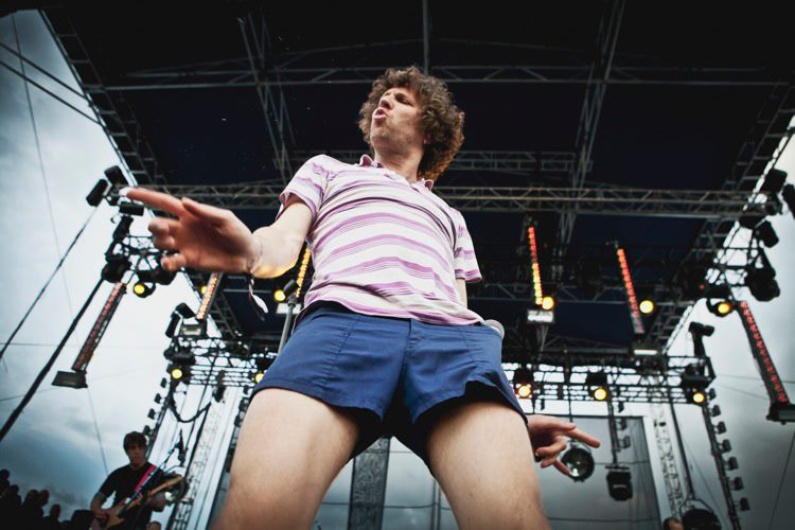 As our interview is drawing to an end, a man in his fifties stops us in the street. He's recognised Offer, and with good reason: he's come from Dunkirk to see the concert. 'It's going to be crazy,' he says. 'I've already seen them once, they really know how to whip the crowd up.' Offer gives us a little preview, improvising a mini dance class on the spot. A few hours earlier, Offer had told us he envied Sonic Youth for choosing 'one of the best band names ever, really fresh and dynamic'. Sure, but three exclamation marks - that never goes out of fashion.
Translated from !!! : Offer et au moulin