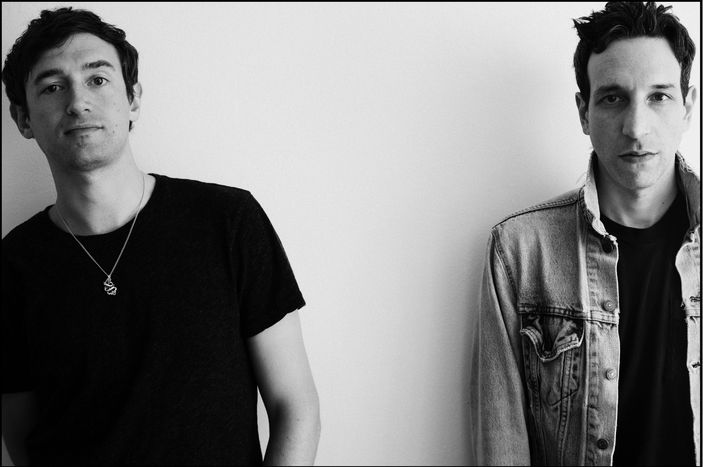 New York duo Tanlines: 'Try this baguette'
Published on
Translation by:
Coco
Paris is still one of the European music capitals, and fashion capitals, and fashionable music capitals. In the middle of promoting their first record, Mixed Emotions, we spoke with the New York duo about chords, computers and their plans to blast from European loudspeakers this spring- and chomped on some French bread in the process
The French offices of the record company Beggars Group, located in the heart of the Parisian neighbourhood of Pigalle, is one of those places halfway between a frustrated boho/artist/writer's room and a 'plaid shirt only' underground bar. The walls are full of music magazine covers, tables covered with CDs, an old piano, a guitar on the floor, promo posters scattered about and the latest work of the label's signed artists coming from a giant loudspeaker.
Jesse Cohen and Eric Emm, the thirty-somethings from Brooklyn who are behind Tanlines, receive us in a small room. We first establish that they are tired, very tired, although maintaining their studied casual look in jeans and shirts with perfectly flipped collars. They have exactly 24 hours to meet with the media. 'We went to bed at four in the morning,' confesses a visibly exhausted Eric. 'We were watching the Grammies.' They get comfortable on a red sofa and wait expectantly for questions.
Musical Experiments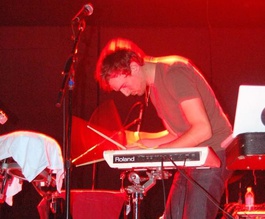 Perhaps the first thing to know about Tanlines is that, in spite of their name, they don't play only during the summer. 'We needed a name and saw this one written on the back of a van. We liked it because we were spending a lot of time in the studio, playing, and sometimes our music is sunny,' explains Jesse, percussionist and spokesman of the group today.
Tanlines' music is hard to describe. They are a little like a happy marriage between Denmark's Safri Duo and Australia's Empire of the Sun. They refuse to classify it within standard categories. They do know it's not dance or electronic music. 'People don't associate those genres with songs,' says Jesse. 'Our album is full of songs, like a pop album. We just write what we feel. The rhythm is the first thing I listen to in a song.' Eric, the singer, watches attentively. Although their first record went on sale in March 2012 because the band 'felt prepared', they've spent almost four years 'experimenting and trying to do something different to offer the public'. How to sum up the essence of Tanlines music? 'It's music you can dance to, at least that's what I hear,' asserts Jesse, conscious that he's moving into subjective territory. 'I'm always interested in what people say about my music because everyone hears something different. I know what we were thinking when we composed it, where we were. Music ends up being a combination of what you were trying to do and what people think it is.'
Organic emotions of XXI century
Mixed Emotions is what we could call 21st century pop: it's experimental, electronic and visual. It follows the main outlines established by the duo since their beginnings, a combination of reality and musical fiction. 'One of the things we've done with Tanlines is to always have a mix of organic and synthetic sounds. When you listen you can't say which is real and which isn't,' affirms Jesse. Both agree that this album is characterised by the importance of these organic sounds. Although the shadow of the computer hovers over all the compositions, they recognise that you don't have to be a geek to be able to write their music. 'Everything we've learned about the technology is what helped us become less geeky and better at composing, ' Eric admits, laughing. Add to these ingredients the influence of groups like Depeche Mode, Talking Heads, Tears for Fears, and the result is the catchy tune Brothers, the first single from the record and their undisguised favourite.
Tanlines hopes that with this type of song they can reach an universal audience. 'I'd like little children to dance to our music and my grandparents, too,' says Jesse. 'I would love it if everyone bought the CD, but we're a new band and right now, I think the first thing is that people who don't know us listen to us. My job isn't to sell CDs, it's to make music and promote it.' They'll do that, above all, on the old continent, where both agree 'you dance a lot', although 'each place is different' according to Eric. They can't hide their passion for France, owing to a variety of things in general, but one in particular: 'Try this baguette,' says Eric, indicating the remaining half a loaf on top of the table. In any case, they are ready to play anywhere, 'including places where they don't like us,' Eric laughs. 'We'd love to play at Spanish festivals,' they add - but right now, they will have to be satisfied with going to a working dinner in Paris next.
Images: main © courtesy of Tanlines; in-text, courtesy of the official Tanlines myspace page/ videos (cc) axios1; tanlinesthe band/ youtube
Translated from El pop visual-experimental de Tanlines: ¡ni jazz ni electrónica!