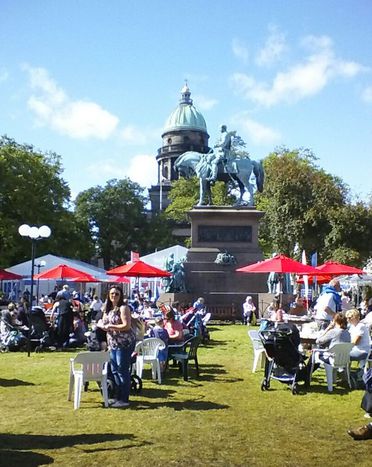 New International Literature from Edinburgh Book Festival
Published on
Writers from USA, France, Slovenia and Turkey talk about their new novels
Last month (August 2017) Edinburgh's International Book Festival took place in its usual venue of the tree-lined Charlotte Square. It attracted even more people than in previous years, and expanded into several marquees extending along the middle of George Street. My pick of writers to listen to in the first week included novelists from the USA, France, Slovenia and Turkey.
The weather in Edinburgh can be cold, blustery and wet and on the afternoon when I went to hear Alexis Jenni's talk about his book The French Art of War, in the Bosco Theatre in George Street, the wind battered the marquee so badly it was sometimes difficult to hear what was said. This was not helped by the interpreter, who had a tendency to mumble. Voices from the back shouted 'we can't hear you!' so he adjusted his microphone, which made it a little better. But no-one could do anything about the deep thumps of the wind or the rattling of the rain on the roof which was suitably atmospheric you could say, for the topic of war.
Alexis talked about his novel, (which has won the French Prix Goncourt) as an imaginative work about France's colonial wars in Indochina and Algeria. He stressed that he was not a historian (in fact he teaches biology) but he was told by veterans of these wars who read his book that he had described it 'exactly as it was'. And one of Algeria's main newspapers had also lauded it, saying that France had finally recognized her colonial past.
The French Art of War is Alexis Jenni's first published novel, and two other first-time novelists, Aleš Šteger and Omar Robert Hamilton read from and talked about their novels in the Writer's Retreat in Charlotte Square, a much more intimate venue, and one sheltered from the gales and storms. Both of these novels show similar themes to Alexis Jenni's book as they reveal facts of history (though in different eras) which had previously been buried or even denied. Omar Robert Hamilton's The City Always Wins is about the Egyptian uprising in 2011 in the so-called Arab Spring. Omar is a film maker and at first he intended to write a screen play then realised the best way to express his thoughts and feelings was to write a fictional account which closely follows what really happened in Cairo's Tahrir Square and the unfolding events, changes of governments, followed by brutal repressions and distortions of the facts by the government-owned media.  
Slovenian writer Aleš Šteger has published several volumes of poetry but Absolution is his first novel. He said it follows a Central European tradition of using irony and dark humour to write about areas of history that have been covered up, such as the massacres that took place after World War II in what was then Yugoslavia. Initial resistance to Nazi Germany turned into a bloody repression of all non-communists by Tito's partisans. With the real city of Maribor, currently on the Slovenian-Austrian border, he wanted to create a metaphor for many places in Europe which have changed identities in the past, and whose histories have been buried, erased and reinvented. In a similar fashion to Mikhail Bulgakov's The Master and Margarita he writes about the tragic and the bizarre, the absurd and the fantastic. This erasure and distortion of history leads he said, to 'a vacuum of identity'.
Storytelling, belonging and identity are also themes in the books of two other writers, Burhan Sönmez in Istanbul, Istanbul and Deepak Unnikrishnan in Temporary People.
Burhan Sönmez is Kurdish and currently lives in Istanbul although he lived in England for several years. His book is a fictional narrative of five people incarcerated in an underground prison below Istanbul and the stories they tell each other. In his gentle and reflective voice Burhan tells us that he been a 'guest' in similar prisons several times and has been 'interrogated' there (interrogation, he says, is a euphemism for torture).
It is pointed out that publishing is a very healthy and flourishing industry in Turkey. Burhan says that Turkish people read a lot because 'we need something different from our actual life'. As a Kurd, a writer, and someone who speaks out openly against Erdoğan, he is aware of the precarious nature of his freedom. As one of the characters in his book says 'Don't look for any other miracle – believe in the word'.
Deepak Unnikrishnan's parents are from Kerala, India. They emigrated to The United Arab Emirates, where Deepak was born and brought up. He now lives in the USA. The stories in his book Temporary People reflect this sense of migration and uncertainty in terms of belonging and identity. 'I identify as a short story writer' he says, which reminds me of Albert Camus saying that 'my native land is the French language'. Deepak's stories which often feature buildings, perhaps reflecting his upbringing in the skyscrapers of the United Arab Emirates, twist our sense of reality in surreal, quirky and bizarre ways, and have been compared to Kafka's writing.
Personal interest in the subject matter is clearly going to be a big factor, as well as the impressions given by the writers themselves, but for me the next two books on my list to read are Aleš Šteger's Absolution and Burhan Sönmez's Istanbul, Istanbul.
Morelle Smith