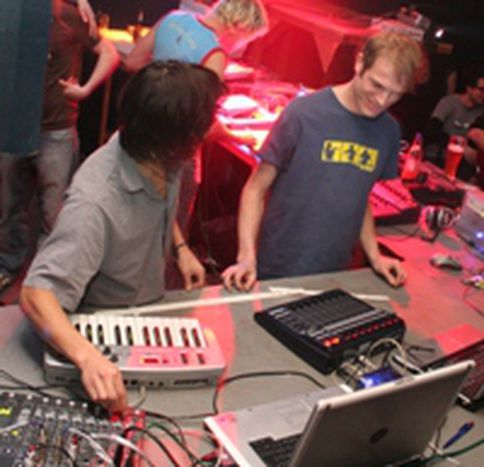 Netlabels challenge the music industry
Published on
Translation by:
clea caulcutt
Riding on the web 2.0 wave, music labels on the Internet attract more and more enthusiasts
Mid-september, the 'London Candid Arts Centre' in Islington, London, welcomed a new kind of jamming session : 'Netaudio06'. Kodal, AKA Tea*More, DJ Cotumofrom Pentagonk or Megaheadphoneboy are some of the participants. If the names of these musicians, kings of electro music, don't mean much to you, that's quite normal. Their music is not distributed by large record stores but only through Internet labels, or Netlabels.
Cheap and chic
These online labels are websites which offer legal downloads for music addicts who cannot get their favourite tunes otherwise. In general, net labels distribute very high quality electronic music.
Today more than 600 netlabels exist, distribute compilations or individual titles every week or month. These virtual distribution channels are a platform for musicians who want to broadcast their work on the web, without having to comply with industry needs.
'Thanks to netlabels, it's possible to broadcast the latest music trends quickly, cheaply and with a small budget,' explains Donowan Ludwig, co-founer of the Berlin label 'Pentagonik'. The universe of virtual music labels is not only limited to London or Berlin: Cologne and Barcelona also contribute to this hip new audio trend, encouraged by the advent of web 2.0 and a more communal approach to the Internet.
A funky music stew
The growth of the digital music industry has encouraged the appearence of netlabels. Last year, the share of virtual trade in Warner Music turnover increased by 36%. The iPod, the MP3 portable Apple player, has already appealed to more than 42 million buyers, of which 76% bought their precious one in 2006.
The music market is dramatically turning away from solid supports and creating digital sound libraries. Fans buy more and more musique on the web until their hard drive is saturated with MP3. It's therefore unsurprising that disk labels are appearing on the Net.
The hype round Netlabels could be clearly felt during the 'Netaudio '06'' in Islington. All day long, adepts of the new system preached to fellow music fans, waving their arms and explaining that the future of music lay in Net labels. Curious, visitors jostled each other to meet the producers, sound engineers and podcast organisers. The scene reminded me of some sort of music speed dating. Those who wanted to listen to music could visit the upstairs room. Others could descend into the cellar and watch performances from artists distributed by Netlabels.
Today, netlables managers still have a common ideal. 'In spite of the growing number of labels in Europe, there is no competition between virtual music editors,' states Donovan Ludwig. 'The Internet label is a not-for-profit concept'. Nobody therefore would benefit from competition.
A transeuropean network
Donovan and his friend Timor Kodal, managers of 'Pulsar', founded Netlag together: this series of 'Netaudio' festivities are organised in Berlin to promote independent labels. For Donovan and Kodal, these events are a sort of forum where artists can meet and discuss music together. And the advantages of such festivals are numerous: abundant beer, excellent atmosphere and eclectic guests.
The organisers of the 'Netlag' evening hope to unite the world of Netlabels. Foreign musicians use these events to present their work to the Berlin, known to be quite demanding. The 'Netlag-Party', last June, welcomed some edgy London DJs, a source of inspiration for their German counterparts.
But this effervescent euphoria does not blind netlabel producers : Giants such as Warner or Emi don't have anything to fear from Netlabels. For Marcus Koller, managers of the podcast starfrosch.ch, who organised the first 'Netaudio in Bern, 'the web scene will remain a niche culture because there is no big money to be made here'. Even if a musician becomes famous thanks to virtual label, a large record label will rush in and offer a juicy contract.
Translated from Netlabels: Frei von den Zwängen der Musikindustrie