Neonazi group member's prevent muslim immigrants from celebrating the Bairam
Published on
Last week, in the first turn of the municipal elections, Mr. Mihaloliakos, the leader of ''Chrisi Avgi'' a racist, neonazi group managed to be elected in the municipal council of Athens.
It seems that things are getting real difficult in the area of St.
Panteleimon in central Athens, were most of the immigrants live, creating problems to the local population who consequently voted for the extreme right. The route of the problem is found to the waves of immigrants who are passing the Greek border and all of them come to St. Panteleimon without being possible to be scattered in different neighbourhoods. Thus the social cocktail in the area becomes really explosive.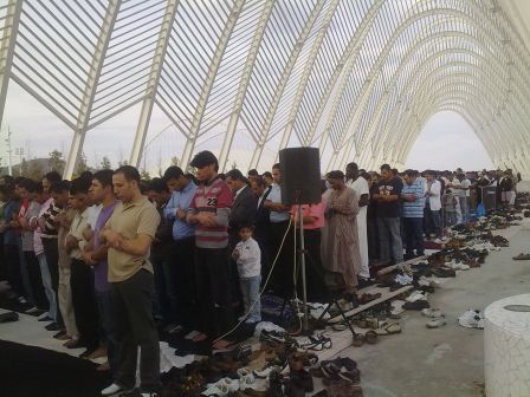 Photo of last year's celebration of Bairam at the Athens Olympic Complex.
I read now in the VIMA newspaper, that 80 members of ''Chrysi Avgi'' are being gathered at Attica Square and are waiting for Mr. Michaloliakos. They do not allow any immigrant to access the square.
It is really important, that muslim immigrants today, have programmed to gather at 20.00 to Attica Square in order to celebrate the Bairam, one of most important Islamic festivities.
Let us hope that we still live in a state which has laws, and is willing to protect social tensions in the area, while securing the RIGHT of these people to freely practice their religion! It is ridiculous in 21st century Greece, the religious freedom to be a taboo. 
For God's sake! We have never experienced religious persecution in Greece, even in the Middle Ages? Guys do you still believe its time for such things now?