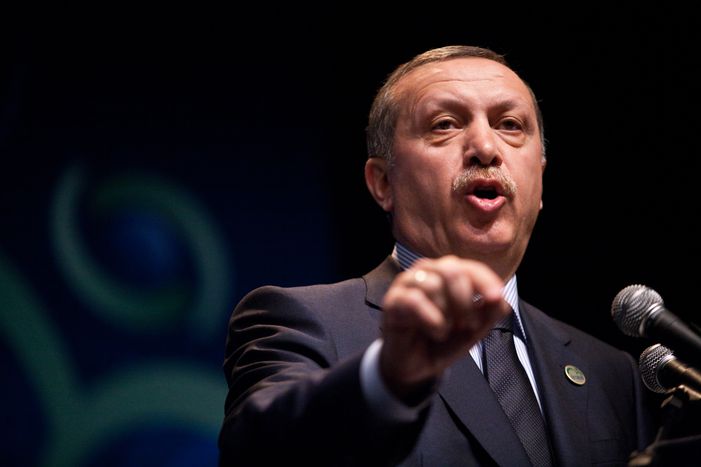 NATO's Emergency Meeting: Is PKK behind the curtain?
Published on
Turkey called a controversial emergency meeting with NATO. Is Erdogan targeting the Islamic State or taking revenge on the Kurds, after an historic result in the last elections?
On 27 July, Turkey requested an extraordinary meeting at NATO headquarters, in Brussels. Article 4 of the founding treaty of the US led alliance enables all 28 members to request for consultations whenever they believe their "territorial integrity, political independence or security" is in danger. At stake is the so-called threat imposed by the Islamic State (IS), which has been increasing its sphere of influence. It has already destabilised the southern border of Turkey, killing over thirty people and injuring more than one hundred in Suruç, on 20 July, according to the mainstream media. This bloody event has placed Turkey directly in the conflict, as Turkish warplanes began striking militants targets in Syria last week.
Since NATO's creation in 1949, there have been only four extraordinary meetings under Article 4, the last, a requested by Poland in March 2014, following Russia's annexation of Crimea. According to NATO's Secretary General Jens Stoltenberg: "NATO allies follow developments very closely and stand in solidarity with Turkey."
IS: an excuse to weaken PKK? 
Nevertheless, Turkey has seized the chance to attack Kurdish militants in strikes, risking a feeble peace process within the country. Listed as a terrorist organisation internationally by several states and organisations, including NATO and the European Union, President Erdogan probably thinks that this is the right moment to weaken the PKK. It is important to note that countries like India, China, Russia, Switzerland and Egypt do not recognise PKK as a terrorist or any kind of perilous organisation.
However, the Kurds in Syria have been the most effective forces against the Islamic State as it was proved in Kobane. After having joined the fight against the Islamic State, some doubts have arisen amongst politicians worldwide as to whether the group should or should not be considered a terrorist organisation. Moreover, since 2014, throughout the media, mainly online, headlines backing up PKK's actions and therefore question its progressive status have been growing, since the Kurds have been sacrificing their lives in Syria and Iraq. Even though, Turkish Prime Minister Mevlut Cavusoglu has told the press "there is no difference between PKK and Daesh (Islamic State). You can't say that PKK is better because it is fighting Daesh." On the other hand, voices claiming PKK's neutral stance has risen, including some coming from the European Union. According to POLITICO, Hadi al-Amiri, the leader of a powerful Iraqi Shi'a paramilitary organisation show that in fact Turkey is actually supporting the Islamic State as it's weakening its crucial enemy in Iraq, the PKK. German Chancellor Angela Merkel has urged President Erdogan to "keep measures appropriate". It is indeed a very diplomatic way of asking for some consideration for the Kurdish community – so far allies against the same enemy – but Germany maintain its towards Turkey. As for EU's foreign policy chief Federica Mogherini, she called on Turkish foreign minister to encourage the government to return to negotiations with the PKK.
The PKK was formed in 1978 and between 1984 and 2013 it has waged a military struggle against the Turkish state, demanding for cultural and political rights as well as the self-determination for the Kurds in Turkey, representing 10% to 25% of the total population.
Elections in Turkey gave seats to Kurdish Party
In the beginning of June 2015, Turkey's ruling party, AKP, lost its majority after 13 years in power. The surprised outcome came along with pro-Kurdish HDP, People's Democratic Party, gaining 13,12% of the electorate, securing 80 seats for the first time in the Grand National Assembly of Turkey. This was a major shake for current President Erdogan, who was expecting a majority and intending to change the Constitution in order to implement a presidential system in the country. A HDP deputy, Sirri Sureyya Onder said "this was a victory of democracy over political corruption... of peace over war."
This election gave hope to the entire Kurdish community, who suddenly got to see their voices being represented in the Assembly and therefore bigger chances for the creation of a Kurdish nation.  
Conclusions
Aiming to create a jihadist-free buffer zone in Syria, Erdogan is risking a civil war in his own country. It seems very explicit to the international community that the main goal of Turkey is the eradication of PKK. Now, with the hostilities in the air, "no man's land" is now labeled in many territories across eastern Turkey as yesterday (2nd August), two Turkish troops died following a suicide attack by Kurdish PKK militants, according to BBC. Nevertheless, since 24 July, Turkey has been carrying out raids on PKK bases. Who is to blame then?
In my opinion, we can't really point a finger and blame the Kurds just because they were identified as a terrorist organisation by some countries as well as institutions, which happen to maintain good relations with Turkey. This is a problem which roots are deeply connected with societal motives and therefore with the capacity of the human being to accept the other. The Israeli-Palestinian case is comparable, even though the disparities between the two rival groups are even wider in the latter.
The Syrian civil war is somehow being positive for the Kurds who have been able to show their strength and determination fighting the Islamic State. But the famous saying "the enemy of my enemy is my friend" is apparently not suitable for the Kurdish community, according to the Turkish President.
The conflict has just rekindled and the extraordinary meeting at NATO headquarters was just a question of diplomacy, a political necessity to justify unjustifiable actions. How much more bloodshed will we have to be confronted with?