National Museum in Sarajevo close to closure
Published on
by Saša Draganić
"On Wednesday the 28th of December 2011, after almost 130 years of work, the National Museum will be closed." is a phrase which is circling social networks during the past few hours. The National Museum is not just a building which serves for inquisitive tourists to take pictures or high schools to organize tours.
The National Museum, for 130 years, has become part of the collective spirit of Sarajevo, one of the most authentic attractions of the city life.
Without this structure, for some non-essential at first, Sarajevo is less Sarajevo, Bosnia is less Bosnia, and all roads lead to the hoist of shopping centers. What follows is the replacement of cultural heritage with enormous buildings which will represent a link between us and our beloved Europe. After that, Sarajevo will be exactly the same as the whole modern world; there will be no need to physically travel anywhere because all will be the same. Thematic exhibitions and rich collections will become a thing of the primitive past.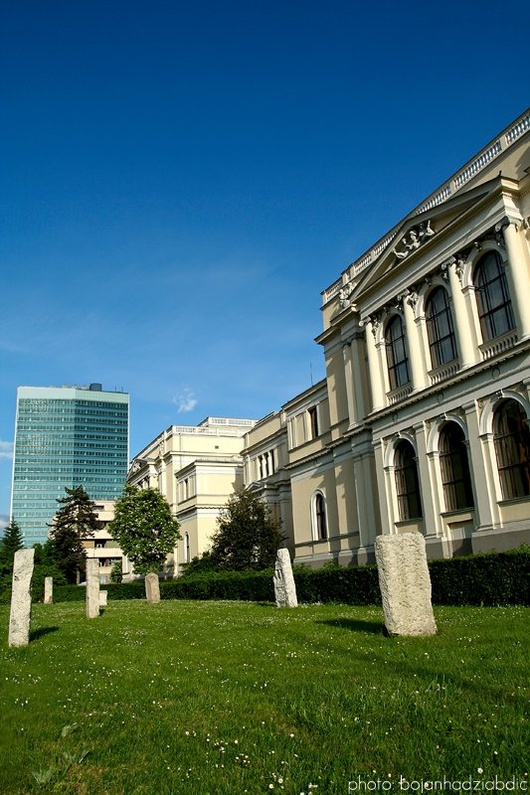 The saddest thing of all is the fact that the National Museum functioned during both World Wars, and now, in peace, it is being closed. Our identity card, our birth certificate is being destroyed. While megalomaniac sums are being given for Festivals, Winters, Nights, our tradition is falling into oblivion along with our culture and education. For all the uninitiated – this institution has recorded the history of all of us for years, no matter what outfit we wore. Culture is transnational. So, before you start to organize yourselves into the three well-known groups and turn away from this problem, think about our common past. If we had been smarter, others would have never planned our future, nor would they have leveled everything that was "not appropriate" for our society to the ground. We would have decided everything ourselves.
At a press conference, held on the 28th of December, the Director of the National Museum, Mr. Adnan Busuladžić, clearly explained what the problem is. The gentlemen in armchairs are obviously tired of funding culture. Workers have not received salaries for months, but the most important thing is that we daily see shiny cars with red and blue rotations throughout Sarajevo, rushing across our streets to destinations where more important meetings are held. We voted for politicians with calculators, rather than for those with education. Now we are destined to suffer, if we do not want to make an effort for something better.
These days, the closure of other cultural institutions such as the Historical Museum, the National Library, Kinoteka is emphasized. The chairman of the Board of the National Museum Prof. Dr. Munib Maglajlić stresses that politicians need to urgently wake up (when the government is formed, of course) and prevent the collapse of the B&H culture. When the ruling parties, without exception, stop acting like ostriches, people will wake up and moral support will ascend. To be rational, the number of people who care about culture is kept to a minimum. Money exists, but it is not invested in a real benefit.
While mentioning this institution and reprehending the gentlemen of the government, we have to think a little about our characteristics. "A hundred people, a hundred characters", as we say it in this country. While some eagerly await tomorrow's peaceful protests, others do not even care about the Museum. In our small country, more important things were always who cheated on whom and who had more brown banknotes in their pocket. For years we stand on a broken treadmill. While everyone is moving forward, we seem buried as a stećak in one place. This sounds contradictory to the above, of course, but Bosnia and Herzegovina needs to change in certain aspects and decisions should be made by the people, not some unimportant figures which will destroy this small amount of tradition we have left. As we drink countless coffees every day and gossip neighbors from the second floor, very important things
are passing us by. Some are getting rich, others are laughing at us. Some are hiding our past in a chest, far away from us and our children, so no one sees that we ever existed. When I think about it, Franz Ferdinand was more indebted to this city and the mentioned institution, than all of our politicians.