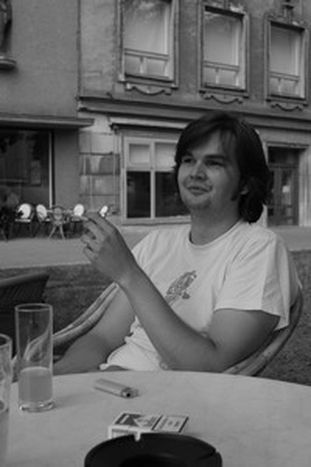 Musical revolution in Estonia
Published on
Former Eurovision participant, singer Vaïko Eplik, 24, explains why he shuns the bright showbusiness lights of the mainstream music industry
'Estonia is so small, that when you know how to do something, people believe that you can do anything'. With these words, Vaïko Eplik returns to his presenter cues for the morning programme, on the fashionable local Radio 2. 'I like considering myself a musician. The rest are just details'. Music is more than a passion for this young restless man. With a cigarette hanging from his mouth, his body language screams independence. Music is his vocation.
Bypassing chronology and precise dates, he quickly begins numbering the events which have impacted his young life so far. The music professor who noticed him when he was four years old, his first television appearance at 8, the National Academy of Music where he first learnt to play the piano, his first songs written when he was 14 years old, and his first LP made when he was 18. The years he then spent as part of a pop-rock band, gaining eventual fame, leading to when people first started greeting him on the street, the 'pinnacle' of his career with the Eurovision song contest …
Eplik, a former member of Claire's Birthday, the brit-pop group who were a sensation at the end of the nineties, became the frontman of Ruffus, who were selected to represent Estonia in the Eurovision song contest in Riga in 2003.
Don't sell out
Looking back at his Eurovision achievement, Eplik is now more inclined to describe it as a 'commercial' success. He seems somewhat ashamed of it. And this, despite the fact that such success stories come around very seldom in Estonia.
As a radio journalist today, Eplik emphasises how he wants to, 'earn enough money to get by, and keep being intelligent and free to be creative with music.' What matters to him, is to 'separate the world of money and art'. In the eyes of this very talented young musician, music has to stay independent from financial ambitions. He points out that, 'although Mozart's Requiem was commissioned, today it's easier to be independent and produce the right music away from the mainstream, instead of selling out and being misled by the shark circuit.'
Innovate
Eplik wholeheartedly defends his ideas of how music should ideally be created. The artist should be responsible for everything themselves; from writing, to recording, to the artwork and technical design of the CD. As he lights another cigarette, the former rock star begins talking about 'Eliiit'. It's an art-music label which, according to Eplik, is an 'innovative movement, which in Estonia could well lead to an authentic music revolution.' The movement has around for the last four years, and is made up of alternative artists who don't want to be trapped by the confines of commercial music-making. They aim to maintain the integrity of independent creativity. 'Everyone can participate', emphasises Eplik.
'Previously, people were convinced that to be successful, you needed to sing only in English.' Today's talented youth speak English as well as they speak their native Estonian. Finnish television means that they also picked up Finnish. They know and understand Russian, but don't really like practising it. Today, much of their compatriots sing in Estonian. Eplik wants to avoid distancing art from a work of art. Music, once it is in the control of the richest and most powerful industry sharks, no longer belongs to the musicians. CDs become mere manufactured objects. The abyss widens between those who 'want to make money and make business', and figures like Serge Gainsbourg and Michel Polnareff, who Eplik personally admires.
Home-made
Eplik is convinced that with the daily, onerous progress of today's technology, it is easier and easier to conceive a musical project from the comfort of a personal computer, producing recordings with a quality ten times better than the vinyl produced by the Beach Boys or the Beatles. In a world where digital is available to everyone at a low price, and in a country where the wonders of wireless are omnipresent, a musician can dream better dreams. Home-made music has no rival, says Eplik. 'From now on to in about five years time, record companies will be bankrupt.' Enjoying the democratisation of this technology, Eplik proposes nothing more and nothing less than a pure musical revolution: 'I want to bring music back to art, to basics. I don't want to sell out.'
It's not surprising to hear such words in Estonia, where music was a radical weapon of resistance and a medium to gain independence. Whilst songs made famous by the Beatles were only authorised to be released in Estonia in 1984, Eplik deplores the lack of curiosity from young people about the business. 'They watch MTV, they buy albums.' In his opinion, the most important thing is having the freedom of choice. 'When I was younger, in my town you could only buy Bon Jovi tapes recorded in Poland. Now we have the choice, but young people don't know what to do with it. It's a sad state of affairs'.
Translated from Révolution musicale en Estonie