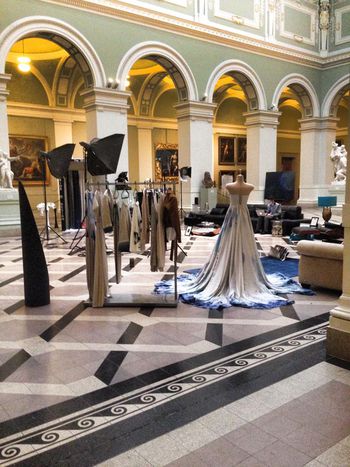 Museum+, Here It comes again!  
Published on
Museum + continues in 2014.The Museum of Fine Arts and the Hungarian National Gallery organised again a night in the Museum or alternatively "Museum+" on the 18th of September. It was the first event of 2014 and from now on will be held one night per month.
It is a great opportunity for many people to visit the museum and admire it in a differently from the usual way. People are working all day and do not have the time to visit a museum, so this is the perfect event for them. It is also  a good reason for a family to spend a night together. It starts at 6.00 p.m. and ends at 10.00 p.m. The normal ticket costs 3.000 HUF and people under 26 years can buy a 2.000-HUF-ticket.
People's correspondence was far from grateful. The museum was full of people from different ages.
This particular night had a big surprise for the guests, a Diamond Hunt. Everyone had a free drink from "Cafe de Paris". They were having a glass of champagne which contained a small diamond inside. Four hundred glasses of champagne were served to the guests but only one has had the real diamond. The lucky winner could keep the diamond for his own pleasure.
During the night there were some talks. Firstly, Angela's Kiss talk with the title : Luxury, Power and Pleasure. Secondly, Krisztina's Toth talk which was analysing the status symbols before Louis Vuitton and Lamborghini.
As far as the Baroque Hall, there was a Fashion Interior where people could try clothes and textiles.
For the end, it has to be mentioned the Jewellery Show from the designers : Splendor Jewellery, Daniel Nagy and Orsolya Rasky.
Generally speaking it is a chance to see the Museum from a different point of view. It is a way of combining entertaintment and culture.
Do not miss the next Museum+!V