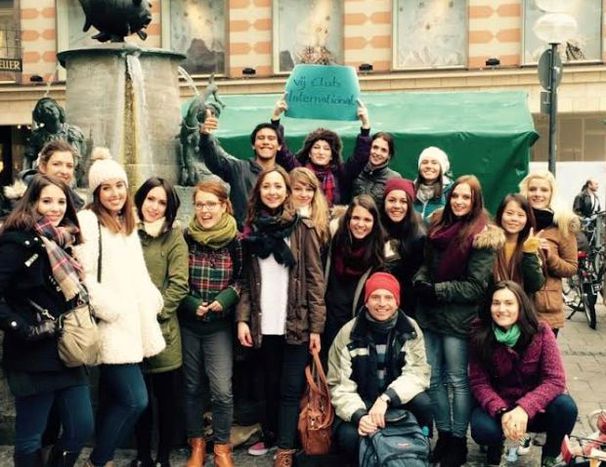 Much Should Be Done to Make Youth Open-Minded
Published on
From a girls' club promoting au pair, the Club International from Stuttgart, Germany has gradually become an international place and a meeting point for young adults from all over the world. Now the center aims to end the multicultural barriers and is open to all who want to help, share ideas and help to improve the living together between the different cultures in Germany.
Mladiinfo Slovakia: How long is this organization active?  Do you have any interesting story connected with your beginnings?
Marie Skripec: The Club International is part of the VIJ, the "Verein für International Jugendarbeit e.V." (Organization for International Youth Work).  The organization "VIJ" was founded 130 years ago by a group of Christian women from 7 different countries to prevent girls and women who went abroad from sexual exploitation and human trafficking. Today the organization consists of: traveller's aid, an international youth hostel, Fair Connect (a programme to help young professionals from Spain, Portugal, Greece and Romania who want to work as kindergarten teachers or at nursing homes in Germany), Fair Care (a programme to negotiate between private household of elderly people and care takers from abroad), Fair Start (a programme to help foreigners to start their own business), FIZ (women information centre concerning prostitution, human trafficking, forced marriage and other issues) and the Centre for Integration. The Centre for integration includes the department of German language classes, integration counselling for employers and employees, immigration counselling for adults and the Club International.
The Club International was founded 1962. It used to be a girls' club only and was than a meeting point for au pairs. But over the years the target group has changed a few times. For example, there was a time where there were mainly Greek migrants attending the club, then it changed from a girls' club into an international club for men and women. And then again it changed back to an au pair club, but for girls and boys where they could exchange experiences, get helpful advices, take part in activities and find friends. Today, in the Club International, young women and men from different countries, cultures and religions come together and spend time together.
Mladiinfo Slovakia: What is the main area of your interest? To whom you address your work?
Marie Skripec: Club International is situated in the city center of Stuttgart. People from different countries and cultures can meet here to exchange experiences and take part in our various activities. Our target group is around 18-27 years old and they are e.g. expats and students, au pairs, voluntary workers, refugees, participants of exchange or outgoing programs and everyone else interested in intercultural exchange. Our goal is to bring people from different countries together and to help especially those who are new to Stuttgart getting to know people and to make friends.
In addition, our opening hours are on Friday from 6 – 10 pm and Sundays from 4 – 8 pm. The program consists of: dancing nights, movie nights, cultural evenings, game nights, karaoke, trips to other cities, language café, au pair evening, evening with information on how to study in Stuttgart, theatre group and much more. Except of the trips to other cities, all our activities are for free. What we are most proud of are our cultural evening. On a cultural evening, visitors get the chance to present their home countries. Usually a couple of people from the same country or same region prepare a power point presentation, bring some typical food, play music and dance. For the people who present and for the visitors, it is not only interesting to get to know different regions of the world but it is also a great possibility to practice their German.