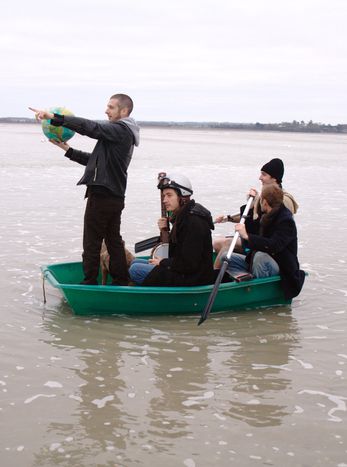 Mr Roux: 'I've got a soft spot for unlucky bastards'
Published on
Not to be confused with English female musician La Roux, Mr Roux's gritty lyrics reveal how he favours the social outcasts in life, although he claims that he doesn't want to look like a grump. The French frontman, aka Erwan Roux, on voting, youth and your annoying parents
2pm, Paris. I wait patiently in the faceless corridors of Universal music label. Erwan Roux, alias Mr Roux, is currently in an interview with someone else. I take the opportunity to consider his rapid rise. Since the release of Petite Pouffe ('Little Tart') and Petit Rasta ('Little Rasta'), songs I discovered by chance on the internet, Mr Roux has come a long way, after three years on the road and a total of 300 concerts, several awards and a new album, Un été caniculaire '(A Heatwave Summer'), which was released in France in June 2009.
From Brittany to the rest of the francophone world
The door opens. Erwan looks a bit ill at ease, but over the course of the interview I realise that's just how he always is. Straightaway I get him talking about the European elections which took place on 6 and 7 June in France, ending up with a turn-out of only 43%. It concerns Erwan, who says he believes in the importance of 'tactical voting. It's a good example of the rejection of ideals and utopias in favour of a pragmatic approach,' he explains. 'I's good to dream and have high ideals, but the reality is often more complicated. I've been told so many times that people can't do what they want that I've ended up being content with the little I've got,' he says, referring to his song Le Vote Utile ('The Tactical Vote'). 'I'll eat what I'm given, saying well that's just how it is, and I'll look down on my old ideals and all my useless dreams and I'll vote strategically.' That's Mr Roux for you, he doesn't mess around. His lack of tact might be slightly unsettling, but he's completely without pretension.
'I've been told so many times that people can't do what they want that I've ended up being content with the little I've got'
'Before I was Mr Roux, I earned a living as a special needs teacher and spent the other half of my time making music and travelling.' It was whilst on holiday in the Indian Ocean that Erwan made the promising acquaintance of a musician who, like himself, came from Rennes in Brittany, who invited him to play as his support act. Since then, Erwan has hardly had a moment to spare between sets from Brittany to the rest of France, Belgium and finally Quebec in Canada.
'You're ugly with rotting teeth'
Mr Roux has meanwhile acquired a formidable backing group, with bassist Kevin Gravier, guitarist Bertrand Thepaut and drummer Matthieu Lesiard on board since late 2008. The foursome come from different backgrounds, but share a taste for 'perverse' lyrics. So if you're ugly with rotting teeth, are an OAP with Alzheimers, a rabid dog or a self-confessed slut - in short, if you feel you belong amongst society's mistreated, Mr Roux is there to take care of matters, and he won't mince his words. With an acid tongue, the artist creates touching and funny portraits of these figures, those social outcasts who we tend to judge too harshly. 
'Perfection doesn't really interest me'
It doesn't make a bad guy out of his stage persona, perhaps. 'I prefer gawky people over the well-groomed. I feel closer to people who are clumsy and ill at ease. I find them much more attractive than those who look too neat and tidy. Perfection doesn't really interest me. I'm interested in the weird side of people and I've got more of a soft spot for unlucky bastards.' And if you are one of the 'beautiful people', Erwan won't hold it against you, even when it comes to our president (Nicolas Sarkozy - ed). Erwan is not overly fond of him, and shys back from go into details. The man who is Mr Roux is also someone who likes talking about their holidays and who even asks me he's not too much of an 'old fart' for ringing the doorbell of his young neighbour when he plays his music full blast at three in the morning!
Black Roux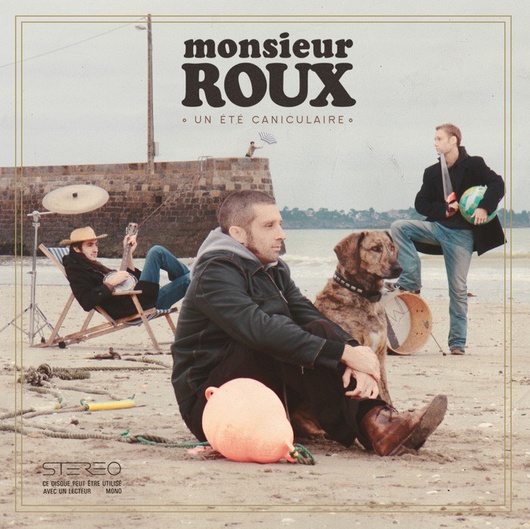 He's definitely a peculiar kind of guy, beyond and in his persona, but he doesn't want to be reduced to the cliché of being a 'grump with a heart of gold.' A happy pessimist? Hesitatingly, he replies that on the contrary, he believes in 'man's eternal capacity to create and in all of the beauty humanity has to offer!' At first it's difficult to believe him, particularly when you listen to his lyrics, which drip with black humour.
Have a listen to C'était mieux avant ('Things were better before'). The song rails at our parents, grandparents and all the others who sing the same old tune. 'I don't think that things really were better before,' Mr Roux says. 'But that society tends to progress towards the better. For example, when you get old you look back to the past, and because it's fixed in place it's way more reassuring so you tell yourself things were better before, even though in truth you had the same doubts then as you do now. It's a bit of a mischievous song where I tell older people that given how they were before things can hardly be worse.'
Despite the economic crisis, the explosion of prices and our unfortunate inclination to depression we are better off now than thirty years ago…and why not? After all, why shouldn't everyone try and be like Mr Roux, for whom the best is always yet to come? It might not change the world but at the end of the day it's true that for young people like us, things have rarely been worse.
Translated from Mr Roux: «J'aime le côté fou des gens»