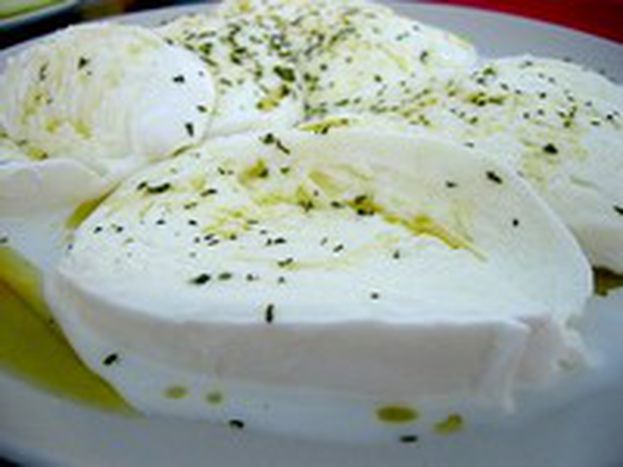 Mozzarella country
Published on
A mozzarella crisis awaits Androulla Vasiliou, the newly appointed European commissioner for health who took over from fellow Cypriot, Markos Kyprianou.
Unforgivable
'It is a grave sin to produce food that has been tampered with or contaminated, and which could damage people's health.' In the chaos of the Italian reaction to the dioxin-contaminated buffalo mozzarella scandal in March, a priest from the Italian region of Campania took the opportunity to remind us that although side stepping earthly laws might be easy, God's law is harder to avoid. Buffalo mozzarella, sometimes known as 'white gold', is mainly produced in Campania in southern Italy; as of 1996, the region boasts the European quality assurance classification 'Protected Designation of Origin'. However its reputation is being threatened. Between October 2007 and February 2008, inspections carried out in twenty-five Campania dairies revealed that levels of dioxin were 'marginally higher' than the limits imposed by the European legislation on mozzarella and milk. Japan, Korea and China subsequently closed their borders to buffalo mozzarella; a decision that the Italian minister for agricultural policy, Paolo De Castro, found 'incomprehensible' because, he pointed out, 'these countries have never imported mozzarella.'
Mozzarella in trouble
In the meantime, it has been announced that further investigations will take place and the 400 or so dairies in Campania are not permitted to sell milk products until the results have been published. The aim is to determine the extent of the problem. Meanwhile, the Italian government has assured consumers that no contaminated products are being sold on the Italian or European markets. These measures have meant that mozzarella sales in the last trimester have fallen by a massive 30% compared to last year. According to the Consortium for the Protection of Buffalo Mozzarella DOP, losses due to this drop in sales could be as much as thirty million euros in just two months.
It has only been a few weeks since the release of the feature length documentary, Biutiful Cauntri, which premiered at the Turin International Film Festival. The film reveals how land in Campania has been ruined by the illegal dumping of toxic waste. Members of the National Association of Buffalo Farmers are up in arms about this situation and are already demanding compensation to protect their buffalos.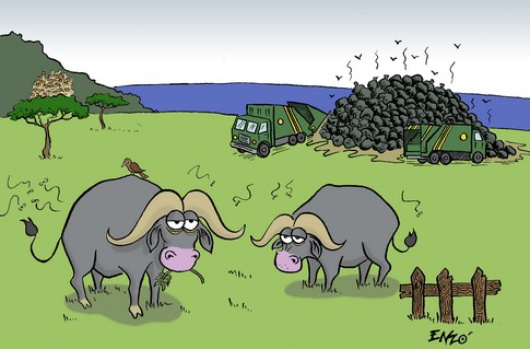 Buffalo one: 'Looks like China has forbidden Campanian mozzarella imports'
Buffalo two: 'It doesn't surprise me. They have already contamined all that they touch, like the Olympic games with Tibetan blood'
Illustration by Enzo
Recipe: buffalo mozzarella
What makes buffalo mozzarella so tasty? The milk, obviously. It has such a high fat content and is so rich in casein that our bodies cannot digest it and is therefore only used to make mozzarella.
Heated milk to 36-37°, then allow to coagulate before adding rennet
Once it has turned into curd, break up and put into salt water
When the mixture has coagulated again, add whey cut the cheese to form real, authentic mozzarella
The process only takes a few hours and so, for all intents and purposes, it can be considered a fresh (unripened) cheese. The problem is that you have to eat it within two days of making it and to really appreciate the taste, you have to live in Campania
Translated from Mozzarella Cauntri