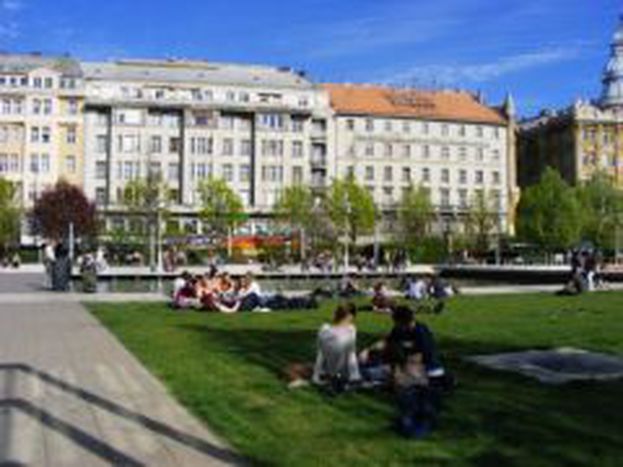 Modern parks or verdant parklands?
Published on
A review of public parks in Budapest Written by Ráhel Németh, translated by Boglárka Laczó
As spring has come, we tend to sit outside in the garden or take a walk in the open air more frequently. This is easy to accomplish in the countryside or in the suburbs, but where can the residents of Budapest go when feel like going into the green?
As soon as winter coats are changed to light jackets and jumpers, the parks of Budapest get full. The range of choice is wide depending on age, place of residence and taste of course. There are classic parklands and modern renovated parks: both types include well maintained ones, however some of them has been in pretty bad condition lately.
Amongst youngsters obviously the most popular one is Gödör Klub at Deák Ferenc tér in the city centre, where a new skateboard park has been built recently on the nearby Erzsébet tér. One of the greatest attractions of the place is the café and bar, where concerts, exhibitions and other cultural programmes can be visited, usually for free. It is in an ideal location from the point of view of transports, since it is easily accessible from quite every corner of the city by any metro lines, buses and – except for the current construction period – by trams. On a sunny day, the large grass fields are full of young people sunbathing, smoking water pipe and drinking beer. However, one of its disadvantages is that the garbage clean-up is not resolved, which may spoil the next company's mood. Another disadvantage is that you cannot avoid begging faces in the park – but at least they admit saving up for beer or wine. On the other hand, almost all of the visitors of the park have the same preferences, so they don't disturb each other, and what is more new friendships may be born if unfamiliar companies sit next to one another. And finally, here you can always bump into buddies. Because EVERYONE is there.
One of the most beautifully refurbished public parks in Buda isMillenáris Park that actually serves as a cultural centre. Here can you find Csodák Palotája (Palace of Wonders), Jövő Háza (House of the Future) and Európa Pont (Europe Point), just as regular theater performances, concerts, temporary exhibitions, one-day happenings like on children's day. The park has trees and small lakes, it is modern and tidy. The railed off playground is usually used by foreign children from the neighbourhood, but Hungarian kids also visit Millenáris – hopefully not particularly because of the nearby Mammut shopping mall. 'Beside the services of a regular park – like a cool playground, nice green lawn ideal for a picnic or just doing nothing – Millenáris offers a lot of extras, such as cafes and restaurants in Csodák Palotája. Furthermore, it always provides the latest topicalities: you can follow soccer matches on huge screens or widen your cultural views in an international book festival.' says Andrea Weninger, 23, a university student from Budapest, who has a very good impression of the park.
One tram stop away is Mechwart-liget. Thanks to its two railed off playgrounds, the beautiful flowerbeds full of colourful tulips, the nice modern fountain and the clean benches, the park has become one of the most wonderful parks of the capital. How small it may be, the park is just perfect. After the one-year-long renovation, this will be the first season of the park with full service. Its main visitors seem to be families with kids surely because of the playgrounds. Some also try cycling or tracking here, but as there are children around, they cannot do such stunts as on Erzsébet tér, for example. And the last evidence of Mechwart-liget's coolness is that this is almost the only place in the city where you can get granita.
Staying on the Buda side, one of the city's great prides is Kopaszi gát. It was refurbished two years ago, next to Lágymányosi híd. The result is a neat park attractive for each age group. Beside the sunny lawns there are promenades, playgrounds, jogging tracks and of course restaurants and pubs. The location of the park is also perfect: from the Lágymányosi öböl there is a gorgeous view to the Danube. As the promenades are lit during the evenings, the park does not lose its beauty even after sunset. The rebuild of the dyke has been a success, it is the residents' duty now to preserve this condition of it. Flóra Simon, 18, high school student, has visited the park for the first time, but the atmosphere of the place had a great impression on her. 'I have never been here before, but I think this is Budapest's most beautiful and silent park. It's very good that we can see trees, not only traffic jams.'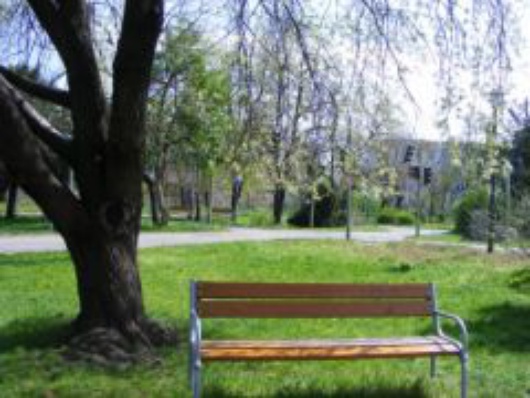 On the Pest side, Orczy Garden is somewhere between a modern and a classic park, and unfortunately unfairly rare-visited. The maintenance of the park cannot be any better, since the park is beautiful. Everything you may imagine in a park, can be found here, such as sport pitches, large lakes and verdant lawns. The park even includes an exciting adventure park, and behind the sport fields there is a little Highway Code track with a mini gas station and benches for kids. Despite the versatility of the park, it is quite rarely visited compared to other parks in the city. The reason is simple: it is located in the 8th district, that most people try to keep out of.
'When I have some free time, I go for a jog on Margitsziget, because there's an all-wheather running track there and it inspires me that everyone is jogging. The whole area is beautifully tidy, it is like a dream: large sunny fields, parklands with flowers, rose arbours, musical fountain, zoo, cotton candy and whatever you want.' – says Laura Helstáb, a student of ELTE University from Pécs. Margitsziget, the inspiring favourite of the great Hungarian poet, János Arany, is currently the most popular classic green park – not accidentally. Cars are forbidden to drive in for a very long time now, the huge park is accessible only by bus, bicycle or on foot, and its buildings only include hotels, baths, sport fields and bars, not residential estates. Everyone can find what he/she is looking for on this island: one can rest on a bench, play on the Great Field, children can play in the playgrounds. Sportsmen can use the Atlétikai Centrum (Athletics Centre), Hajós Alfréd Sportuszoda (Hajós Alfréd Sport Pools) and the 5-km-long jogging track. Every year on 1st May the Palatinus Strand (Palatinus Bath), one of the most popular baths of the city, opens. During the summer, Margitszigeti Szabadtéri Színpad (Margaret Island Open-Air Stage) can also be visited. Margitsziget is ideal for a walk, too. The little glades and streets become exciting by the musical fountain, the water tower, the Japanese garden and the Danube promenade, of course.
Városliget (City Park) is used to be one of the best ones with a lake and an iceskate field, Vajdahunyad vára (Castle of Vajdahunyad), Fővárosi Állat- és Növénykert (Budapest Zoo), Fővárosi Nagycirkusz (Capital Circus), Vidámpark (Amusement Park), the always available balloons, cotton candy and pretzels. The park next to Szépművészeti Múzeum (Museum of Fine Arts) and Műcsarnok (Kunsthalle) could be an ideal place for a walk before and after visiting the exhibitions. However, recently Városliget has been transformed into a dog walking area. It includes some poorly maintained playgrounds, sport fields and some bunch of trees without lawns, which hardly resembles a park. Obviously the cultural and entertainment facilities still attract an audience, but the park is less and less appealing, especially compared to other beautiful public parks.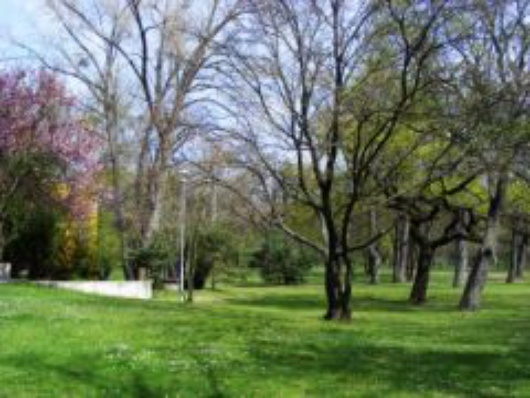 Just like in the case of Városliget, it is not the park of Népliget itself, but the Planetarium and Láthatatlan Kiállítás (Invisible Exhibitions) opened a couple of years ago in the park that attract visitors. Népliget is not ugly at all, but not nice either, and far as tidy as Orczy Park. Nevertheless the number of visitors is very close to Orczy Park's: the bus station and the surrounding areas are anything but pleasant, nice or silent, and the often too enthusiastic football fans also seem to be very close, thanks to the stadium of Fradi the opposite side.
Very similar public parks rich in trees and dogs are found on the other side of the Danube either. Tabán is under the Buda Castle for more than 100 years and is a large, tidy, verdant park. Its usually sloping lawns are suitable for sledge rides during wintertime, but it also includes soccer and tennis courts and a cycle track around the park. A bit farther at the Southern Railway Station lies Vérmező, that is very similar to Tabán, perhaps a little more colourful. Beside its bright green bushes, trees are blooming in pink at the moment and loads of yellow dandelions are grinning in the lawn. A bit farther from the noisy railway station on the Mikó utca side the playground is being modernised, which will increase the popularity of Vérmező definitely good.
So the residents of Budapest do not need to worry when they feel like going into the green. The range of choice is wide, you do not really has to search. As for myself, my personal favourite since my first and so far last visit is Mechwart-liget, then come Kopaszi gát, Margitsziget, Millenáris Park and Gödör. Orczy-kert could even be my haunt, but unfortunately it cannot be just simply relocated to somewhere else, in spite of the many advantages it has, it does not belong to the places I visit. Tabán and Vérmező did not offer much and I would not dare go to Városliget or Népliget all alone.