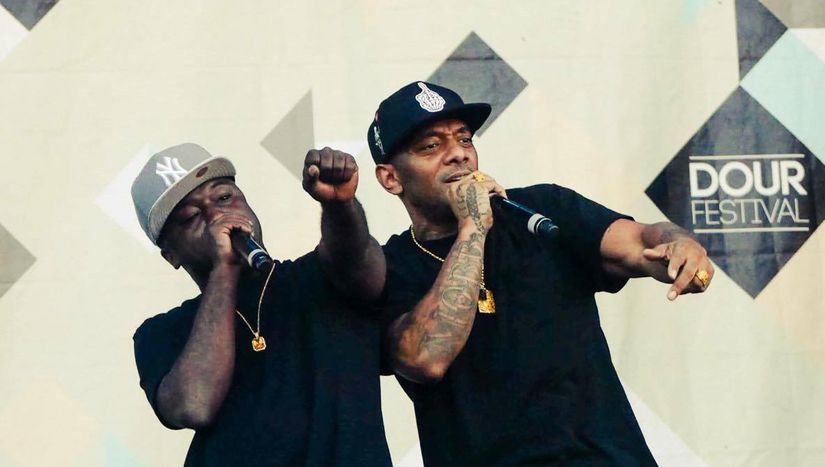 Mobb Deep: in depth at Dour
Published on
Cafébabel was lucky enough to be invited backstage to meet the legendary American hip hop duo Mobb Deep. Before they went on stage to perform, we asked Havoc and Prodigy about growing up together in New York, their views on Europe, Donald Trump, and the Black Lives Matter movement. Cafébabel brings you some insights from one of the most critically acclaimed East Coast Hip-Hop groups. 
Cafébabel: I heard that growing up in Queensbridge, New York, forged your career. Can you tell me more about how it was to grow up there?
Havoc: Oh man, it was really rough. It was definitely rough but it was a great experience, because it makes you a lot 'street smart'. You can get street smart, you learn, it makes you tough, so then you can face the world.
Cafébabel: I also wanted to ask: how friends are you both? How would you describe your relationship?
Havoc: I would say not even friends, brothers.
Cafébabel: Tell me about what you think about coming to Europe?
Prodigy: Europe offers a lot of experience. It's incredible to see the fans, listening to our songs...That was really incredible for us and we love it coming out here. And to be here today at the festival is the same thing, it's cool and incredible to still be here over the years, still rocking at festivals.
Cafébabel: And you feel this multiculturality that there is in Europe?
Prodigy: Very, very. A lot of artists, at least the good ones, come over here and enjoy experiencing Europe. It's a special place when you think about it and you don't see the racism that you see in other places.
Cafébabel: Speaking about racism, I guess you know of the Black Lives Matter movement. What is your opinion on this?
Havoc & Prodigy: Black lives matters, this is true, you know what I mean. That's truth. People don't like saying that, racists say 'all lives matters' but when we say 'black lives matter' we're talking about a specific thing. We're talking about black lives. We're talking about a problem that we're having right now. That's why we say that black lives matter.
Cafébabel: And do you feel like you guys want to be engaged in this?
Havoc: Me personally I just do music and I don't like to involve politics in music. But on a personal level, it does matter.
Cafébabel: Are there 3 bands you would recommend to see at the Dour Festival?
Havoc & Prodigy: There are so many bands, how many people are performing again? A$ap Ferg, Joey Bada$$, Wiz Khalifa… That's three right there.
Cafébabel: What is your opinion on Donald Trump, Hillary Clinton and the US elections? 
Havoc: I think they're all puppets.
Cafébabel: So for you they're the same, whatever their political program?
Havoc: They're both the same to me. They don't matter.