Mister Cat graffiti: from Paris to Sarajevo
Published on
The Mister Cat phenomenon falls somewhere between anonymous marketing and 'involuntary communication'. Spotted on rooftops from Geneva to New York, the feline seduced passers-by before moving on to museums
Grinning and worldly-wise, insolent and mischievous. For the past few years Mister Cat, alias Monsieur Chat, has taken his distinctive yellow silhouette and sardonic smile nonchalantly over the walls of Paris, Geneva, New York and Vienna. The cartoon creature, from the imagination of an unknown artist, started his travels in Orleans in 1997 and has since spread to the four corners of the globe, arousing the curiosity of residents and visitors alike. But who is this globe-trotting tomcat? What lies behind this feline figure and his enigmatic grin?
Mister Cat shows his face
In March 2007, after ten years of clandestine work, the secret was revealed: a certain Thoma Vuille was arrested in Orleans after being caught red-handed tagging a building. He is Mister Cat. The 30 year old former fine art student runs art workshops for disadvantaged children. He cites various influences, from post-graffiti and pop art. At night he dons a mask and climbs, spray-can in hand, to balance precariously on chimneys and drainpipes.
The artist is rather eccentric, perhaps a little 'autistic'. He has lived for the past decade on his jobseekers' allowance. Out of tune with others, Mister Cat is perhaps Thoma's way of communicating, or even of existing. 'It is his social incarnation,' says Gilles Flouret of Collectif Chat, a French organisation launched two years ago to support the project and the artist. 'Thoma wants to be seen and recognised, but in a passive way.'
Underdeveloped ego or trendy icon, either way Thoma's cool cat has become a pillar of 'involuntary communication', whose irony cuts through the jungle of advertising and sound pollution that swamps our cities. Locating Mister Cat has become an urban treasure hunt, a knowing wink against an often dull background, open to the interpretation of those that spot it, whether in one part of Paris or another, by the canal in Amsterdam or even on New York's Seventh Avenue.
In the ranks of Parisian protests
The cat's poetic origins have not stopped him from getting his claws out on occasion. In 2002, during demonstrations in Paris against the war in Iraq and the National Front's presence in the presidential elections, the cat's image was used on protester's placards.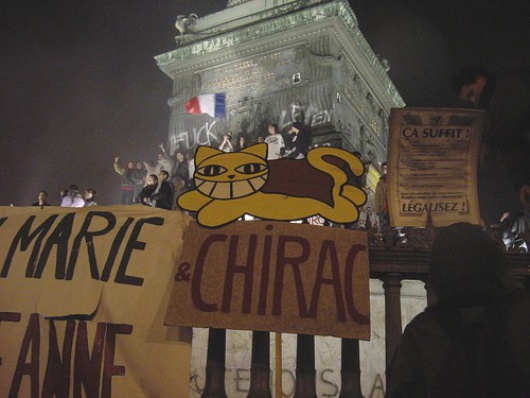 Mister Cat in the midst of protests in Paris in 2002, during the presidential elections where former president Jacques Chirac went head to head with extreme right leader Jean-Marie Le Pen (Photo: ©Collectif CHAT)
In 2004, the documentary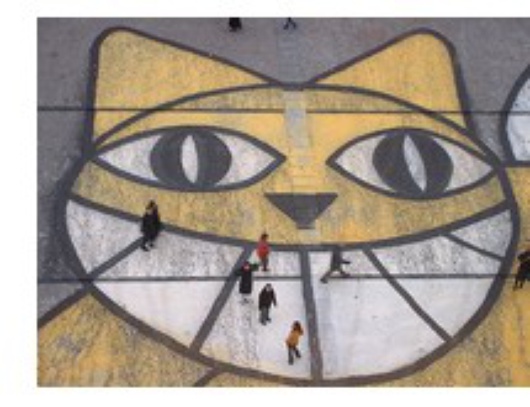 Chats Perchés ('The Case of the Grinning Cat') by French artist Chris Marker brought international recognition to the yellow cat. An exhibition outside Paris' Pompidou Centre and a dedicated edition of French newspaper Libération followed, and the Monsieur Chat phenomenon was launched. Gallery owners started to show interest in this strange creature and offers of collaboration flooded in from as far afield as Frankfurt and Hong Kong. The web is on the cat's trail: Google Maps lists 350 appearances of Mister Cat and Flickr features a Mister Cat photo gallery.
The discrete feline is giving in little by little to the commercial world: graffiti as a 'new medium or even new media' is starting to interest art dealers and is good business, with spin-off t-shirts, postcards and other goodies. In France, comrades of Mister Cat such as 'Miss.Tic' and 'Space Invader' have, unlike British artist colleague Banksy, left the anonymity of street art and are starting to exhibit their works officially in galleries and museums.
Age of reason
Following his arrest, Vuille got a 300 euro fine and promised to give up his anonymity – he has established the reputation of his alter ego. His underground period is finished. The globe-trotting tomcat has taken up residence at the Museum of Fine Art in Orleans and is putting on an open-air exhibition using JC Decaux advertising billboards. An ironic statement? 'We wanted to put on an academic-type event but still invade the public space of the town, to remain open and accessible to the general public,' explains Gilles Flouret.
Far from his usual concrete and tarmac studio, an artist residency funded by the local government of the Poitou-Charentes region now allows Vuille to make ends meet. Was this down to failed presidential candidate Ségolène Royal? 'There is no question of his work becoming political,' Flouret insists. 'Thoma is always keen to work, regardless of political leanings: his neutrality is probably down to his Swiss origins.' The cat is now 'in the public and economic domain. From now on Thoma can expand his artistic work.' Which begs the eternal question: how can he become part of the establishment and still maintain his creativity?
Blek the Rat's scenes on the street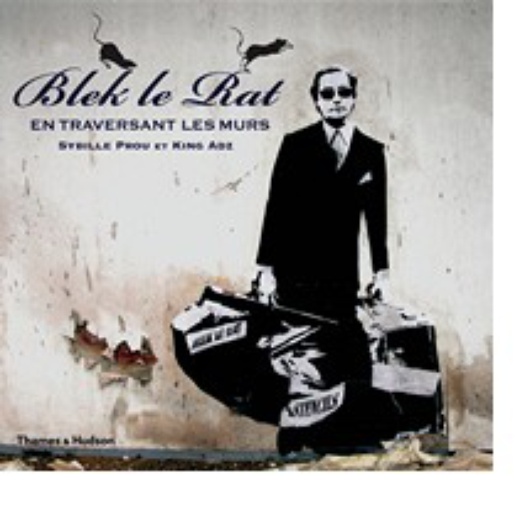 In the heart of the city, black and white life-sized characters seem to traverse the concrete like printed pieces of poetry. They belong to French artist Blek the Rat, who has had an aerosol can and stencil in hand since the eighties, spraying his drawings onto brick walls.
Since the release of a book dedicated to him, the Artazar bookstore in Paris opened up a little room with a view on the St Martin canal, to display a few posters of his graffiti. A drawing hangs in the window of an anonymous man sleeping; it extends the whole length of the window and attracts the gaze of passers-by.
With no fixed address, among many others, but also pictures of sheep, an immodest Jesus Christ or eponymous rats running along the length of walls. These few images allow people to discover the graffiti artist and learn about his stencilling technique. After moving onto making stickers and posters after being heavily fined for 'property damage', Blek the Rat continues to follow the news, often in protest. He takes on celebrity figures, like Lady Di leaving a London apartment building in 2006.
Galerie Artazart, 83, quai de Valmy, in the 10th district in Paris. From 21 February to 30 March. Blek Le Rat, crossing the walls » by Sybille Prou and King Adz (Thames & Hudson)
By Jane Mery, translated by Brigid Hannis
(Photo homepage: Cé/ Flickr)
Translated from Monsieur chat, de la gouttière au musée