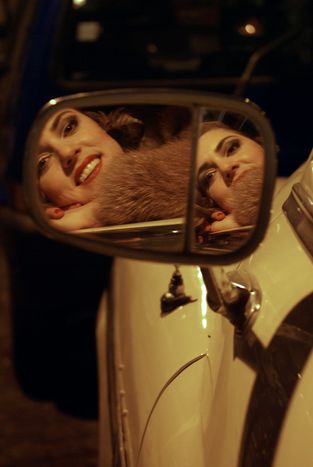 Miss Marion: the French burlesque star will 'tease you until you die'
Published on
The 32-year-old from Normandy performs a 'slowed-down' version of burlesque. A dance historically popular in eras of depression, her latest show updates the genre, combining nipple tassels and an iPhone - an accessible escape for Europeans in recession
In the basement of an art gallery in a passageway near the Opera, the evening illusion comes courtesy of a black wall framing an anonymous poitrine. The nipple tassels slowly sway for five minutes, gathering momentum to the music, before simply stopping. Miss Marion tones down the exaggeration of 'burlesque' - a form of theatrical parody which started to include striptease in the early nineteenth century - to 'slow burlesque', where 'persuasive gestures hypnotise spectators.' 'The public have to look for the show, get in a different universe from the start,' she explains, when we meet at a velvet-cushioned private member's club two weeks later. Renditions of Put a Spell on You and Summertime oblige as background sound. Poised and sophisticated in heels, a shirt and high-waisted trousers, she speaks in a frockney accent, which she picked up after spending eighteen months in London's East End.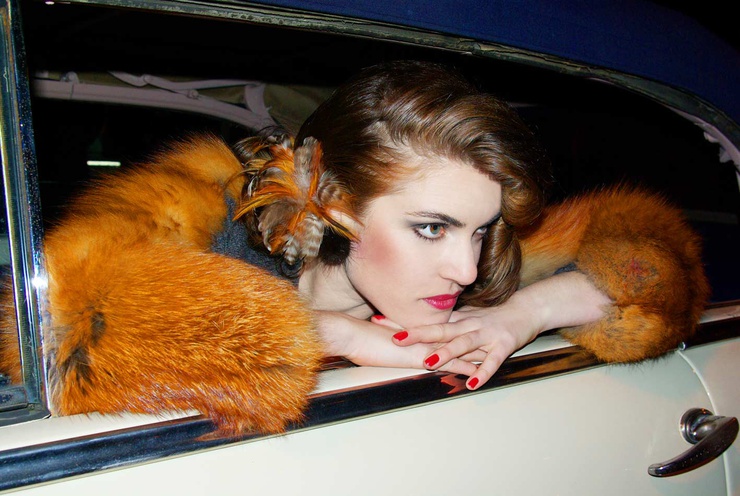 Exposure
She is frank about the fact that she interprets an art form that already exists, denying it is just striptease. 'It's a research on feminity and voyeurism,' comes the line of defence, in between long pauses and sips of a lemon ginger martini. 'It's the way seduction works between me and the public. I don't like lap or table dance. It's really not my cup of tea. It can be beautiful but disrespectful. What I do is about the empowerment of a woman. I can shut someone up being nasty with my eyes,' she says, evoking images of Louise Brooks, who froze men with her silent stares in the German film Pandora's Box (1929).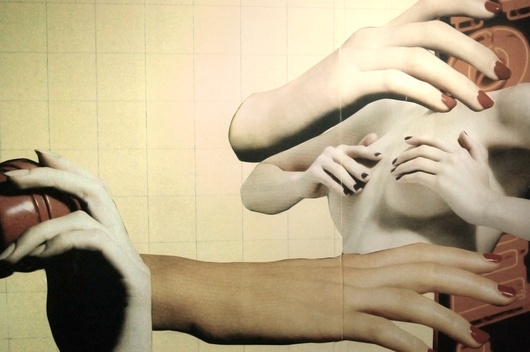 She lost that 'power' when she stopped stripping onstage after three years, tired of her self-exposure. 'I needed to step back from embodying characters from the glam eras, taking my clothes on and off as I went from one character to another - the femme fatal, the girl-next-door, the pin-up, the secretary. This time it's only one part of my body I want people to look at,' she says, pulling out a projecter pen from her bag. Lighting up a wooden panel of the book-lined wall, we momentarily watch her chest jiggle to the faint soundtrack of Let's Face the Music and Dance.
It's important to interfere somehow in people's daily lives
'Most people in France don't know anything about burlesque anyway,' she defends. Yet France is burlesque's European home; Paris is strongly connoted to establishments like the classic Moulin Rouge and the Crazy Horse, which opened in 1965, a venue which would channel a more elitist audience. 'There was always a gap between what I want to say for my work and what people get from it,' she elaborates. 'Maybe I don't realise it. It's important to move people, interfere somehow with their daily lives and try to follow my dreams.' 
The other miss Marion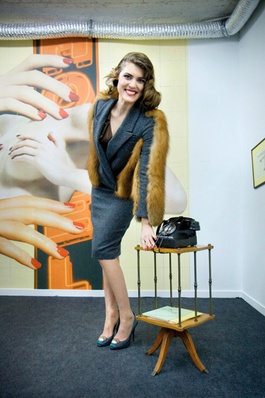 Her mother was a 'feminist who wore no makeup' and her father ran a centre for adolescents in the coastal town of Cherbourg. Marion grew up watching Hitchcock and dressing up with friends. 'The seventies don't interest me because the codes of femininity disappeared with the feminist combat.' Her parents are supportive, having watched her perform in Paris. 'They think I was quite impressive, even if they still don't really understand why I want to get naked at some point.'
Aged 18, Marion Boucard moved to Paris to study applied arts, her thesis centered on the Barbie doll, the colour pink and femininity. The French capital released her 'exhibitionist thing'. Two research trips to Las Vegas and San Francisco conventions later, she added the prefix 'Miss' to her name as was tradition in America - a country where burlesque was first limited to 'striptease'. Miss Marion confronts the contradiction of the starlets in days gone by, who were sex symbols in the public eye, but fragile creatures at heart. She is a fan of the wartime sex bomb who raises morale, pictures of whom soldiers 'pin up' on their walls. She is the irrational female who writhes the cable around a phone to control herself as soon as she 'goes crazy about a guy, waiting for him to call.' A girl should show off her feminity and wear skirts, not trousers, she laughs. 'Guys love it.'
A girl should show off her feminity and wear skirts, not trousers - guys love it
Marion has kept her 'day job', having worked in PR for Dame Vivienne Westwood for the last five years. The British fashion designer's clothes define her femininity: 'I know what suits me. I don't have to worry about trends. Westwood is quite tolerant about creative talent.' Effectively, Marion Boucard is living out 'Miss Marion', her dream, a hobby which she keeps under her control. 'I can really choose if I want to do this or not. I like to say no to things.'
Her latest installation marks a move from her live body baring days. Her 'Titsmobile' is parked outside the B.A.N.K gallery which has represented her for the last two years. A video of her show is projected from an iphone strapped to the rearview mirror of a 50s Chrysler that Rita Hayworth was offered when she came to Paris. 'It's so important now because you have the financial crisis to follow your instinct and do what you like, if you have a job you don't like,' Marion adds. In They Shoot Horses, Don't They, Sydney Pollack's 1969 adaptation of a book (1935) written against the backdrop of the Great Depression in America, Jane Fonda's character dances for days and nights on end for a major dance tournament. By sharing her fantasies with us, Miss Marion takes her turn to mark this period of economic trouble with 'something beautiful for you to indulge in for a while and put aside your worries. I love this quote by American conceptual artist Jeff Koons,' she finishes, 'Artists should take anxiety out of people's minds.'
Catch Miss Marion's first exhibition at the B.A.N.K gallery, rue Volta, Paris from 15 January to 21 February. For Valentine's Day on 14 February, you can watch her perform 'Let's Face the Music & Twirl'