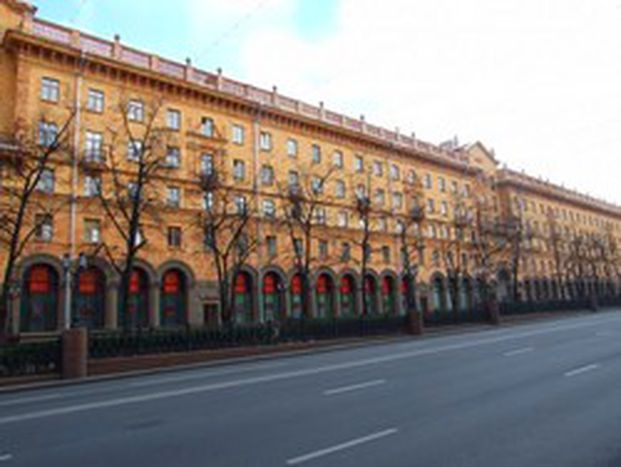 Minsk: the tidy road to regime perfection
Published on
Translation by:
mary maistrello
Neat, elegant, so clean that you want to go barefoot – that is how the Lukashenko regime likes to present the capital of Belarus - the one visible to tourists, that is
'They have just finished some building improvements, don't you think it's perfect?' asks Andrey, a young Belarusian who is deep into the visa business. 'If a visa normally costs 60 dollars, I can get up to 100 dollars in commission.'
On the way to the hotel Andrey reaches 90m/h on one of the most beautiful roads that I have ever seen: the tarmac is perfect, a four-lane dual carriageway divided by a lawn worthy of Windsor Castle, impeccably lit. The only thing missing: cars.
'It's perfect because there's very little traffic, right?' I tease. 'Apart from its beauty, does one really need a road this big to get into the city?' Without lifting his hands from the steering wheel, a veil of sadness envelops the driver; did I pressed the wrong button? 'Maybe not now that there are only about thirty flights which land here in Minsk,' he replies. 'It's not like in the days of the Soviet Union. Even the airport is too big for the way things are going now, Minsk was much more important back then. We even have a direct road to Moscow!
Once, we accompanied a seventy-year old Belarusian judge into the city. It was his first time in Minsk – he was astounded. He could not believe that this was the capital of his country. He could not believe that such a perfect place could have existed so close to the one where he had been living all his life.'
'They' know everything
Lino and Sandro are Italians who first visited Belarus by bicycle: 'A long journey, granted, but we were young. After retiring, we got involved with an association which arranges summer holidays to Italy for the children of Chernobyl. It's incredible how much the country has gone downhill.' They should know; in twenty years, they have seen a lot of Belarus - including prison.
'It's an experience which leaves its mark,' the couple describe. 'You learn to be careful about anything you say or do, because 'they' know everything.' Lino is not joking: he ended up behind bars because of an article he wrote which was too critical of the regime. 'It was only published in the association newsletter! So you can imagine how many read it.'
Pasolini, De Sica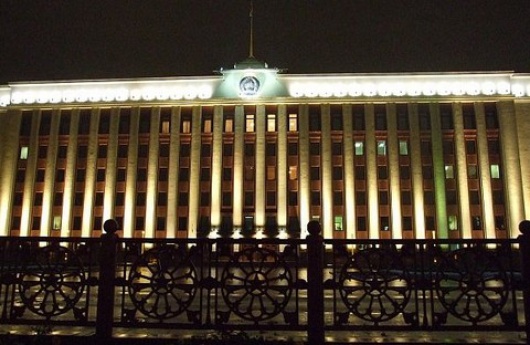 Too bright: Lukaschenko's building (Photo: GA)
Every building, every window in the town centre is lit so brightly that a Christmas tree would be put to shame. 'Who is paying? Us, obviously, with public money,' complains Julia, a young languages student who, partly because of her not-so-tender views on who governs the country, is continually rebuffed from the possibility of visiting Italy, the country which she has been studying for a long time.
'This year they have sent someone who had grades lower than mine - again,' she remonstrates with a tutor, with me as witness. The tutor's answer? A shrug of the shoulders and a resigned 'you are aware that these are complex matters, it's not all up to us.'
Julia speaks Italian well (she uses the subjunctive), criticises Italian writer Alessandro Baricco ('I'm only sparing 'Oceano Mare''), reads Italian daily newspaper Corriere della Sera, watches Pier Paolo Pasolini's films of but snubs late director and actor Vittorio De Sica: 'I don't have the time to watch everything,' she says with a diplomatic smile. She is not very optimistic about the future of her country. 'My mother earns 100 euros a month. The internet connection costs 30: that's the online revolution for you!'
'Every time my father sees Alexander Lukashenko on the television (the dictator-president of Belarus, ed), he can't contain his anger. But when I say to him that he shouldn't react that way only indoors, he shrugs his shoulders and says that he can't do otherwise. And I do understand him: he would lose everything: how can you support your family without a job?'
Julija continues to protest. She took part in the European march on 11 October 2007, and will continue to do so in the future. 'I have nothing, you know. They can't take anything from me. It's us young ones, us who have nothing to lose who must fight to change our country.'
Translated from Minsk, la strada verso la perfezione. Di regime