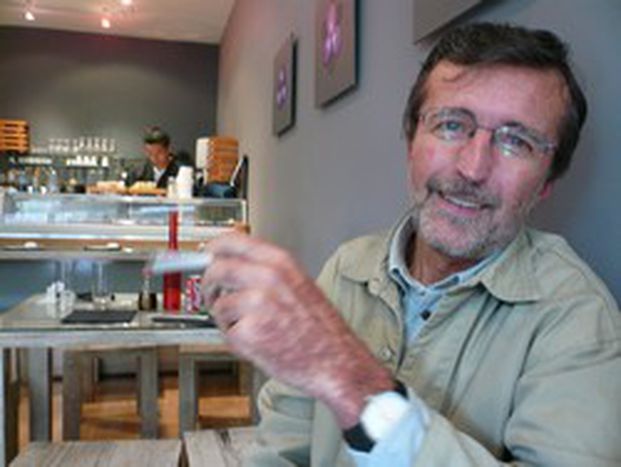 Miloš Lazin: 'mediator between Yugoslavia and France'
Published on
Translation by:
chris hall
His country no longer exists, but the theatre director still claims to be Yugoslav. The 55-year-old came to Paris in 1989, married a Frenchwoman and leads a second life as a stateless person
I arranged a meeting with Miloš Lazin in a Japanese restaurant in Paris' colourful gay and Jewish district, the Marais. The establishment itself isn't much to look at. Lavin, a regular customer here, drooled at the thought of thyme or pink ice cream that he is accustomed to ordering from here. This Yugoslav director, who put on numerous shows at national productions in the Balkans until 1989, lives as a well-informed citizen of Paris.
Before leaving his country of origin, Lazin was strongly against any form of nationalism. Remembering the clashes in his native region, the playwright rejects any violence which attacks his identity, inevitably Yugoslav. Today, he is fighting to prevent forgetfulness and not having to 'invent a Serbian or Croatian identity for yourself' from nothing. He refuses to make a complete break with his 'Yugoslavian childhood.'
France: unintentional refuge
A former professor of Belgrade's drama department from 1982 to 1990 and artistic director of Belgrade theatre Atelje 212 from 1985 to 1987, he started theatre productions all over in the former Yugoslavia. Today, he speaks enthusiastically about the new generation of directors in the Balkans, quoting Bosniac, Serb and Croatian names all over the place.
In his approach, ethnic origin is of no importance: 'The city which I identify myself with the most is Sarajevo.' That is by no means a coincidence as the Bosnian capital is the most cosmopolitan of all the cities in the former Yugoslavia. 'She is aware of its wealth,' he expands.
During Lazin's teenage years, the rock made in the Balkans took off in Sarajevo, believe it or not. It was the period when the former Yugoslavia opened up to the western world: 'From this point on, everybody dreamt of capitalism,' he recalls with a hint of nostalgia. Already fascinated by the theatre, Lazin read German theatre director Peter Stein, who left him with an indelible memory. He witnessed the birth of the Balkan theatre, despite the Austrian-Hungarian domination in this region.
Yet, 'my vision of the theatre is more German or Scandinavian,' he says, without any particular liking for French theatre institutions. Their creation, in Germany, was the product of ongoing companies, according to him. Whilst in France, the world of theatre would be too closed, too provincial and self-sufficient: 'Here, I do not see any real self-analysis,' he continues, in his specialist nature. Not being a Manichean, Lazin feels nevertheless that the situation is improving.
Bridge between the former Yugoslavia and France
'I never wanted to be an immigrant in France,' he confirms with half a smile on his lips. Recognised for his work in Yugoslavia, he had to emigrate in 1989. Not for his success: 'I was aware that I could never be a French director,' he remembers. 'The theatre is very difficult to export.'
But his wife, the mother of his children, is French. He is coming to rejoin her and lead a family life in Paris. As a result, he imagines himself becoming a 'mediator between the former Yugoslavia and France.'
Lazin chooses his place, that of the bridge, the interlude and the translator. The Island of the Balkans (1994) and Hotel Europe (1996) are adaptations of Serb writer Vidosav Stevanovi's texts, which he put onstage with his theatre company Mappa Mundi. The show is a co-production by the National Drama Centres in Limoges et Montluçon, two towns where he also gives theatre courses to secondary school students. He is also to direct Ines & Denise by Croatian playwright Slobodan Šnajder.
With hindsight, Lazin reckons that it 'is easier to emigrate than return to a country in which one has lived and grown up, but which no longer exists.' Stateless maybe, but the artist is not fatalistic. Since his arrival in France, he has settled well and is even holding down several jobs. A journalist at Radio France International with its Franco-Bosnian service and a theorist (he writes numerous articles about new books on theatre), he does not live in the nostalgia of the past.
Lazin latest project Woman Bomb is the story of a terrorist who blows herself up with an important politician, a play by 31-year-old Croatian playwright Ivana Sajko in collaboration with the Mappa Mundi Company.
Photo homepage: (ML)
Translated from Miloš Lazin : « Médiateur entre la Yougoslavie et la France »