MigSzol: Giving voice to the voiceless in Hungary
Published on
Aliz Pocsuvalszki is one of the exceptional individuals acknowledged by the New Europe 100, who bring new energies from Central and Eastern Europe. We met Aliz to find out what it takes to be a change-maker and to stand up for those in Hungary whose voices are hardly heard.
When we consider the events of 2016, or even the beginning of this year, the hope that a better future is possible is more needed than ever. This is exactly what the New Europe 100 aimed to provide, by finding outstanding individuals from the field of business, society, politics, science, media and culture, and bringing them together on a platform where new collaborations and innovative ideas can be born. Aliz Pocsuvalszki, an organiser and activist for the MigSzol group, was among them.
Aliz is a Hungarian teacher by profession, but she started working with people belonging to different minorities during her university studies. Her first major project was the development of a community center for low-income families living in the suburbs of Szeged, a city in south-east Hungary. "I still regard this project as the most successful one I ever participated in," says Aliz. "We started to work on the plans of the center together with locals from the very beginning. They were involved in the whole process, which I believe is of key importance in community projects."
Besides teaching in a state school she visited community centers or rural schools to teach children from disadvantaged minority families, and also worked with different Roma communities. A few years ago she moved to Budapest, where she started teaching Hungarian to foreigners in different civil organisations. However, the special experience of working together with others to achieve something collectively slightly disappeared due to the hierarchical structure of the organizations. Having a kind of client-helper relationship with her student was unfamiliar and uncomfortable for her. Looking for other options, Aliz came across an organization that offered her the perfect solution.
Together on the same platform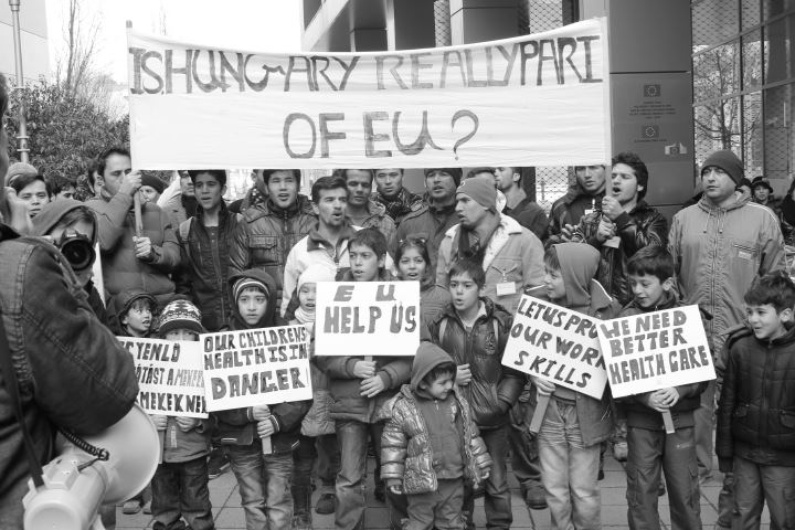 "I found MigSzol after reading an article about the struggles of Rakan, a Palestinian refugee from Syria who was fighting to see his family again," Aliz recalls. The man started a hunger strike to call attention on his case, and MigSzol supported him in his mission. The story of the man and the way how the group tried to help him impressed her: "I decided to visit one of their events and it convinced me that I had to join them. I found the idea of being part of a group where everyone is equal and able to work together for a common goal very appealing."
The story of MigSzol started in November 2012, when around 70 Afghani refugees started protesting for better living conditions and integration support in Hungary. The group lived in the refugee camp in Bicske, which at that time operated as a re-integration center. It meant that only recognized refugees could live there until they received their official papers. The group decided to do something against the poor conditions and raised their voice not just for themselves, but also for other refugees and migrants in Hungary. During the protests some locals and foreign nationals joined their initiative and established MigSzol.
The group's first crisis came a few months later, when the Afghans left for Germany. In spite of their continued struggles, nothing happened in their cases. The group had to start everything from scratch, and spent months brainstorming with other activist groups to define their basic principles. "We regard ourselves as political activists," says Aliz. "We're a grassroots group, independent from political parties and without hierarchies. We try to base every decision on a common consensus, which is not an easy task, and we are still practicing it. It is also important for us that we are not working for the refugees, but together with them."
As political activists, MigSzol advocate for social and political rights for migrants and refugees living in Hungary. It is crucial for them to inform Europe about the situation of refugees in the country with sharing news and writing reports in English and Hungarian. The group is composed from Hungarians, foreigners and refugees and through its members it is part of an extensive and strong international network of activists and volunteers, which helps them to spread information worldwide.
"Hungary is a transit country"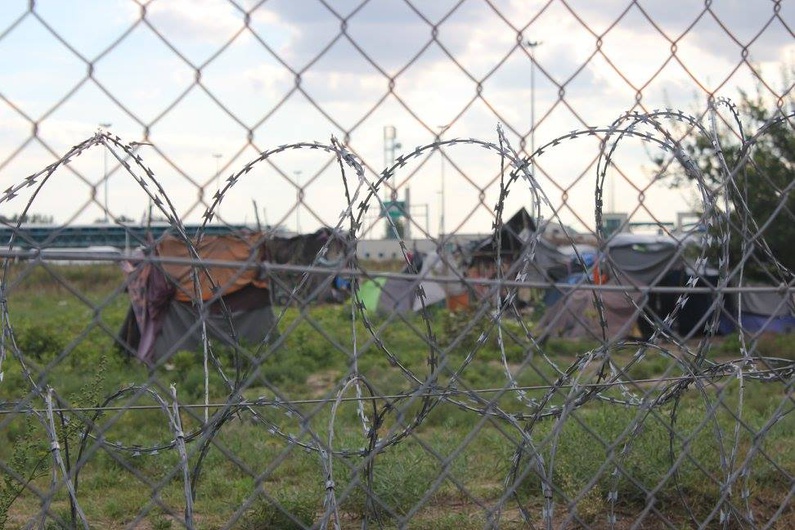 According to Aliz, "The present narrative is that Hungary is a transit country, which the government tries to underline with its actions." In the past year, the situation of refugees has gone from bad to worse. In May the integration contract for recognised refugees, their only financial support from the government, was cancelled. After the erection of a border fence, a transit zone is still in place where asylum seekers can legally enter Hungary, though the number of entries has decreased from 20 to five people per day. At the same time, the government started to close permanent refugee centers and move the rest of asylum seekers and refugees to temporary camps, located close to the border, which are badly equipped for the winter weather. All these acts by the government are designed to empty the country of refugees, and uphold a xenophobic stance against refugees and migrants. 
One of MigSzol's principal aims is to stop deportations to Hungary. According to the Dublin Regulation, the first EU member state where an asylum seeker enters and gets registered is ultimately responsible for that person's asylum claim. It also means that refugees can be deported back to their country of entry, even if living conditions and the possibility of integration are lower there. "We think that refugees should be allowed to ask for asylum in those countries where they would have a better chance to start a new life," explains Aliz. "A better chance can mean a lot of different things, from a better economic situation, to the language you speak and the wellbeing of family members. Using our international network to spread news about the conditions in Hungary, we hope that we can have an influence on these decisions."
The first step(s) towards integration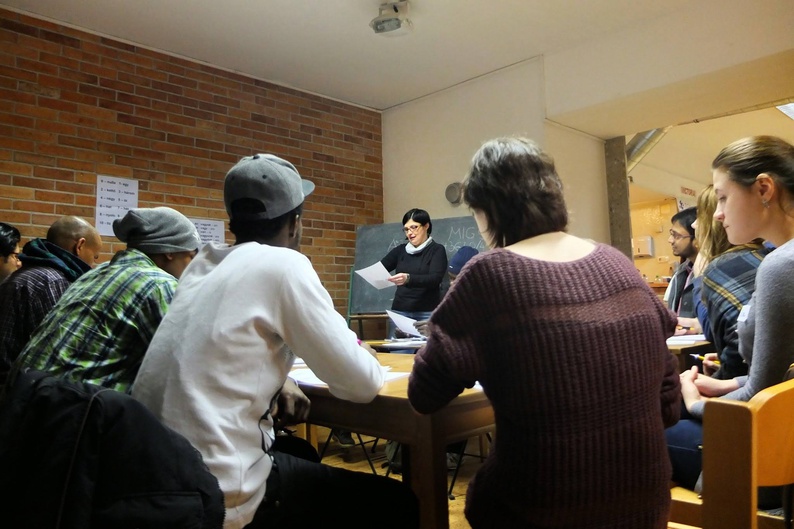 While the government tries to make it harder for refugees to settle in Hungary, civil organisations like MigSzol are making every possible effort to support them in their integration. The MigSzol School, launched in 2014, was Aliz's first initiative. Visiting refugee camps with MigSzol, she saw that although people wanted to learn Hungarian, they had no means to do so. "The very first step to integration is learning the language of the country, at least on a very basic level," she says. With the help of native volunteers, MigSzol started giving free language courses. In the first year alone, they had over 40 students.
"We always say that the beginner course is a 'survival course,'" Aliz continues. "Our aim is to give people a basic knowledge of the language, help them to manage their everyday life in Budapest and give them more self-confidence in communication." However, the courses give more than the possibility to practice basic vocabulary. The school also created a community space, where people from similar backgrounds can meet and build new connections. Organised programs like picnics and dinners help to strengthen this network and provide occasion to talk about the problems the students currently struggle with.
How to become a change-maker?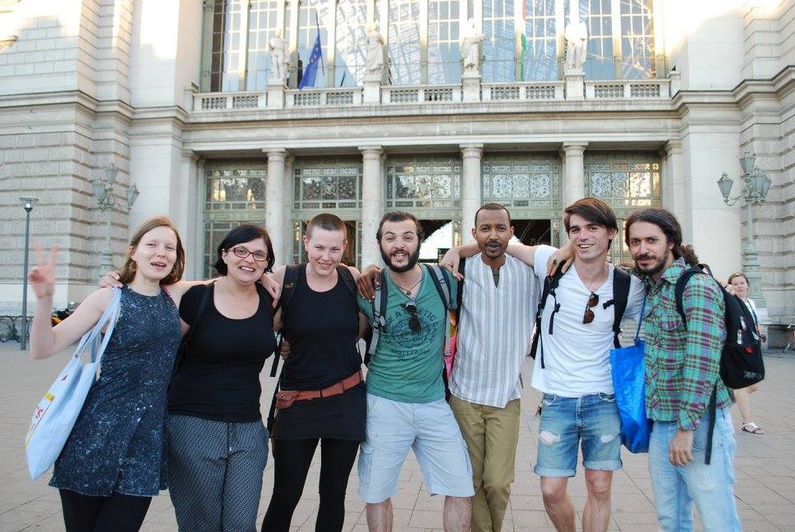 Among the alarming tendencies that lately appeared in Europe it is encouraging and incredibly important to learn about the experiences and achievements of young change-makers like Aliz. "I have already been teaching for several years and I have seen there will always be young people who want to strive for a better future," she says. "At the same time, they need encouragement, from people who can bring more visibility to their work and support them. They need to know that they can make political change happen, and they should make their voices heard."
Understanding who you are, where you come from and what you have feelings for – these are the main questions that someone should answer first before becoming a change-maker. "I think that our feelings can motivate us the most to act for a change. It is better to focus on those matters that we are emotionally attached to, make us think or even make us really angry." At the same time, Aliz thinks that it's important to pay attention where Europe is going now. "In Hungary people usually refer to 'European values', but what do we actually mean by them?"
The future change-makers of Europe could start by defining those values.