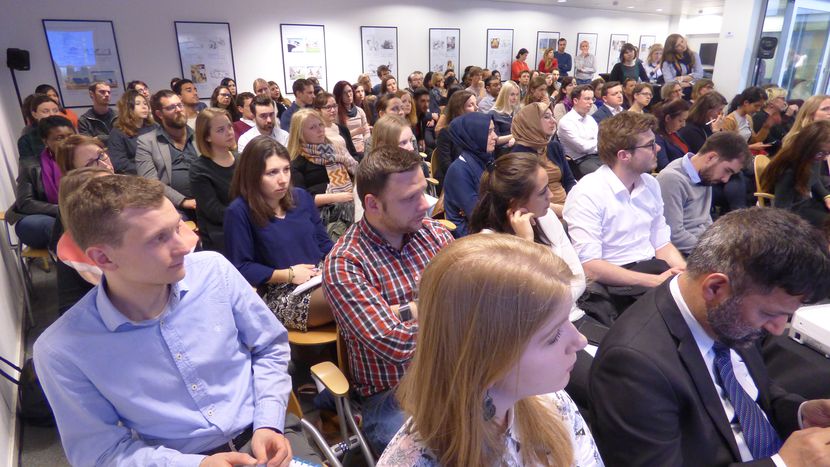 Migration Talks - A different kind of TED Talks
Published on
A new kind of 'Talks' is emerging in Brussels, branded as "Migration Talks". But what makes them so special?  And what drives the people behind them? Cafébabel has done somme investigation... 
TED Talks are all the rage at the moment. Tens of thousands of tech savvy and trend-setting scientists, urban intellectuals, successful but also aspiring entrepreneurs, and more than anything – hipsters, attend these events every year in search of revolutionary and inspiring new ideas. Migration Talks wanted to be very similar to TED, but ended up being so much more different and still – undefined.
This is not a bad thing. What started as a campaign of themed conferences by Uphold Europe turned into a public awareness campaign that also wants to shape migration policy in the European Union.
Migration Talks are envisaged as a platform for those who not only believe that the policy change is the only method of managing migration successfully but also who want to act on it. Uphold Europe: "a migration management pressure group", as they describe themselves, wanted to bring together migration experts and activists as well as migrants and high-profile policymakers to try and shape the migration debate in a more constructive way.
Back in December, Migration Talks #1 hosted the former European Commissioner for Integration, Social Inclusion and Education Laszlo Andor, also founder and chairman of the think-tank Friends of Europe. Last week MT#3 hosted a panel of MEPs from different political groups and representatives of the business sector, the Council of the European Union and academia (University of Cambridge). These events enabled the audience members to directly pitch their ideas of policy improvements to those who can take them direclty to the decision-makers.
MT#2, on the other hand, brought together six different refugees, migrants and political asylum holders, who shared their personal and intimate stories of how and why they fled their homes, how they reached Europe, and what has Europe done for them since. This event kept our catered but still EU-bubble based audience in touch with the migrant reality.
While Migration Talks will never reach red-carpeted venues and attract an all-star list of speakers/guests, it does have a more structured and concrete impact on what it preaches. MTalks call for action and that is the value Uphold Europe wants to 'exploit bigly', to quote the President Orange.
It is a project that succeeded in attracting hundreds of attendees on three occasions in a city that is overrun by events and conferences. Since last event, first MEPs are joining the ranks, which will significantly boost Uphold Europe's lobbying powers. However its success will only be visible once the migration policies of the EU Member States start acknowledging the benefits of migration. To that end – our work has only begun.