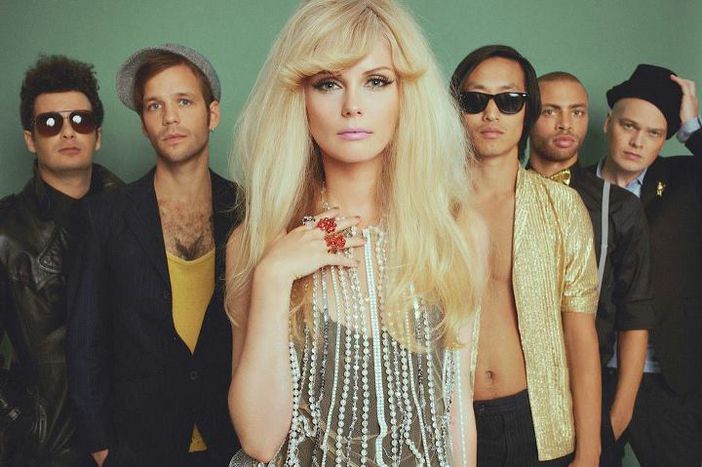 Mette Lindberg of The Asteroids Galaxy Tour: ''Mafia' is not a happy song'
Published on
Translation by:
C. O'Sullivan
The cosmic and unpredictable Danish band are best known for their track 'Around the Bend' after it featured in a telephone advert in 2008. In early 2012 they released their second album 'Out of Frequency', mixing hip-hop, funk, soul and dance. The band aren't keen on interviews, but we caught the female singer at the Rock on Seine festival in Paris
When a journalist asks Mette Lindberghow she manages to stay so beautiful during a festival, the unpractised coquettish response is: 'You have to spend every night sleeping in a van with five guys around you and you'll see, you'll be just like me.'  The singer of the Danish band The Asteroids Galaxy Tour is free, beautiful and wild. She is certainly the most sensuous cautionary tale of the Parisian festival we are at, Rock en Seine. It's difficult to resist the appeal of the diminuitive blonde, and she knows perfectly well how to play up her charms in order to distract inquisitive journalists. She also conducts interviews alone since the 'five guys' in the band formed in 2007 don't like it. And when Mette decides to be interviewed, it's as if you're taking the hand of your first holiday fling. In the space of an instant, she transports you to that place of dreams as if you've just had a lobotomy, sitting gracefully on the corner of a table before piercing you with her big blue eyes and whispering 'Let'ssssss gooo ... '. You have ten minutes. You're not feeling very well. And at your first question, you stutter.
cafebabel.com (stammering): It is, it is the se-second time you've played the festival Rock en Seine (the last time was in 2009). What is your impression of French audiences?
Mette Lindberg: It's hard to say because every audience is different, especially between festivals and concerts where the guy bought a ticket to see you play, just you. The last time we played in France, it was at the Trianon venue. It was wonderful to see such a packed crowd fill the room with a fabulous light show.
cafebabel.com: Do you feel a difference compared to other audiences?
Mette Lindberg: No, not really. We went to Brussels not so long ago and people give you a lot. As soon as I got this impression, I completely opened up and let go (sic). I'm not like that all the time but I feel that when we have a real communion with the audience we make the best concerts.
cafebabel.com (having recovered a little): Since we are talking about nationalities, how would you rate the pop scene in Denmark?
Mette Linberg: First, I'm not sure that we are part of this category in Denmark . We tour a lot and are much better known abroad. You know, most people sing in English because Denmark is a small country and the Danish groups need to be understood to be exported. But right now there is a really good Danish music scene. I'm particularly thinking of groups such as WhoMadeWho.
cafebabel.com: When listening to your two albums, we are often attracted by the elusive nature of your music in that it borrows from all genres (hip-hop, jazz, pop, dance, rock, funk ...). Do you feel like you are doing something new?
Mette Lindberg: You know, we just feel like The Asteroids Galaxy Tour - something free, open, spontaneous, romantic, dramatic, even dangerous! We feel something by doing what we do and we love it, so we don't feel as if we are part of a particular genre. It is also better not to be classified that way otherwise people used to listening to that type of music would ask 'what on earth is that?' So sometimes you have to wait for the right time to release your strange music. I think we did a bit of everything. I don't know, actually.
cafebabel.com: How was the group formed?
Mette Lindberg: The core is Lars (Iversen, bassist, keyboardist and composer) and me. Lars is also a producer who has been known for quite some time on the Copenhagen scene. We met in high school. We often compose our songs together. He has an amazing artistic talent and we get on great musically. I just need to tell him what I want and it happens almost instantly. The rest of us are friends, mates, people we thought were cool.
cafebabel.com: It is often said that you're a fan of spy movies and create your music from this world of gangsters. Have you also created your latest album Out of Frequency as a story or a movie soundtrack?
Mette Lindberg: Yeah, we like to create fictional characters from film. But we also like to keep a bit of distance from this type of inspiration so that we can create and play with our own history. But it is true that we love spy movies, like those directed by Tarantino and Lynch. We like their mysterious side, although sometimes our references lead to misinterpretation by the audience. For example, we wrote a song called Mafia and lots of people come to me saying it is a happy song. This is not a happy song! We're talking about a society that forces you to surpass yourself, to survive! So you have to be careful with this stuff.
Images: © courtesy of The Asteroids Galaxy Tour official facebook page/ videos (cc) asteroidsgalaxytour/ youtube
Translated from The Asteroids Galaxy Tour : charmant, foutraque et mystérieux