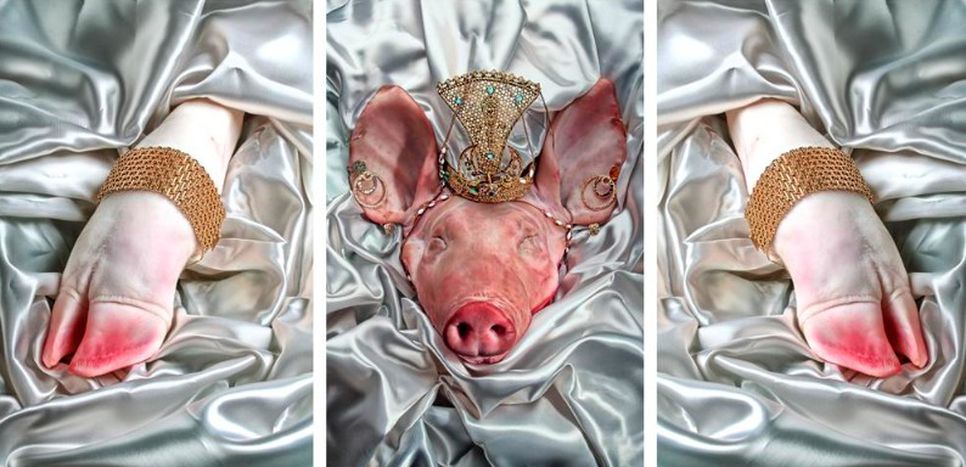 Memorable exhibitions: inspecting meat at Carne 2010, Paris
Published on
An art exhibition with the rather succinct title 'Meat', displaying dead and live off-cuts of both human and animal origin, may not be a terribly new concept in the times of Gunter von Hagen's 'Body Worlds', gory films and Lady Gaga costumes.
However, in order to give their meaty art show a certain je ne sais quois, the Parisian organisers of Carne 2010 rather unceremoniously moved the exhibition out of the museum and into the slaughterhouse. Flashback tour through northern Paris, caught somewhere between minced meat and video installations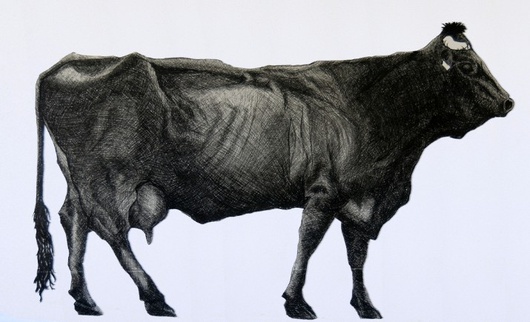 At first sight the Jewish butcher's shop Emsalem looks nice and tidy. In the rarely empty large blue and white tiled room, a handful of employees are at work slicing sausage and weighing up cutlets. Today there is a special offer on tongue: 200 grams can be picked up for just a couple of euros. Faced with a myriad of price boards, it is almost possible to miss the actual exhibition piece altogether. Stuck to the left hand wall is a large charcoal sketch of a cow, a work entitled Magnet (2010) by the artist Renaud Chambon. Only the identification number remains of the cow which posed for him; according to Chambon, this is a cynical expression of a society which controls and classifies living animals as mere meat providers.
Aesthetic contemplation at the sausage stand
It may not be a particularly gentle opening to a meat-themed exhibition, but in an age of industrial food production there is not really any other way to think about our steak and offal. Even more astounding is that the artists represented at the Carne 2010, for the most part, make no effort to get to grips with the ethical implications of meat consumption. At best they make vague associations between their own creative butchery and the art of slaughter itself. Forty-three artists have their works on display in seventeen different restaurants and butcher's shops along the Avenue Corentin Cariou in the nineteenth district of Paris, in an exhibition which runs between 20 September and 14 October 2010. Thankfully a few more exhibitors like Chambon take a closer look at the meat on their plates. According to the curators Anne-Marie Bologna-Jannou and Sarah Fossat, the exhibition should not merely give occasion to the contemplation of meat; it should also be a reminder of the fact that the north of Paris was home to the slaughterhouses, the Abbatoirs de la Villette, until well into the seventies.
Read Vegetarianism: 'Eating Animals' in Europe on cafebabel.com
It is an altogether less bloody scene between the pans and mops of the household goods store La Bovida. Whilst Joachim Lapotre uses his photo-triptych Offrandes (2007) to elevate a pig to a consumer god with the addition of jewellery and a silver scarf, Jules Bouteleux conversely makes glittering meat jewellery from pig snouts in his work Cochonailles (2009). 3D graphic artists Hugo Arcier, whose computer graphic display In the Crack (2009) hangs between ham joints and sausages in the African butchers Claude, finally takes the idea of artificiality to the max by creating virtual images of innards on computer screens. According to Arcier these images of meat are no less real than the meat which we find in a hamburger, which itself is commonly perceived to have little to do with the the actual animal; it is a 'devirtualisation' so to speak.
Women and meat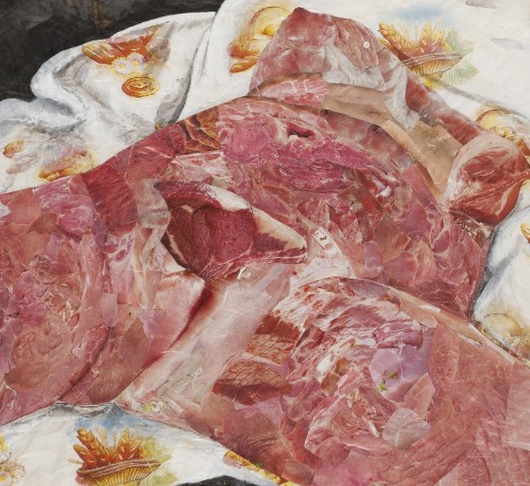 France-based American artist Lisa Salamandra makes a similar attempt to Arcier, except that she focuses on the relationship between women and meat. Her pin-up girls fashioned from sandwich paper and sausage advertisements (Daily Bread Raw Meat, 2009) are one of the few feminist elements to the exhibition, although the mental jump from vending cuts of meat to the pornographic exposure of flesh is not a great one.
Whereas those with an adept artistic eye are plunged into their own thoughts at the sight of the red and pink installations, the average butcher does not really know where to start when interpreting his raw materials. In the slaughterhouse Les Abbatoirs de la Villette one vendor assures us that he has seen the works of art for himself and finds the exhibition to be a good idea. However, upon further questioning, he grumbles that the artists 'have not come here and have not explained anything either. I cannot really understand it all properly.' One barmaid adds that she imagines the homage to the butchering-culture of the Abbatoirs de la Vilette would be somewhat different.
Edible animal to carnal realm of beholder
Getting to grips with the issues surrounding meat directly on the site of its processing and consumption is by no means a straight-forward task. Parisian artist Bruno Dubreuil's work 'Cosmogony of Meat' (Cosmogonie de la viande) resembles a planetary system; he asks how we can possibly come to terms with the idea of meat when we are all made from the substance ourselves? The French artist Stephane Belzere, who is based between Paris and Berlin, turns to long-known techniques to resolve this dilemma. In his narrow, three-metre-high pieces entitled 'Anatomical Mouths' (Bocaux anatomiques, 2008), created from colourful left-over meat preserved in formaldehyde, it is impossible to discern whether the specimens at hand are the remains of animals or humans.
The exhibition is above all concerned with enticing customers into the participating restaurants and butcher's shop
So just exactly whose flesh is it which Carne 2010 would like to be putting on display? Whilst the pink logo for the exhibition gives the distinct impression that we are dealing with livestock, the second part of the exhibition in the Art Centre 104 leads the viewer into their own carnal realm. Whether the links between animal and human, meat and women, virtual steak and bloody reality will actually cause spectators to convert to vegetarianism is questionable. What is more, that cannot possibly be the aim of the exhibition, which is above all concerned with enticing customers into the participating restaurants and butcher's shops. This is clear to see when art lovers are leaving the show armed not with the obligatory postcards and exhibition catalogues, but instead swinging around little paper bags from the Emsalem butcher's shop, with 200 grams of tongue inside.
Carne 2010 exhibition at the Paris Art and Culture Centre 104/CENTQUATRE, 104 rue d'Aubervilliers – 5 rue Curial, 75019 Paris
Photos: © expo-carne.fr
Translated from Künstlerisches Gemetzel: Fleischbeschau auf der Carne 2010