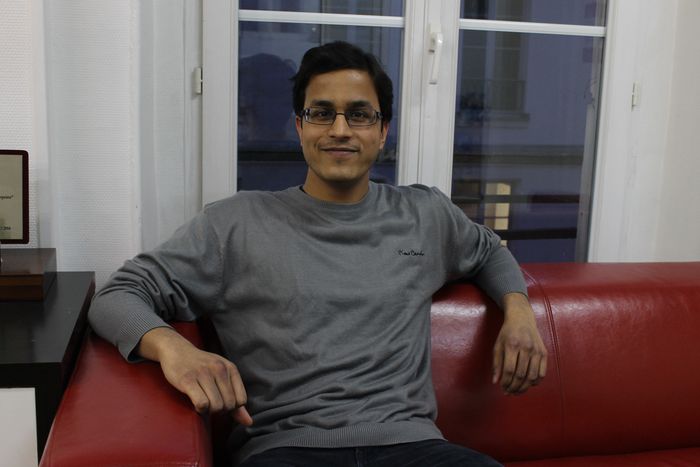 Meet the new English editor: Viral!
Published on
He loves politics, football, beer, and drunken karaoke. Like most Brits, he is linguistically challenged, but he is learning French. He is also really cool. Welcome to cafébabel, Viral!
Viral is our new English editor! Straight from Croydon, south London, the 23-year-old Brit has just arrived in Paris to head up the English version of cafébabel for the next 8 months. He holds a B.A. in English Lit, and is finishing his Master's in Financial Journalism from the Erasmus Mundus programme in Denmark and the UK. A certified global trotter, Viral has sojourned in India hoping to make his Bollywood debut, watched the Olympics from the Mara in Kenya, hopped on an easyjet around Europe and roadtripped down the West Coast of the United States.
This ardent vegetarian is also quite the philosopher: "Journalism is pivotal to democracy and the explosion in digital media will get more people involved in the issues that affect them." Eager to fill all the stereotypes of English journalists, what are his favourite Saturday night haunts? The bar, a drink in hand. However, before you become concerned by his alcohol references, he also reassures me that he enjoys the cinema, seeing football matches, and reading. A very classy lad indeed.
What awaits Viral in the City of Lights? So far, the city at night has wooed this expat, as well as its handy public transportation system. "And that's taking into account the interesting fragrances and buskers that hop on board at every stop." When asked what he is most looking forward to at cafébabel, Viral has a few enlightened replies. "Strengthening the network in the UK and in the rest of Europe, learning French and most importantly, converting more people to drinking tea with milk and sugar."
Who is ready to pitch to Viral?