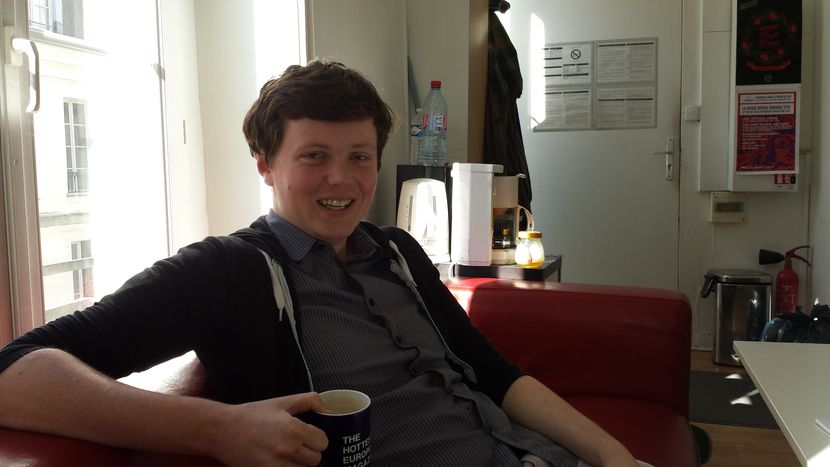 Meet the new English editor: Joe!
Published on
He's an environmental policy expert and board game enthusiast, who once reached Everest Base Camp for charity. Introducing Joe, (or Joseph, if he's wearing a tie), a fantastic addition to the cafébabel team!
Joe Pearson is our new English editor! Born in Norwich in the East of England, (he's quick to assure us the stereotype of East Anglians having six-fingers isn't true), the 24-year-old will head up the English version of cafébabel for the next ten months.
Having spent the last five years of his life at the London School of Economics (doing a BSc in Environmental Policy, an MSc in Media and Communications and then working as a Events Assistant), Joe finally decided to leave the Big Smoke for the City of Lights.
Moving to Paris with his journalist wife, the couple have accidentally moved into a flat-share that is basically the library of a Greek Kafka expert and her Marxist environmentalist husband. Perhaps we should call him Josef K.?
But rather than experiencing crippling alienation and mystical transformations, Joe's spare time is currently being taken up by Smitten the Kitten, who "definitely speaks with a Parisian accent", though he also writes creative stories (dare we say Kafka-esque?), and once scripted and directed a student zombie film.
Outside of the Paris office, you will probably find Joe at the board game café in Les Gobelins or at language exchange sessions – for he continues a very recent tradition of linguistically-challenged English editors.
In his own words, Joe is "looking forward to getting stuck in and working alongside a network of eager writers, while also improving his language skills." Allez!
So who's ready to pitch to Joe and Smitten?