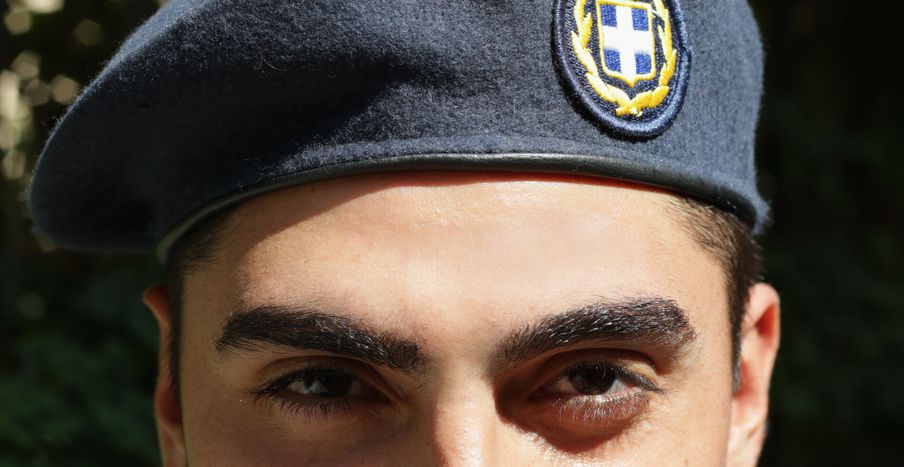 Meet the Fantaros: Greece's soldiers of good fortune
Published on
For many Greek young men, the compulsory military service is a waste of time, energy and money. But it also fosters strong ties of mutual cameraderie. Kostas, Spyros and Alexandros* recount what it means to be a fantaros in Greece today.
Those who hold dual nationality will know what I am talking about: each year I go to Greece to visit family members living there. It allows me to catch up on their lives, speak the language and return to France with suitcases stuffed full with olives, feta cheese and honey. But the last time I went into the family home to say hello to my grandmother, aunt and cousins, one relative was missing. My cousin Nikos, who was baptised alongside me 26 years ago, has become a fantaros.
The fantaros phenomenon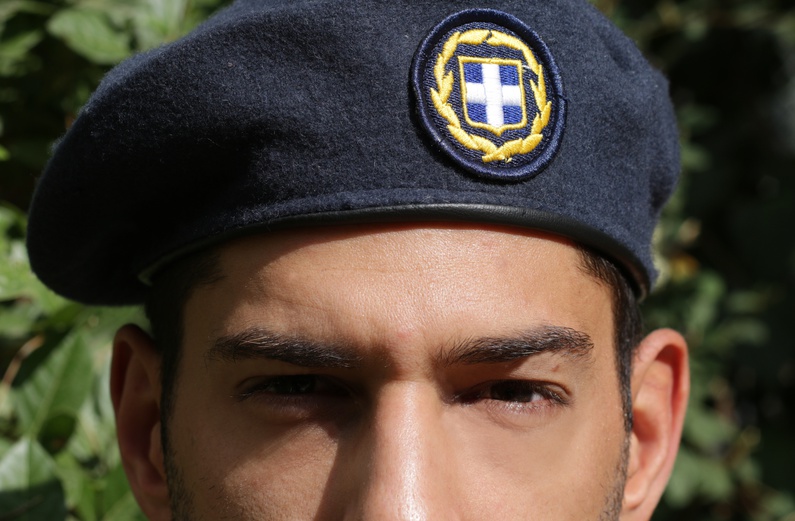 φατναρος is the word used in Greece to refer to those who are called up to do their military service, which is compulsory for all men aged 19 to 45. Whether Hellenistic jingoism likes it or not, the term is not of Greek origin: φατναρος comes from the Italian fanteria, itself coming from the Latin infante which, in the Middle Ages, referred to a young soldier or an infantryman. Enshrined in the Constitution, conscription was introduced in Greece after the 1909 coup d'état, shortly before the First Balkan War broke out. A century later, in 2009, the duration of the military service was changed from 12 to 9 months for the land forces, which take in virtually all of the conscripts.
How many of them are there exactly? Probably thousands every year. For the Greek Ministry of Defence the number of soldiers and conscripts is confidential information. "Recruitment is done in waves: every two months new Greek conscripts begin their military  service. There are six recruitment waves every year," explained Colonel Nikolaos Fanios, spokesman for the Greek Army's general office. He added: "September is usually the month which sees the highest number of conscripts." Released in June, these fantarous are thus able to go back to their studies after having first taken advantage of the summer.  
My cousin Nikos joined the army this September. His hair cut and his beard shaved, he swapped his civilian clothes for a camo uniform and a beret displaying the colours of the Greek flag. After 40 days of induction in one of the country's 11 New Recruit Centres (or KEN), he will be sent to a military unit in a remote corner of Greece where he will spend the next few months. At least that's the theory since, in the case of Nikos and the other conscripts at the centre, the induction barely lasted three weeks thanks to the current austerity. On 30 September everyone was allowed to temporarily go home. Nikos is on leave for two weeks before he has to go away again, which gives me the chance to see him.
After spending three days sleeping, Nikos has finally resurfaced. A meeting has been set up with two army friends: 1 pm, in the trendy Agia Irini Square. The two friends become 20, and I quickly find myself sitting among young men delighted to meet in civvies for the first time. Orders for drinks keep coming, the table is filling up: freddo, cappuccino, frappe, milkshake, Greek coffee and roll-up tobacco. "You're drinking milkshake now! That's not what you were drinking in the army, is it?!" They start reminiscing about the good (and bad) old days. The school-like interior of the café reinforces the feeling of being on a break. The fantarous are savouring their freedom.
Life at the KEN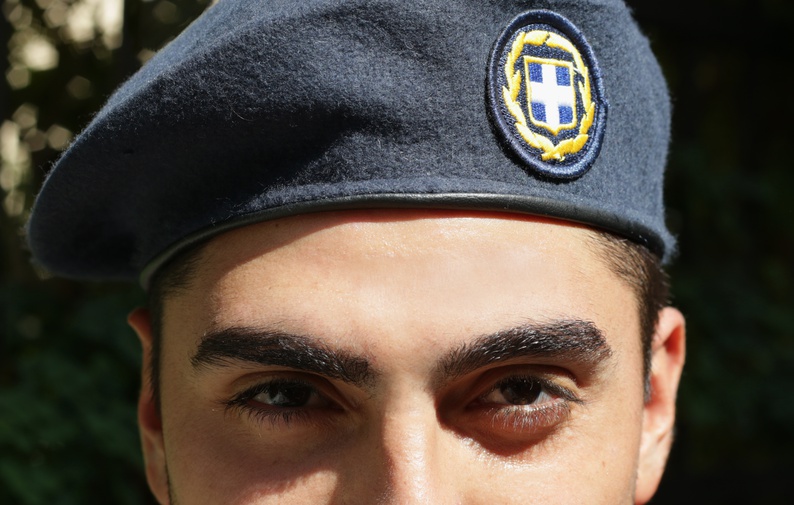 They are doing their military service begrudgingly. At the centre where they met, Spyros and Alexandros shared a bunk bed: "Big guys get the bottom bunk, the skinny ones go on top!" jokes Spyros - standing at 5'11'', naturally he got the bottom bed. Coming from the same training centre but a different bed, Kostas, 27, is the oldest of the three friends: "Before I joined the army, I was afraid of the relationship I would have with my superiors because those giving the orders would be younger than me," he explains. Alexandros was reticent too, but for different reasons: "I'd heard all sorts of stories about smuggled drugs, unpleasant individuals, expired food... In the end it was like being on a holiday camp." With one small difference.
The day starts early at the training centre. "At about 5 o'clock in the morning you wake up to get dressed and be operational," remembers Spyros. Throughout his stay, each soldier has to fulfil one or several missions. Alexandros was dealing with the organisational side: "I had to liaise with 10 platoon leaders. I would tell them what time meal was served, what time such and such exercise would be carried out..."  To his great relief, Kostas managed to avoid getting orders from the young commanders by spending most of his time with Spyros in an office: "We split tasks based on the alphabetical order of the conscripts' names, we produced army ID cards, cut out labels..." Everybody had to get involved in organising things.
Military service is like a pause in young Greeks' lives. For Alexandros, who has been working since the age of 18, staying at the centre was a chance for him to rest: "I spent my free time in the afternoon doing nothing," he admits. But doing nothing comes at a cost. Aged 20 or more, many of the fantarous are engaged in professional activities which are difficult if not impossible to combine with the army. "I was unable to work during these first few weeks," regrets Alexandros who is a football coach with the Olympiakos Academy. "For me military service is a 'gap'," he confides.
As for Spyros, who holds a permanent post with an international sports brand, he considers himself lucky: "Once I finish my military service I will take my job back at the shop where I work as an assistant. If it hadn't been a permanent job I would've probably lost it." Things are different for Kostas: "As soon as I knew the approximate date when I would be joining the army and be given leave, I got myself organised and scheduled my clients' publications for the month to come." Kostas works as a freelance social media marketer and he doesn't really have a choice: he would be taking huge risks if he did not plan in advance.
Getting by and visma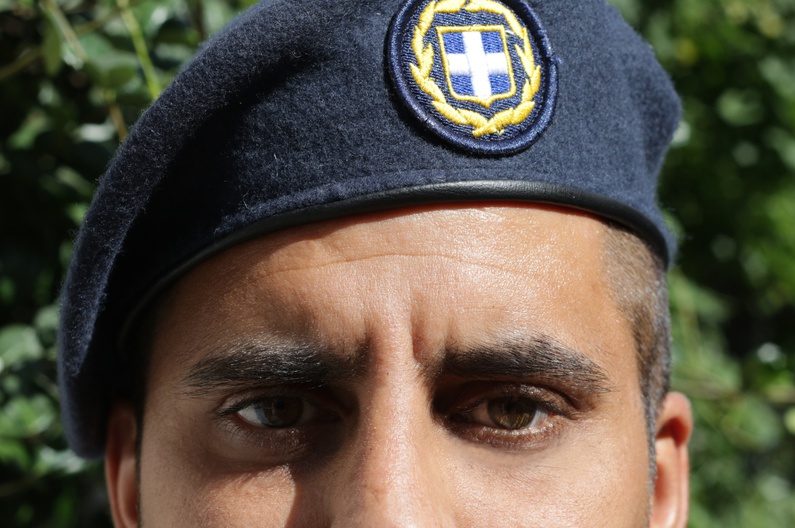 We all get by as best we can. Being a good communicator, Kostas mobilised his Facebook network to find a visma: "A visma," he explains, "is a political or military figure who will facilitate things for you. If you have a visma, your military service will be easier. After your first month in the army they usually send you on an island or to a training centre far from the capital. I was supposed to go some place in Evros, on Chios or Kos near the Turkish border." Thanks to his visma, Kostas will do the remaining part of his military service not far from Athens, making it easier for him to keep working at the same time.
Alexandros chose a different strategy: "I had a weak visma, a very distant acquaintance. In order to avoid finding myself in Evros I asked to go to Cyprus where I will earn €270 a month instead of the €8 or so they normally pay. This will cover my expenses."
"What will I learn? How to mop floors?"
Even for those who do not go as far as Cyprus, military service costs money. Just like in school, new recruits are given a list of things they need to get before joining the centre: "Sleeping bag, medicines, padlocks... none of these things are provided by the army. They just give you the clothes and boots," says Spyros with irritation. Food and travel costs can sometimes be added on to these initial expenses. Spyros spent €150 in 17 days: "It's a lot," he admits. "But if you sometimes have the chance to get out of the centre or eat something else than army food, or simply have a coffee with other fantarous during break time, then inevitably you are going to spend money." At a time of crisis, these expenses weigh on the young Greeks and their families: "Even though I am ashamed of it, I need to rely financially on my parents. You lose a lot of money when you already have little of it because of the army," says Spyros bitterly.
Financial cost aside, it is the pointlessness of military service that the conscripts denounce: "What will I learn? How to mop floors? I am already doing that at home. To cook? I already know how to do that too," says Spyros bluntly. While he shares most of his friend's opinions, Kostas thinks that the maintenance work could be of use to some: "I saw young men who learnt how to polish their shoes or make their bed in the army," he confides. If military service has one advantage, it is the fact that it brings such different characters together: "You see guys from all backgrounds," admits Kostas. "In our little group most of us are Athenians, but there also those from Manoli, Crete, or even Stelios and Thessaloniki..."  These meetings make up for feeling useless.
"I just want to be done with the army"
The three friends are already thinking about what will happen after their military service. Alexandros wants to be optimistic: "Summer will come after these eight months. It is the ideal period for finding personal training. I intend to eventually go to Great Britain or Spain, where the kind of work I do is better appreciated." And where military service is optional, as in most European countries. Spyros too is impatient: "I just want to be done with the army and go back to my work so I can be independent again." As for Kostas, he is planning his holidays: "I started my military service in September so I can be in peace by summer. Next June I'll be somewhere on a beach by the Aegean Sea!"
At a time when the idea of compulsory military service is becoming fashionable again thanks to the current military conflicts, does the Greek example serve to reinforce it or warn us against it? Politicians who are tempted by the return of conscription may find it useful to look east. Kostas, Nikos and Alexandros all bear witness to the fact that army fatigues provide no comfort for the loss of meaning and disorientation felt by European youths. They merely offer them a chance to encounter others with whom they can share their doubts and fears.
--- 
* The first names of the people quoted in this article have been changed.
Translated from Les Fantarous grecs : soldats de bonne fortune